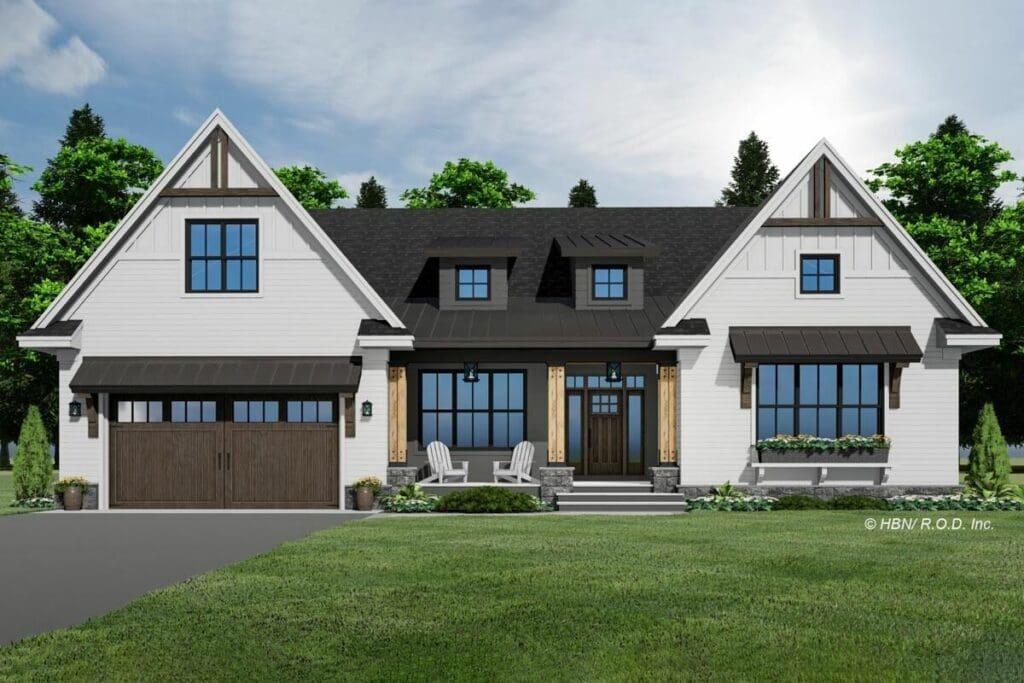 Specifications:
2,366 Sq Ft
3 Beds
2.5 Baths
1 Stories
2 – 3 Cars
Ah, the modern farmhouse: where the charm of yesteryear cozies up to the conveniences of today!
Let me take you on a virtual stroll through a stunner – a 2,366 square foot beauty that's more refreshing than a cool lemonade on a hot summer day.
Now, don't be fooled by the "farmhouse" label. There's no actual farming required here (unless nurturing a windowsill herb garden is your thing, in which case, parsley-on, my friend!).
What we're talking about is a timber and stone modern farmhouse plan that perfectly blends rustic appeal with contemporary flair.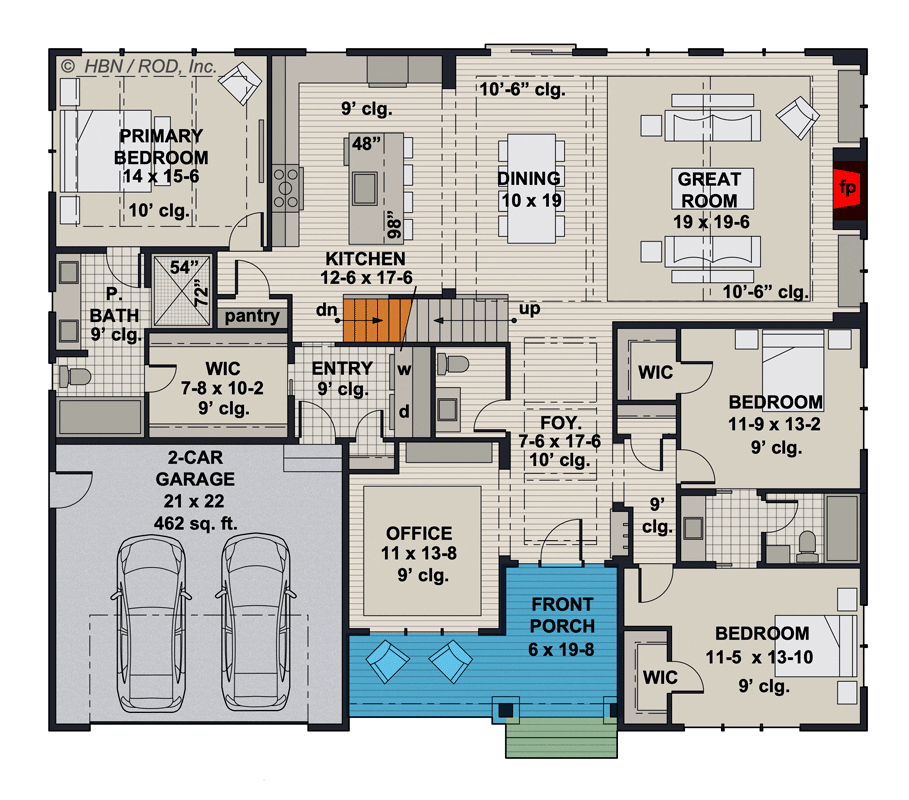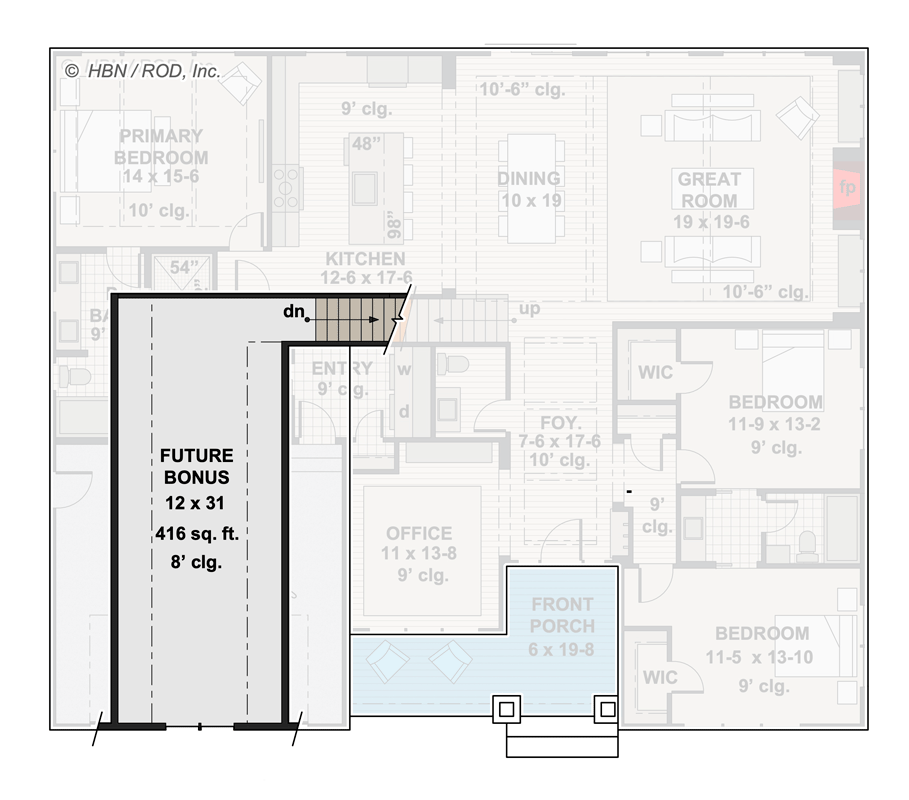 Picture this: a façade boasting a serene blend of timber and stone, exuding an aura of strength and simplicity. Then, your eyes catch the false dormers over the garage – not one, but two!
They're like the eyebrows to the home's face, adding character and depth to the curb appeal. You can't help but think, "This house has got its 'brow game' strong!"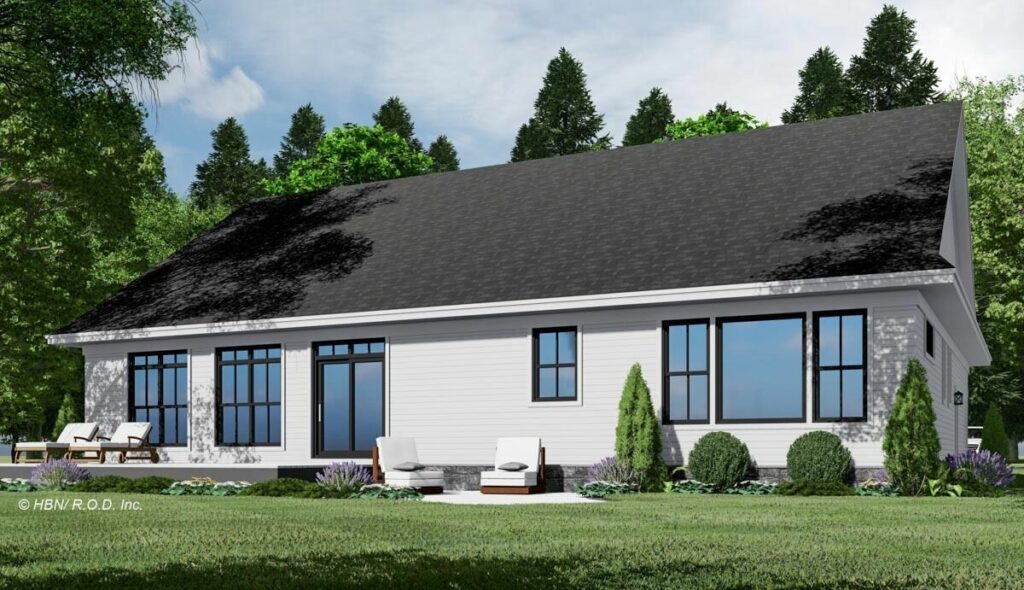 As you step inside, off the foyer, there's a home office that screams productivity (or, let's be real, a safe haven for your secret snack stash).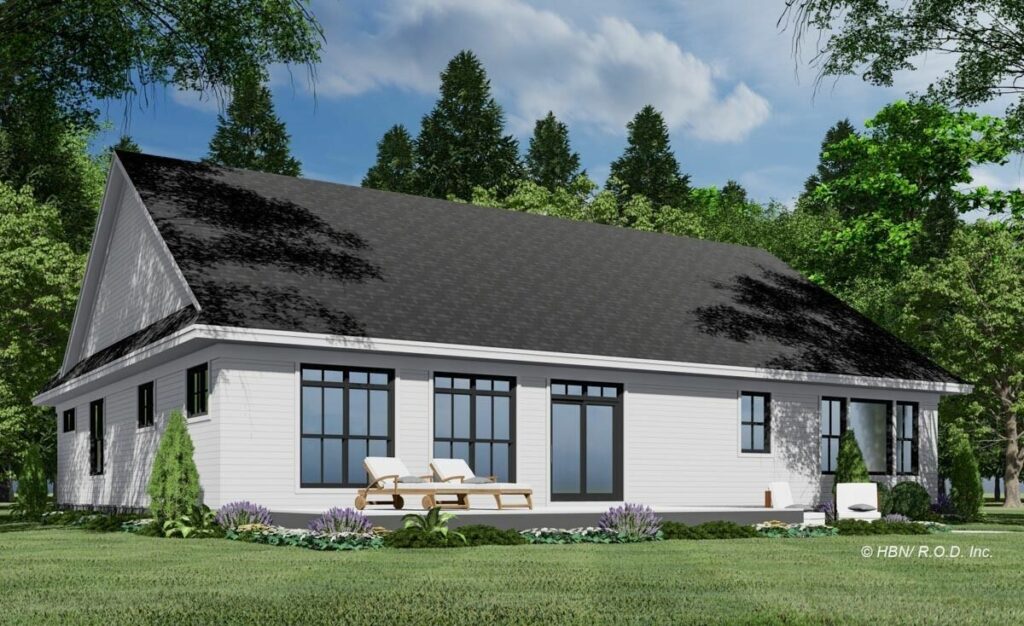 It's the ideal spot for those work-from-home days when your cat insists on being the unsung hero in your Zoom meetings.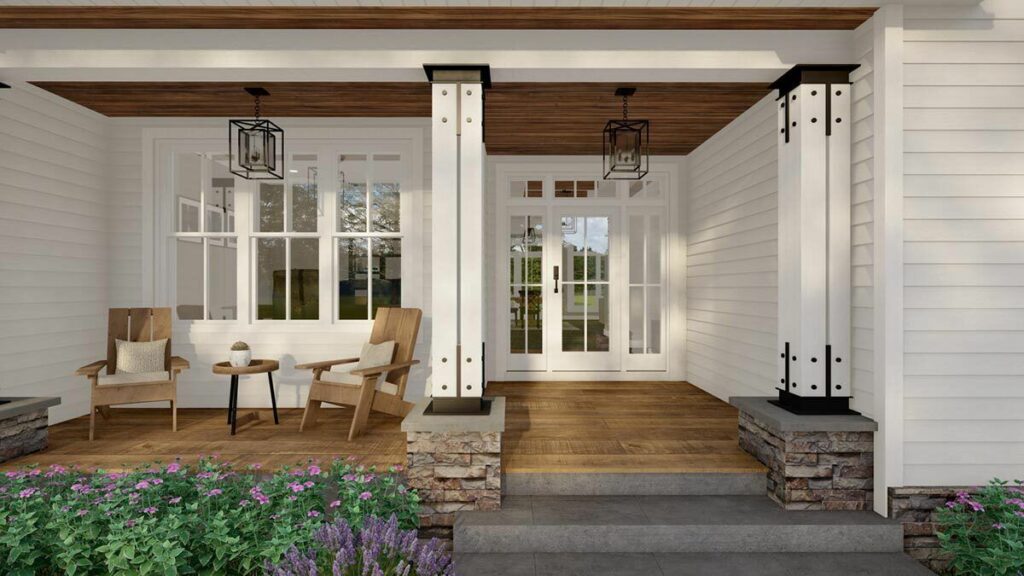 This space is dedicated to keeping the work-life balance in check, literally a few steps from your living space but mentally miles from the daily household hustle.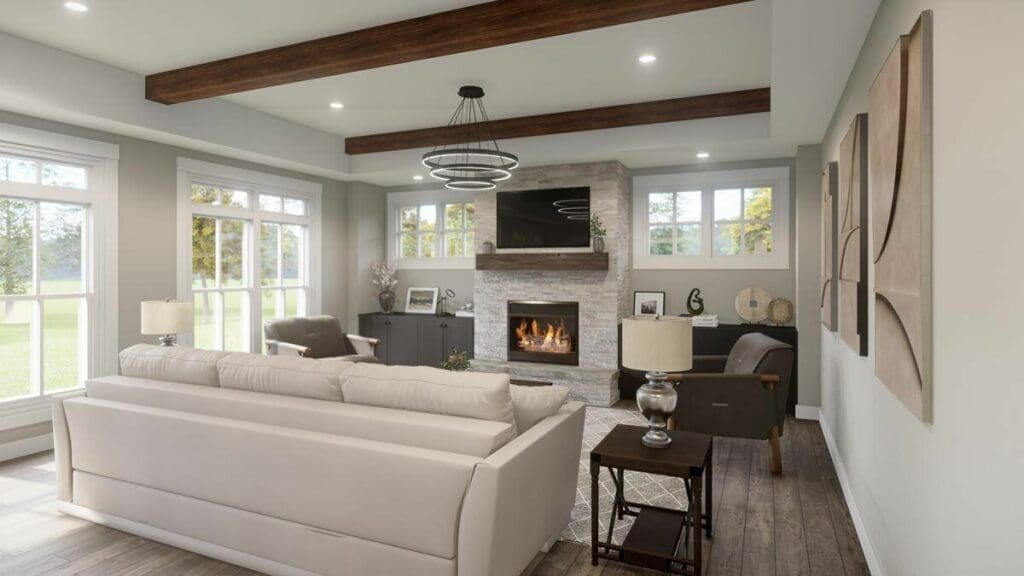 The heart of the home is the open concept layout, where the kitchen, dining, and great room converge, making it a hotspot for interaction and connection.
The large kitchen island, with seating for four, isn't just a place to sit; it's where stories unravel, weekend plans hatch, and midnight snacks materialize. It's the unsung hero of many family discussions, quick breakfasts, and the occasional "I'll just stand here and eat" moments.
Now, the great room, oh the great room! Complete with a fireplace, it's a cozy nook perfect for everything from "pretzel day" binge-watching sessions to sophisticated soirées with friends.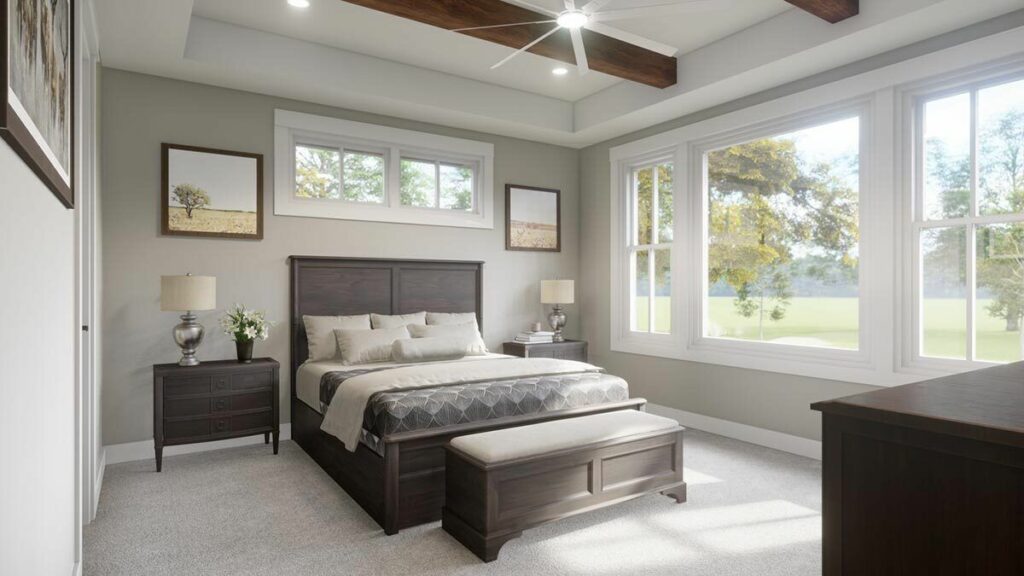 It's where comfort meets style, and let's be honest, where you'll probably doze off more than once in the ultimate "power nap" chair.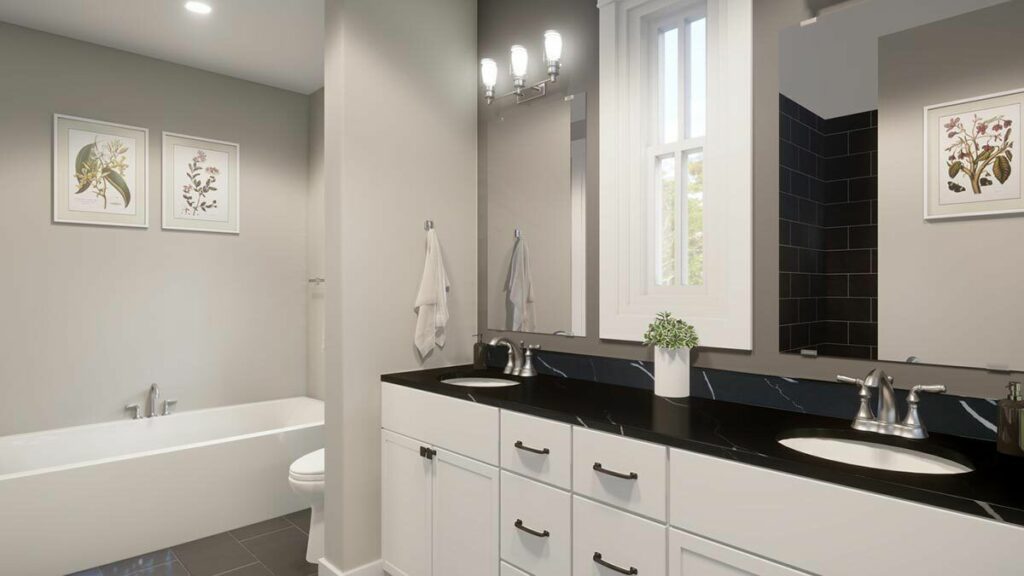 But the magic doesn't end there. Slide open the doors in the dining area, and voila! You're not just in your backyard; you're embracing the indoor-outdoor living concept.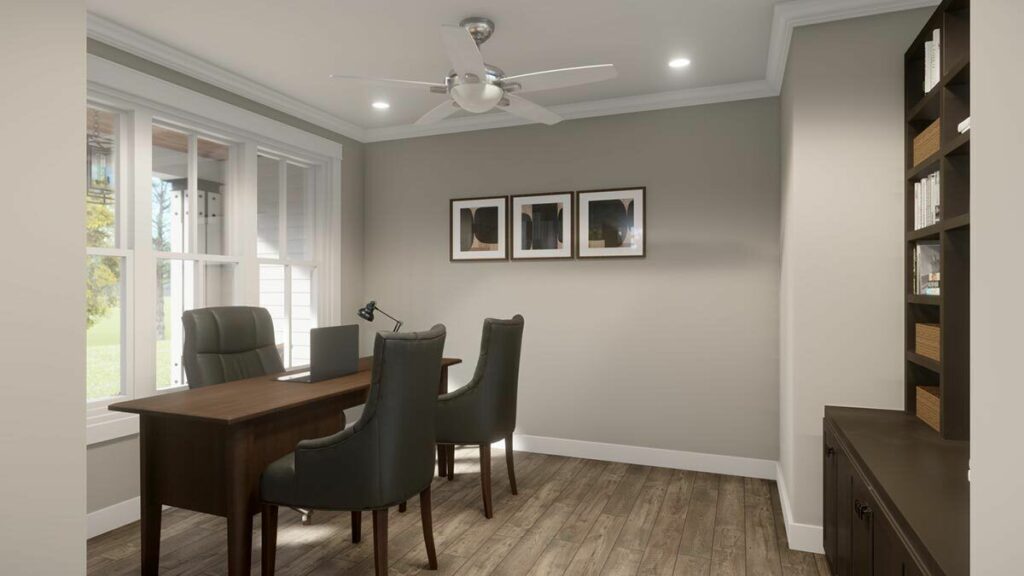 Whether it's hosting barbecues, soaking up solitary moments with a good book, or engaging in a therapeutic battle with a stubborn lawn, this space offers a slice of serenity.
Let's talk about the main level master suite – a sanctuary designed for relaxation. The expansive walk-in closet might make you feel like you've walked into a boutique where everything is in your size, and everything is free (because, well, it's yours).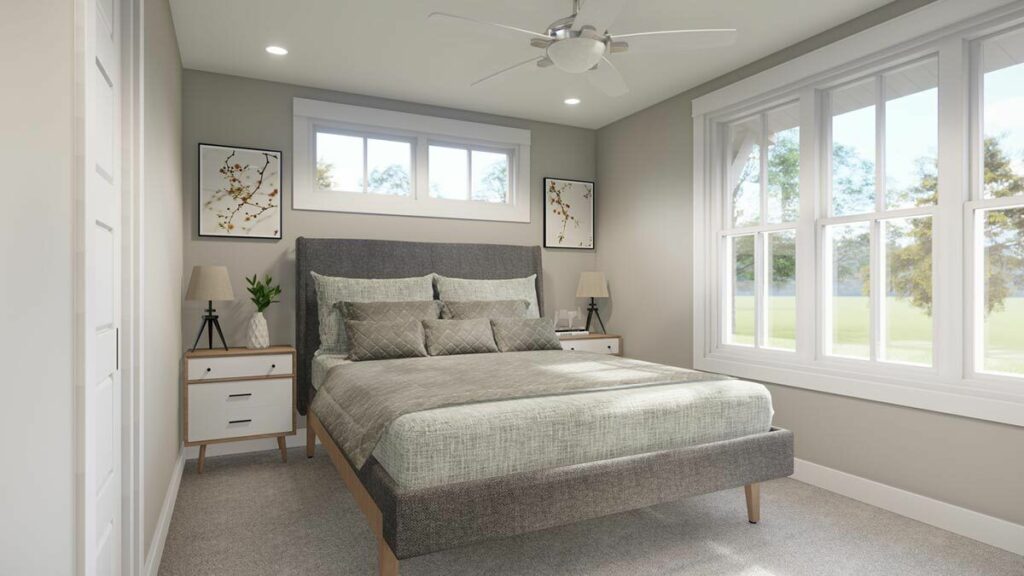 The private bath invites calmness into your routine, promising a spa-like experience without the "strangers in robes" encounter.
Convenience is key in this home, evident in its dedicated laundry space. Gone are the days of lugging heavy baskets up and down the stairs, huffing, puffing, and re-evaluating all your life choices.
No, in this house, the laundry area is a functional, accessible space that might just make you not dread laundry day (as much).
On the right side of the home, we find two additional bedrooms, embodying privacy and comfort. These rooms share a Jack and Jill bath, which essentially means less bathroom hogging and more harmony.
It's the perfect setup for kids, guests, or an impromptu karaoke stage when the mood strikes (bathroom acoustics, am I right?).
Oh, but we're not through yet! Remember the 416 square foot bonus room over the garage? It's like a blank canvas waiting for your imagination. Home theater? Gym? Art studio? Gaming den? That place you "accidentally" forget to clean? The possibilities are as endless as your creativity.
In essence, this timber and stone modern farmhouse isn't just a structure; it's a lifestyle. It's about embracing simplicity without sacrificing luxury.
It's where classic charm waltzes with modern comfort, creating a timeless allure that you get to call "home." So, here's to countryside tranquility, a hint of tradition, and all the contemporary conveniences you crave. Welcome to the good life!
Plan 14762RK