Specifications:
2,768 Sq Ft
4 Beds
3.5 Baths
2 Stories
3 Cars
Alright, folks, let me paint a picture for you. Imagine stepping into a home that feels like Joanna Gaines just gave it a magical touch, but with a sprinkle of the 21st century.
That's right – I'm talking about a modern 4-bedroom farmhouse plan that's as trendy as that new avocado toast cafe downtown.
Yep, the one where they serve you toast on a piece of slate. Let's dive in!
Stay Tuned: Detailed Plan Video Awaits at the End of This Content!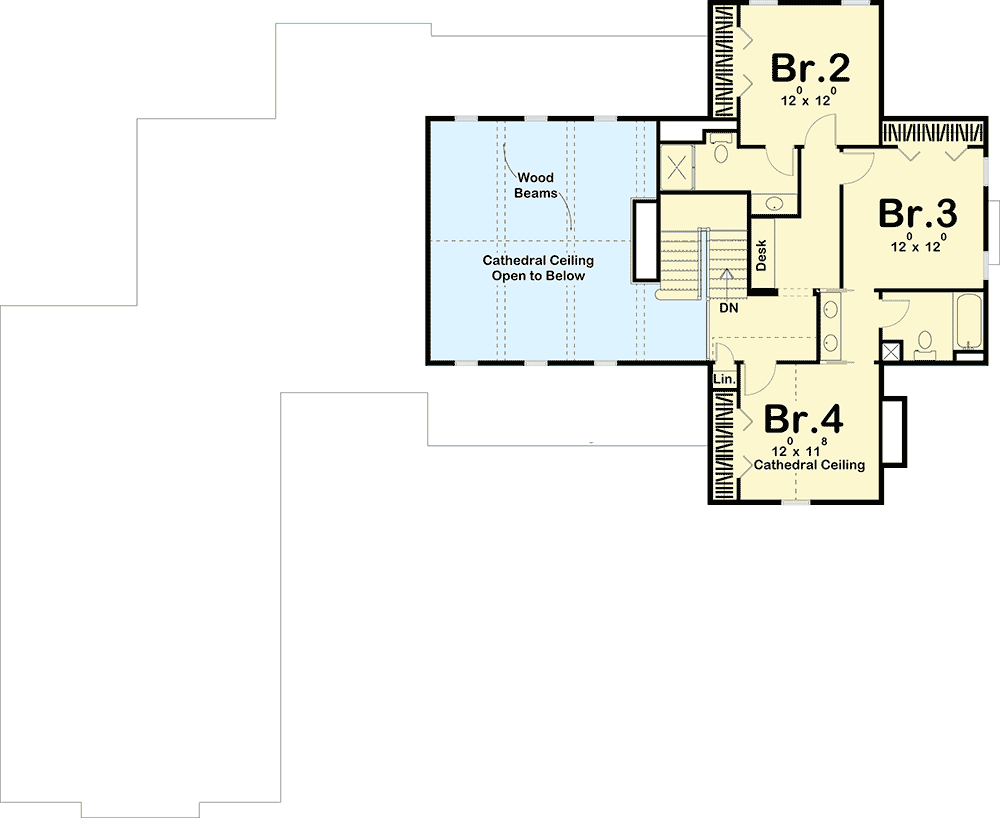 At 2,768 sq ft, this house is basically the real estate version of "I've been doing my squats".
Four bedrooms mean you've got space for yourself, the kids, the in-laws (when you're on speaking terms) and maybe even that yoga room you've been daydreaming about.
But wait, there's more. With 3.5 baths, gone are the days of queuing up for the bathroom every morning. Score!
Oh, and did I mention it's got two stories? Because everything's fancier when it's double-decker.
Seriously, though – it's like living in a mansion without the hoity-toity butler judging your Netflix choices. Plus, you'll get the added benefit of toned legs from climbing those stairs every day!
Now, if you're anything like me, you've got stuff. Maybe even three cars' worth of stuff. Bicycles, kites, that strange collection of antique teapots.
But guess what? This house has got you. With a garage that can fit 3 cars, it's basically begging you to go on that next antiquing spree.
But let's talk porches. If you're a porch enthusiast (and if you're not, who even are you?), you're going to be in heaven. Huge porches at the front and back, with an extra on the side.
It's like this house is giving porches out like Oprah giving cars. "You get a porch! And you get a porch!" Morning coffees, evening wines, and awkward neighbor chats have never looked better.
And the exterior? Let's just say it's what happens when rustic charm dates a modern influencer. Open raked eaves, gable roofs that scream 'farmhouse chic,' and a standing seam metal roof to top it off.
The board and batten cladding is like the timeless leather jacket of house exteriors, with just a smidge of stone acting as the cherry on top.
Inside, prepare to be wowed. The great room boasts a 2-story ceiling that's so high it could give you a nosebleed (not really, but you get the point).
Plus, it's open to both the kitchen and dining room, making it perfect for Thanksgiving, Christmas, or that cooking experiment gone wrong (we've all been there).
Fancy a tray ceiling? Of course, you do. The master has it, and so does the living room with a fireplace for those cozy moments. Trust me, once you have a tray ceiling, you'll wonder how you ever lived without one.
The kitchen? Every wannabe chef's dream. A spacious island for prepping, seating, and yes, even those impromptu dance-offs.
Plus, a walk-in pantry so big, you could probably lose yourself in it. And let's not forget about the walk-in pantry – a black hole for all your snacks, cereals, and secret chocolate stashes.
Venture upstairs, and you're met with three spacious bedrooms, sharing two baths (because sharing is caring).
And if you're working from home (or just need a space to online shop), there's a built-in desk in the common area. No more working from bed (unless you really want to)!
So, there you have it. A modern 4-bedroom farmhouse plan that's basically the love child of charm and convenience. If this house was a movie, it'd be a blockbuster hit. Move over, Hollywood – this farmhouse is stealing the show!
And if you need me, I'll probably be on one of those three porches, sipping my tea and waving at the neighbors. Fancy joining?
Plan 62544DJ