Specifications:
4,103 Sq Ft
4 Beds
4.5+ Baths
2 Stories
3 Cars
Alright, folks, get ready to feast your imagination on what can only be described as the home of our wildest, stylish dreams!
We're talking about a modern gothic farmhouse that makes you go "Yasss!" every time you walk through the door.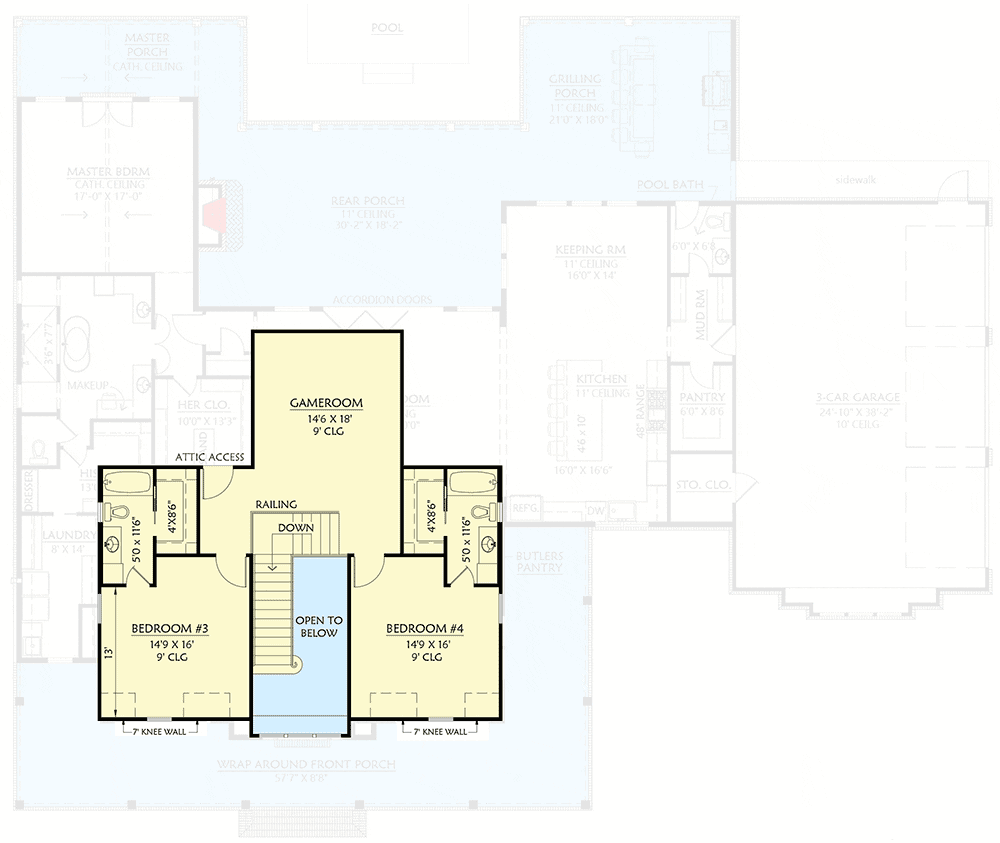 So, you pull up to this impressive abode, and the first thing that smacks you in the face (not literally, we're talking metaphorically!) is the expansive wrap-around front porch. You almost expect Southern belles with parasols to be sitting there, sipping iced tea, but wait—this ain't your regular southern beauty. This one's got a Gothic edge!
Starting with the basics, this stunner sprawls across a generous 4,103 Sq Ft. It's a 2-story showstopper that can house your family, the in-laws (if you're feeling generous), and maybe a ghost or two, given the Gothic vibes!
And just to make your car feel as pampered as you, there's a 3-car garage. Go ahead, give your rides their own fancy digs.
Inside, things only get better. The great room is where the magic happens. Imagine walking into this room and feeling the vast openness. Now, push on the accordion sliding door, and watch the inside and outside blend effortlessly.
Perfect for those summer evenings when you can't decide if you want to be indoors or out. As a bonus, there's a grilling porch featuring an island and a fireplace. Who needs TV when you can watch steaks sizzle?
Hungry? Wander over to the open kitchen. It's where every meal turns into an episode of a gourmet cooking show. The multi-purpose island doesn't just allow you to whip up a meal; it lets you put on a whole show for an audience of five seated guests!
And just when you think it can't get fancier, BOOM! There's a butler's pantry across from a wine room. Yes, wine enthusiasts, your eyes did not deceive you. There's an actual room dedicated to your favorite grape juice.
Let's step into a space that even royalty would envy—the master bedroom. Situated like a guarded treasure toward the rear, it whispers tranquility.
The cathedral ceiling? Oh, it's nothing short of divine. Those French doors open to the rear porch, inviting in morning freshness and possibly some nosy birds. But hey, it's their world too.
You can't mention the master bedroom without gushing over its ensuite. The freestanding tub and oversized shower beckon you for relaxation. And for those of you who argue over closet space, guess what? Dual closets. Let the wardrobe wars end!
But this house isn't all about the masters. A guest bedroom with a full bath exists for your favorite aunt or that friend who just can't seem to leave (you know the one). Oh, and muddy shoes? Fret not. There's a mudroom right next to that fancy 3-car garage.
Take the grand tour upstairs, and you're greeted by a game room. Monopoly showdown, anyone? And lest we forget, bedroom suites 3 and 4 frame this space, ensuring there's enough room for everyone.
There you have it—the modern gothic farmhouse of dreams. Whether you're a country soul with a twist of drama or just someone who wants an Insta-worthy home, this is where you want to be.
Now, if you'll excuse me, I have to go daydream about that wine room. Cheers!
Plan 56481SM