Specifications:
2,330 Sq Ft
4 Beds
3 Baths
1 Stories
2 Cars
So, you've finally given up on stairs?
Look no further!
Dive into this one-level beauty that doesn't just whisper luxury—it belts out a rousing aria of opulence and convenience.
Get cozy, and let me take you on a tour of this exclusive transitional house that may very well be your next abode.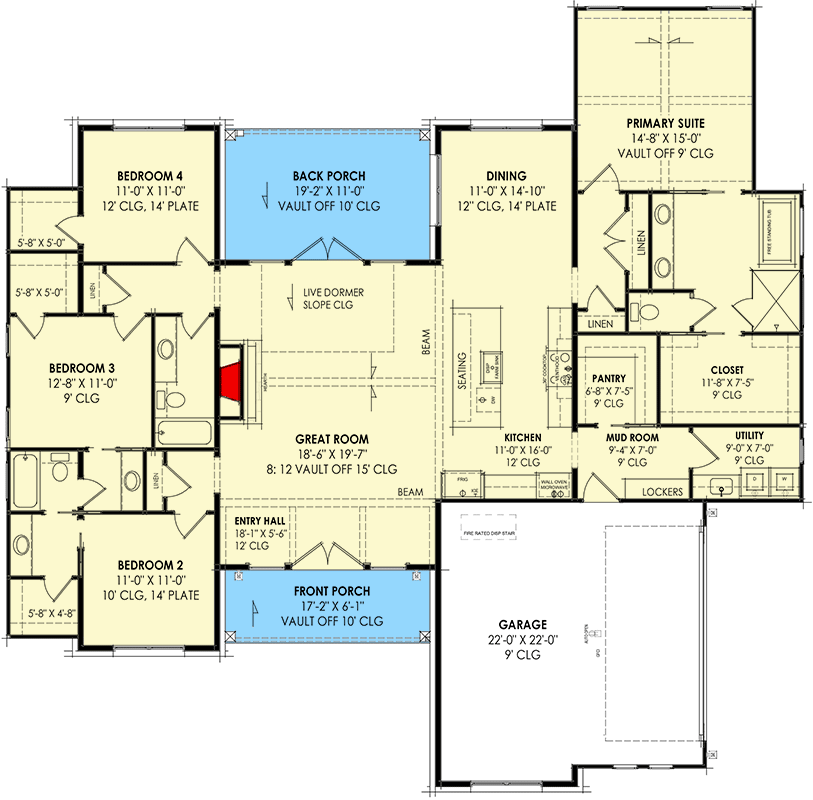 Imagine waking up on a lazy Sunday morning, the sun casting a gentle glow. Instead of walking through a maze of rooms, you find yourself in a central living space that's the heart of the house.
And guess what? This isn't any old living space. It's flanked by front and rear porches. Whether it's coffee at dawn or wine at dusk, these porches have got your 'me-time' covered.
The centerpiece of this space? A vaulted ceiling, regally stationed above a fireplace in the great room. Go ahead and throw on a faux royal accent; you've earned it. What's that you hear? The sizzle of bacon?
That's because the open design lets you waltz straight into the kitchen without skipping a beat. Breakfast, here you come! And if breakfast is a grand affair, the attached dining room is ready to host your mimosa-laden brunches.
Let's talk about that primary suite. You know how the king and queen always have a separate chamber in fairy tales?
This is yours. Tucked away for utmost privacy, it's the sanctuary every tired adult dreams of. The ensuite bathroom? It's got FIVE fixtures.
Count 'em! I'd wager there's enough space for an impromptu dance. And, let's not forget the pièce de résistance – the walk-in closet. Because we all have those 'nothing to wear' days, and this closet might just be the answer.
On the left of this masterpiece, three bedrooms await. Perfect for the kids, guests, or that one room where you pretend clutter doesn't exist. Two of these rooms have their secret – they share a Jack-and-Jill bathroom.
Childhood bathroom wars, be gone! And because we believe in luxury, each room comes with its own walk-in closet. Go on, buy that tenth pair of shoes.
We've all been there. Returning from a grocery run and playing Tetris with the pantry. Here's the game-changer: a roomy walk-in pantry opposite a mudroom.
Speaking of the mudroom, it comes with built-in lockers. So, muddy boots and rain-soaked jackets won't trail their mess into your pristine living space.
Parking troubles? Say no more. A side-entry garage, spacious enough for two cars, beckons. Whether you've named your car Betsy or the Batmobile, it's got a home here.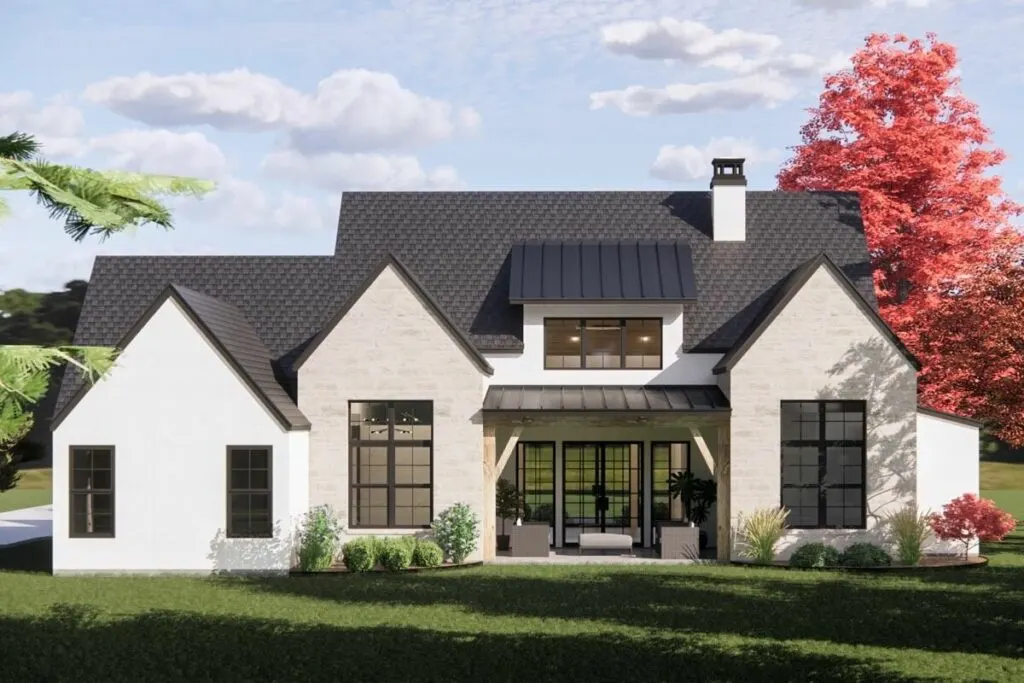 In essence, this 2,330 square foot of brilliance merges modern aesthetics with unmatched functionality. Four bedrooms, three baths, and a promise of memorable moments. If homes had personality, this one would be the witty, well-dressed individual everyone wants at their dinner party.
In the great game of house hunting, you might just have found your winner. Or, in the immortal words of every infomercial ever, "But wait, there's more!" Actually, there isn't. That's pretty much it. But isn't it grand?
Plan 818050JSS