Specifications:
2,078 Sq Ft
2-4 Beds
2 – 3 Baths
1 Stories
3 Cars
Pull up a chair, grab a cup of coffee (or whatever tickles your fancy), and allow me to introduce you to a house plan that's as charming as a sunny day in spring, yet as modern as your latest smartphone.
It's a Craftsman house plan, folks – but not your grandma's Craftsman.
It's got more than a few 21st-century tricks up its sleeves, and I can't wait to walk you through them.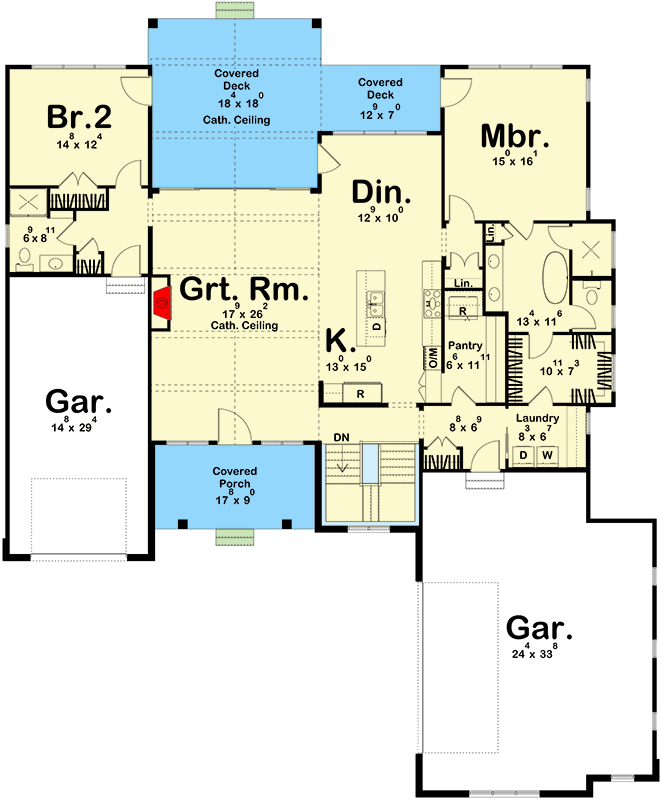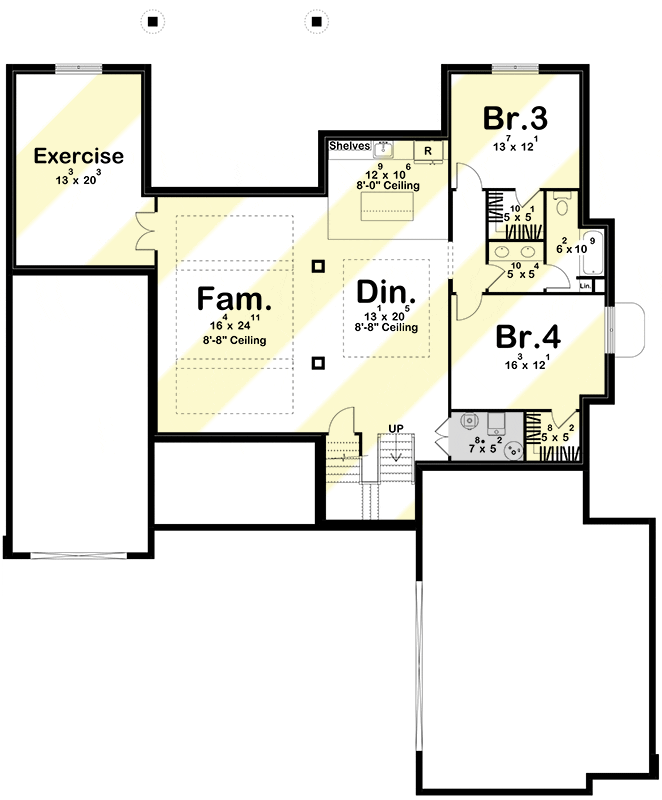 Nestled comfortably in a generous 2,078 square feet of real estate, this home offers two to four bedrooms, depending on how generous you're feeling or how numerous your kin are.
Two to three baths mean no more queuing for the shower in the morning – unless, of course, you're living with a teenage daughter. And with only one story, you won't have to worry about the kids making a ruckus upstairs or the horror of lugging laundry up and down flights of stairs.
But wait, it gets better. This modern marvel doesn't skimp on parking either. Not one, not two, but three car garages are at your disposal. Why? Because you're worth it, that's why.
And, because there is a two-car garage for your everyday rides and a separate, one-car garage that can be anything you want it to be: a man-cave, a she-shed, an art studio, a home gym, or the place where your vintage car sleeps at night.
Now, the exterior is where the charm factor goes through the roof – quite literally. Drawing from the time-honored Craftsman tradition, it's a harmonious blend of stone and wood, giving it a cozy yet elegant appeal.
Picture this: you pull into your driveway after a long day, and the inviting glow of the home's warm, natural facade melts your stress away. The covered entryway seems to say, "Welcome home! You're gonna love it here!" And trust me, you will.
Step inside, and you're immediately greeted by a great room that truly lives up to its name. With cathedral ceilings and exposed beams, it's got more character than a Dickens novel.
The room is spacious and airy, just perfect for those family gatherings, Netflix binges, or dance-offs (we don't judge). The expansive sliding doors not only flood the room with natural light but also connect to a covered deck – a perfect spot for sipping your morning coffee or nightcaps under the stars.
Adjacent to this great room, you'll find a kitchen that's as stylish as it is functional. You can almost hear the soft whisper of high-quality cabinetry as you reach for your hidden stash of chocolate chip cookies in the walk-in pantry.
Yes, you read that right – a hidden walk-in pantry! It's like Narnia, but for food. All your kitchen appliances and a world of canned goods and snacks are just one secret door away. It's the kind of thing that could make a grown man cry, or at least it gets me a little misty-eyed.
The primary bedroom is your sanctuary. It boasts an ensuite bathroom and a walk-in closet big enough to accommodate a small boutique.
So go on, indulge in those retail therapy sessions. There's room. The second bedroom, conveniently near the second bathroom, ensures privacy for guests or kids. So, you won't have your mother-in-law walking in on your bubble bath – unless she's really determined.
All these features blend harmoniously to make this house plan the epitome of modern Craftsman living. It's a home that harks back to the honest craftsmanship of yesteryears while unashamedly embracing the comforts and convenience of contemporary life.
It's a home that wraps you in its charm, fills you with pride, and gently whispers in your ear, "This is the life."
In short, this modern Craftsman house plan is more than just a place to hang your hat; it's a testament to timeless design and modern convenience. It's about coming home to a place that's as welcoming as it is impressive. So, buckle up, my friend.
It's time to turn the dream of owning such a magnificent home into a reality. And remember, should you ever feel the need to invite a house plan enthusiast over for a cup of coffee in that great room, well, I'm all ears (and sips)!
Plan 623237DJ