Specifications:
1,583 Sq Ft
3 Beds
2 Baths
1 Stories
3 Cars
Ahoy, dear reader!
If you're on a hunt for the perfect abode that's as snug as your favorite pair of socks but still has enough oomph to drop some jaws, look no further.
Let's embark on a tour of this adorable Craftsman Ranch House that promises the right blend of style, space, and—yes, you guessed it—sassy ceilings.
Stay Tuned: Detailed Plan Video Awaits at the End of This Content!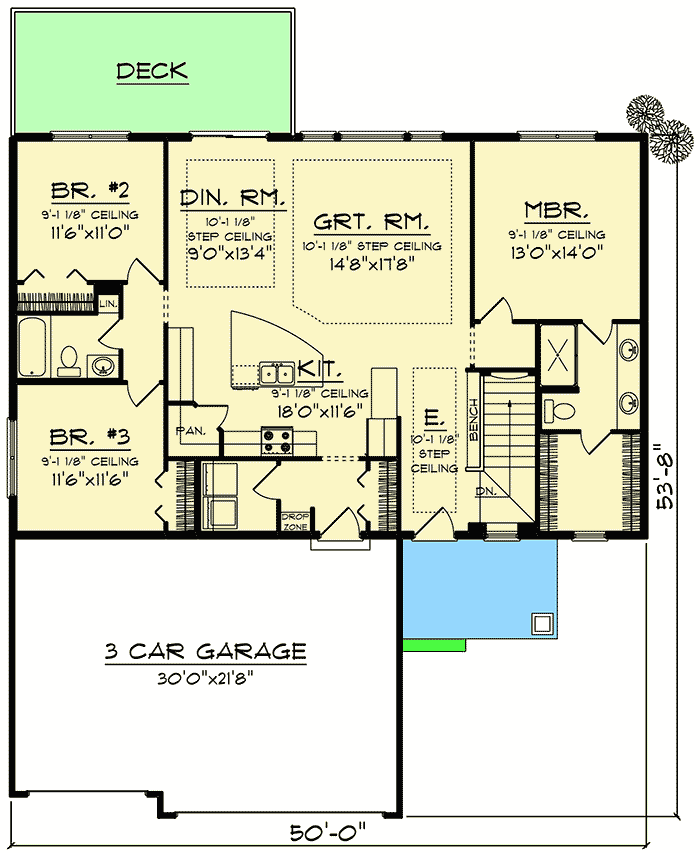 With 1,583 Sq Ft, this house might not be the largest on the block, but boy, does it use every inch creatively!
You won't need to hop on a treadmill to get from the bedroom to the kitchen, and there's no chance of losing your pet hamster in some distant wing of the house. Besides, who needs echoey hallways? Am I right?
Three beds? Yes, you read that right! Enough space for you, the occasional guest, and that one room where you swear you'll finally start practicing yoga (or, let's be honest, just stash all those items you're not sure where to put).
With two baths, there's hardly ever a need to fight over who gets to shower first in the morning. Plus, if you've ever experienced the panic of "Occupied!" moments when you're about to burst, fear not! With two bathrooms, you're always in the clear.
This house might be one story, but trust me, it's got multiple tales to tell. Gone are the days of lugging laundry or groceries up and down the stairs.
Life on a single floor means fewer bumps, fewer accidents, and definitely fewer ghosts (because everyone knows they haunt attics and basements, right?).
For those of you with a family of cars or just a penchant for collecting them, the three-car garage is your sanctuary. But if cars aren't your thing, just think of the potential—storage, a workshop, or maybe that man-cave or she-shed you've always dreamed about.
Who needs walls interrupting your cha-cha slide or conga line during a party?
The open design of the kitchen, dining room, and great room ensures that while you're whipping up your world-famous guacamole in the kitchen, you're still part of the living room banter. Let's face it: FOMO is real, but not in this house!
Hidden away yet spacious, the walk-in pantry is where you can stash all those exotic spices and secret ingredients. It's like Narnia for food. One moment you're in your kitchen; the next, you're lost among a world of flavors!
Plain, flat ceilings? Pssh, too mainstream for this house. The step ceilings in the dining area and great room give definition and character, ensuring that you're always looking up (literally).
Located conveniently on the right, the master suite isn't just a bedroom—it's a haven. A walk-in closet for the fashion-forward, and dual sinks mean no more battles for sink space in the morning. Brushing teeth can now be a collision-free activity!
Over on the left, behind our glorious garage, lie two additional bedrooms. Whether it's for the kids, guests, or just your extensive collection of stuffed animals, there's space aplenty. And sharing is caring; these rooms share a full bath right off the hall, ensuring nobody's left waiting.
In a nutshell, this Craftsman Ranch House Plan offers more than just a roof and walls. It promises a home filled with laughter, memories, and, of course, some serious style points.
Whether you're a first-time buyer or looking to downsize without compromising on charm, this might just be your next perfect address. Welcome home!
Plan 890046AH