Specifications:
4,354 Sq Ft
2 Units
64′ 0″ Width
50′ 4″ Depth
2 Cars
Grab a comfy seat and hold on to your hats, folks, because I'm about to take you on a grand tour of the modern farmhouse duplex house plan of your dreams.
This one's got all the charm of a rustic barn dance combined with the modish pizzazz of a sleek city loft. Ready?
Okay, buckle up!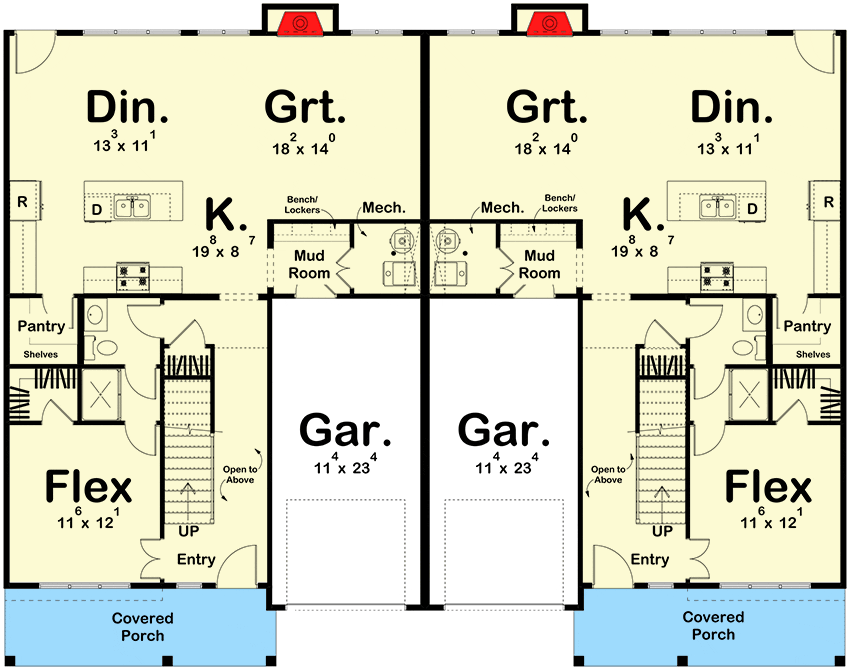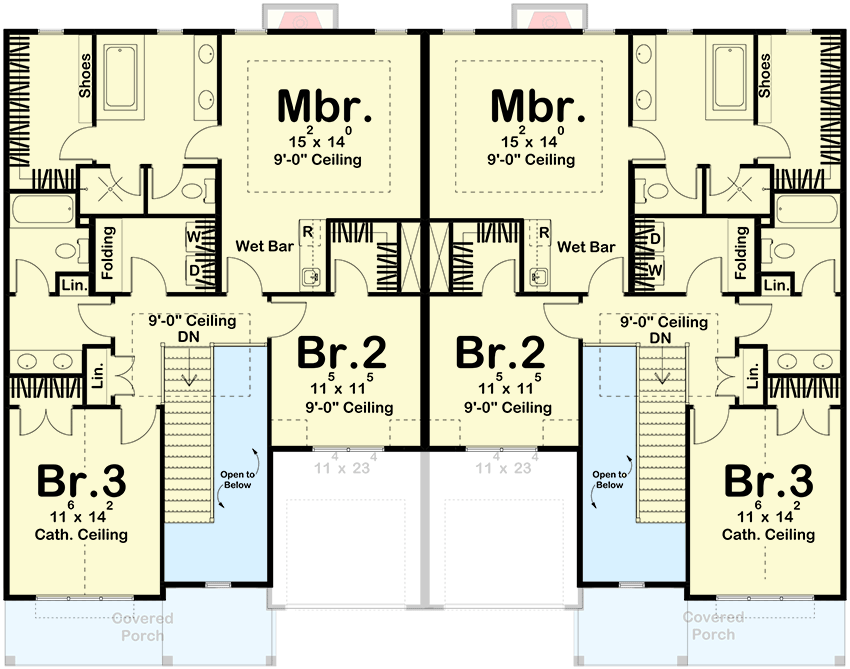 At a first glance, you may gasp a bit. I mean, this thing is a looker. You might think it was plucked from a glossy magazine, with its stunning mix of board and batten siding, bold black exterior, and eye-catching wood accents.
But this is no architectural diva demanding all your attention and giving nothing in return. Nope, this farmhouse duplex design dishes out practicality, livability, and a whole heap of creature comforts in its snug 2,177 square feet of heated living space, all under a 4,354 sq ft roof.
Now let's walk in, shall we? Kick off your shoes and picture this. The sun's just peeking over the horizon as you saunter onto your covered porch.
You have a steaming cup of coffee in your hand, and the quiet hum of the morning is your soundtrack. This cozy nook next to the one-car garage might just become your favorite spot to welcome each day or wave it goodbye while watching those painterly sunsets.
Stepping inside, you're greeted by a hallway that's not only long enough to host a mini bowling league but also features an inviting staircase leading up to the boudoir level.
Here's where the dream transforms into a haven for those who crave both privacy and camaraderie. The stairs lead to three bedrooms, including a master that's got more bells and whistles than a circus.
We've also got a flex room with a walk-in closet that's begging to be an office or an extra bedroom, depending on your whims.
It's almost like a fashionista who can't decide between Boho chic and minimalist elegance. It's connected to a shared bathroom and leads out into a shared space for the kitchen, dining room, and great room, which, let me tell you, is more than just great.
It's like a get-together spot where a Michelin-star chef meets a top-tier party planner.
The kitchen offers a spacious island that's probably larger than some actual islands out there. Throw in a walk-in pantry for secret midnight snacks and a mudroom that leads to the garage, and you've got a functional space that's also an entertainer's delight.
Now, let's head upstairs to that master bedroom. Trust me, it's more than just a place to sleep; it's practically a mini-resort.
The entryway greets you with a wet bar (yes, you read that right), leading into a sprawling private bathroom featuring a double vanity, a soaking tub for those spa days at home, and separate toilet and shower areas because, let's face it, privacy is golden.
But wait, there's more! A large walk-in closet with a built-in shoe rack makes this a haven for fashion lovers, and it's connected to the laundry room for the ultimate in practicality. No more lugging heavy baskets up and down the stairs!
Let's not forget about bedrooms 2 and 3. These rooms share a bathroom, which might just teach the kiddos a thing or two about cooperation and negotiation skills.
So, in a nutshell, this modern farmhouse duplex house plan is like a beautifully wrapped gift that just keeps on giving.
From the moment you pull into one of its two one-car garages till you tuck in at night under the 2200 sq ft roof, you're living in a space that's been meticulously designed for comfort, functionality, and style. Now, who wouldn't want to call this place home?
Plan 623179DJ