Specifications:
3,999 Sq Ft
3 Beds
3.5+ Baths
1 Stories
4 Cars
Well, folks, saddle up, and get ready for the grand tour!
Picture yourself stepping into a sprawling, one-story, Southern-style dream, stretching out to a whopping 3,999 square feet.
That's right, nearly 4,000 square feet to get lost in and call your own.
And guess what? It's not just any home. This home is like a layered cake, with more than one cherry on top!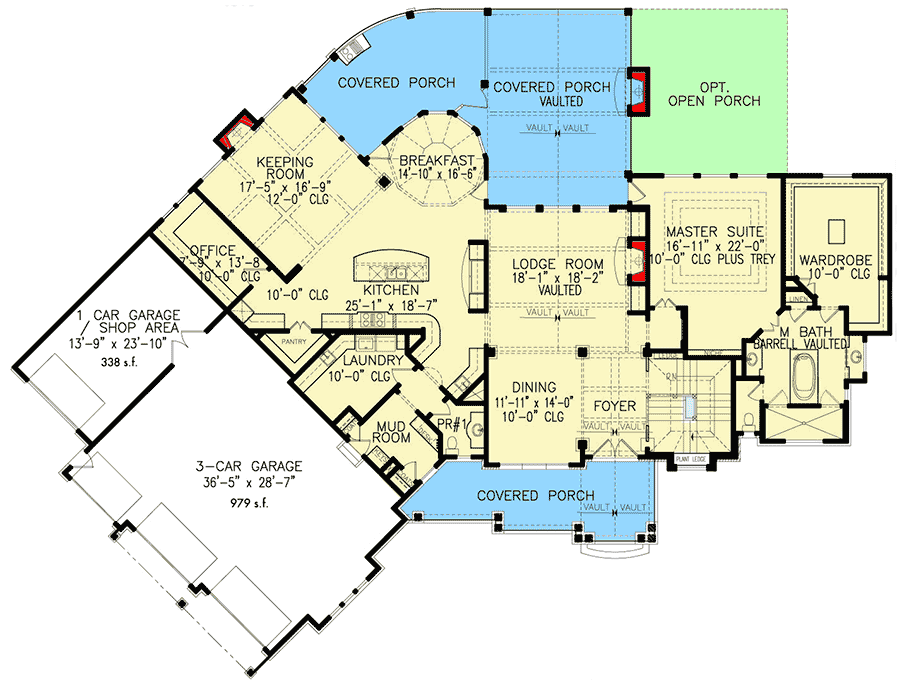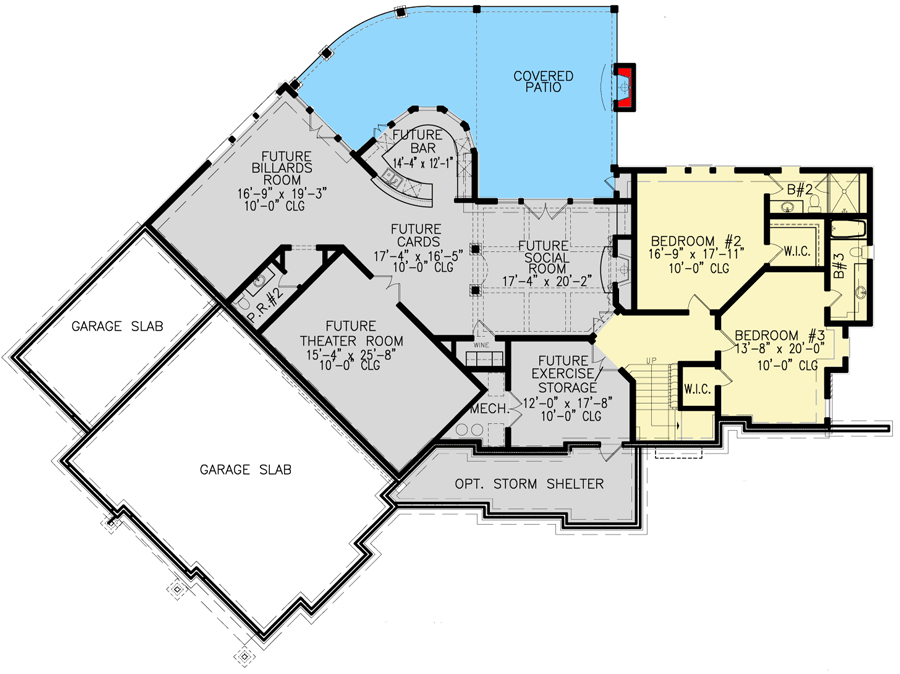 As you approach this regal residence, an angled 3-car garage—with a workshop to boot—sits majestically alongside. If you're like me, already thinking of all the DIY projects and vintage car tinkering you can get up to in there, we're just getting started.
Now, hold onto your hats, we're headed for the front door. You're welcomed home by a covered porch, a perfect spot to sip your sweet tea on hot summer afternoons.
Open the door, and the magic continues. An elegant, barrel-vaulted foyer steps out of a fairy tale to greet you, complete with a neighboring dining room just waiting to host your family's next Thanksgiving turkey.
Next up, we have the lodge room, your personal nirvana of comfort. Imagine settling into your favorite armchair next to a built-in fireplace, a grand vaulted ceiling above, and a wall of windows letting in all that southern sunshine. Ah! Heaven on Earth!
Then, it's time to move on to the kitchen, the true heart of every Southern home.
With a generous layout flanked by a cozy breakfast and keeping room, there's ample space for all those mouthwatering potluck dishes and heart-to-heart conversations. You know what they say, the best parties always end up in the kitchen!
And speaking of practicality, tucked near the home's core are a spacious mudroom and laundry room. No more lugging dirty boots through the house or running two floors down with a basket full of clothes.
These spaces are purposefully designed to keep the rest of your home as pristine as a Southern belle's parlor.
Now, don't think we forgot about your 'me' time! This house plan includes a comprehensive lower level that's nothing short of an entertainment paradise.
Complete with extra bedrooms for the occasional guests or the teenagers demanding their own space, this is where the house really shines.
Imagine hosting movie nights in your personal theater or epic game nights in your very own game room.
And just when you think it couldn't get any better, there's a built-in bar for the adult fun and an exercise room for your morning routines or to sweat out the indulgences from the night before!
To top it all off, the social room connects to a sweeping deck complete with—wait for it—another fireplace! Picture the tranquil evenings, watching the sunset over a cool drink, with a fire crackling in the background.
In conclusion, this striking one-story Southern house plan is all about striking the perfect balance between luxury and comfort. Every nook and cranny of this nearly 4,000 sq ft haven has been thoughtfully designed, making it the perfect place to create memories, share laughter, and truly call it your home.
With this house, the phrase 'there's no place like home' takes on a whole new meaning. Enjoy the charm, y'all!
Plan 25662GE