Specifications:
3,861 Sq Ft
3 Beds
3.5 Baths
2 Stories
3 Cars
Ah, the joys of house hunting and home design! There's nothing quite like imagining yourself in a brand-new space, tailor-made to suit your every whim and fancy.
Today, dear reader, let's embark on a whimsical journey through a dwelling that's as charming as it is unique – a 3-bedroom New American house plan that's sure to tickle your fancy and perhaps even ignite a spark of inspiration.
We're talking about a hefty 3,861 sq ft of pure architectural delight, spread over two stories and ready to welcome three cars into its uniquely angled garage. Yes, you heard that right – an angled garage! But, let's not get ahead of ourselves, there's so much more to explore!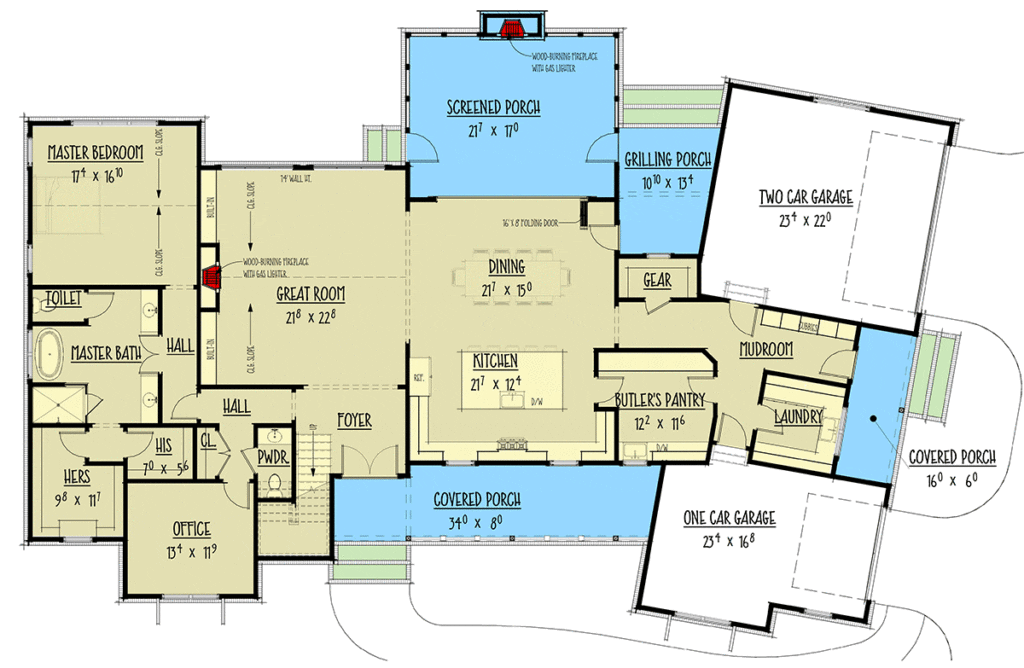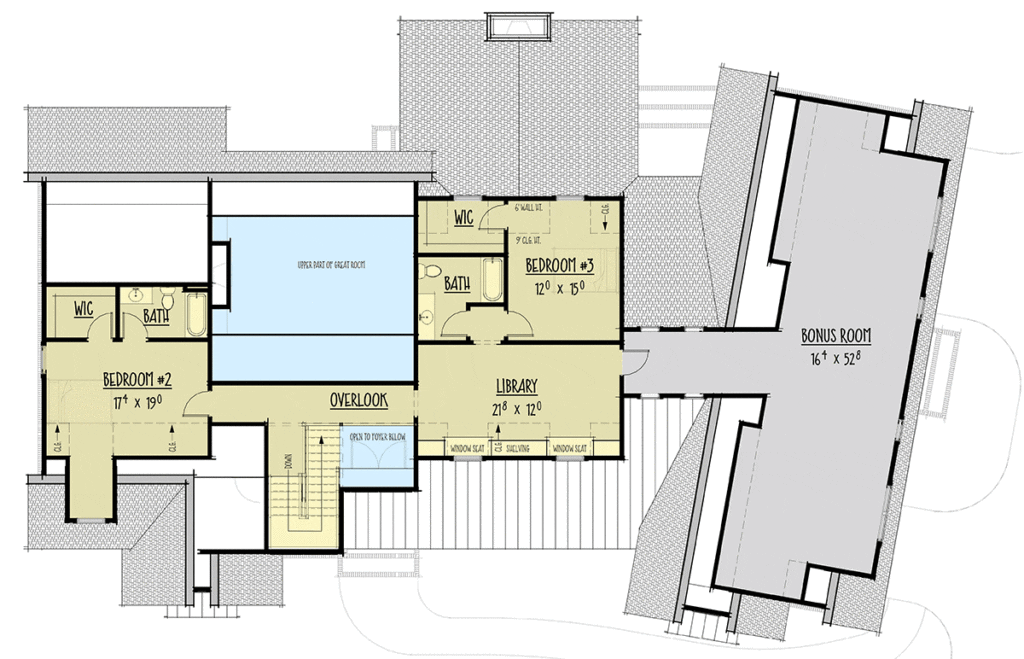 Now, at first glance, you might notice the deep, gabled overhangs standing tall and proud above a sea of bright-white siding. The vertical and horizontal lines work together in perfect harmony, creating a façade that's both modern and inviting.
But this house is not just a pretty face; it's got brains and brawn too!
The practical laundry/mudroom creates a natural separation between the third garage bay, a space that's just itching to be transformed into your dream workshop or perhaps a sanctuary for your beloved lawn equipment. The possibilities are endless!
Venturing inside, you'll find yourself smack dab in the middle of the shared living spaces. It's like the heart of the home, pumping life and energy into every nook and cranny.
The oversized windows are practically floor-to-ceiling, ensuring that every ray of sunshine is captured and put to good use, illuminating your life and your living room.
And when the weather decides to play nice, why not extend your living space out to the screened porch? Thanks to a nifty multi-panel folding door, indoor-outdoor living has never been easier, or more stylish!
Now, let's talk kitchen. If the way to your heart is through your stomach, prepare to fall head over heels in love. We're dealing with an oversized island here, folks – a behemoth of culinary potential, ready to host your most ambitious cooking endeavors.
And just when you thought it couldn't get any better, bam! There's an adjacent butler's pantry, ready to maximize your workspace and ensure that you're always the host with the most.
After a long day of cooking, entertaining, or just basking in the glory of your beautiful home, you'll be ready to retreat to the master bedroom. Tucked away on the left side of the main level, this is a space that understands the true meaning of 'master'.
It's got all the bells and whistles, from an en suite that's practically a spa, boasting a freestanding tub, dual vanities, and not one, but two walk-in closets.
And let's not forget the home office, ensuring that you have a quiet space to work, think, or simply get away from it all.
But wait, there's more! The second level is home to two bedroom suites, each with their own full bath, ensuring that everyone has their own space to relax and unwind.
And for the bookworms among us, the library with built-in window seats is a dream come true.
Imagine yourself curled up with a good book, basking in the sunlight and surrounded by your favorite tales. It doesn't get much better than that!
And for the cherry on top, let's not forget about the optional bonus room above the garage.
This is a space that screams fun, offering a perfect hideaway for the kids, a man cave, a craft room, or whatever your heart desires. The point is, it's there, and it's ready to be whatever you need it to be.
So there you have it, folks – a home that's as smart as it is stylish, as functional as it is fabulous. It's a New American dream, complete with an angled garage, oversized windows, and a kitchen that's sure to make your heart flutter.
Whether you're entertaining guests, working from home, or simply enjoying a quiet moment in your library nook, this house plan has something for everyone.
So go on, take the plunge, and start imagining your life in this architectural masterpiece. Your dream home is waiting – and it's got an angled garage!