Specifications:
2,705 Sq Ft
4 Beds
3 Baths
2 Stories
2 Cars
If Dracula had a thing for board games and open spaces, he'd probably live here.
Welcome to the Gothic-Inspired Modern Farmhouse – where dark romance meets family game night.
At 2,705 sq ft, it's spacious enough to twirl around in a cloak…or, you know, just twirl.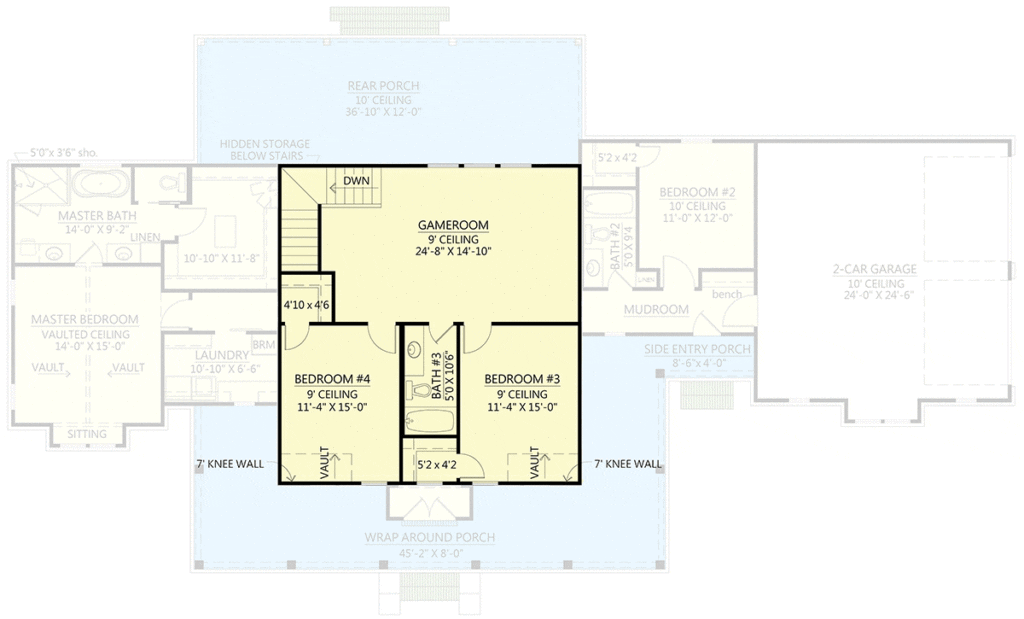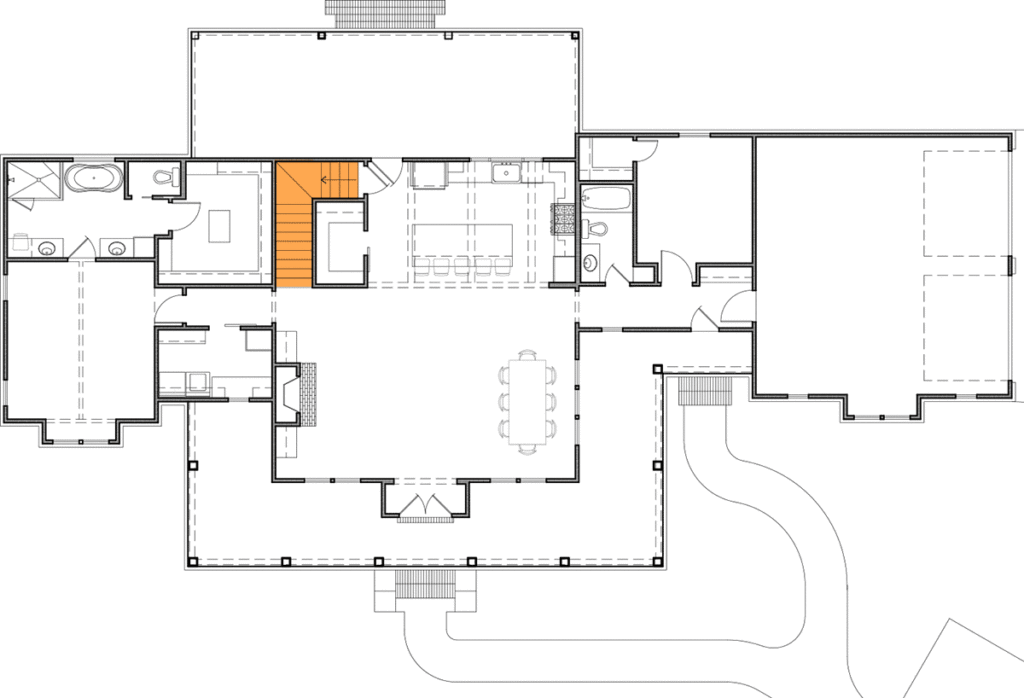 The exterior of this house is not just 'come inside for a cup of tea'; it screams 'let's have a sumptuous banquet under the stars.' Both the spacious front and rear porches offer a chance for those al fresco dinners, or perhaps a waltz by moonlight.
Walking through the double doors, you're welcomed into a generously spaced great room that feels like it's straight out of an old-world novel, yet with a modern twist.
This room seamlessly merges with the dining area, and the gothic mood is lightened by the vision of modern family dinners, debates over spaghetti sauce recipes, and occasional wine spills that would make a vampire cry.
What really captures the essence of the gothic-meets-farmhouse are the exposed wood beams in the kitchen. They tell tales of ancient times while also asking, "Hey, have you tried that new avocado toast recipe?"
And speaking of the kitchen, if the heart of the home is the kitchen, this one's heart is enormous. The oversized island doesn't just offer seating for five; it promises whispered secrets, laughter, and that one family member who always hogs the dips.
Oh, and let's not forget the dreamy walk-in pantry hidden behind rustic barn doors. You know what's really gothic? Not having to see 10 bags of half-eaten chips cluttering your countertops.
Now, slide over to the left wing, which has vibes of 'Master of the Manor.' It's where you'll discover the laundry room (because even Goths need clean capes) and the master suite. This isn't just any suite; it's topped with a vaulted ceiling.
Imagine lying in bed, looking up, and plotting world domination… or perhaps just what to plant in the garden next spring. And that window seat? It's the perfect spot for dramatic readings of gothic novels or scrolling through cat memes, you decide.
The ensuite is where the gothic romance vibe really kicks in. It's as if someone whispered, "bathing, but make it royal." The freestanding tub stands like a throne, waiting for its next occupant to soak and ponder life's mysteries.
The ensuite doesn't just stop there; a separate toilet room adds that touch of privacy, and the dresser island in the walk-in closet might make you feel like you're shopping in your boutique every morning. Dressing up or down, you've got choices galore!
Venturing to the other side of this architectural marvel, just inside from the 3-car garage (because even vampires need a place for their rides) is bedroom number two, cozily tucked next door to a full bath.
Perfect for that friend who claims they can't drive home after binge-watching your favorite gothic series.
But the pièce de résistance? The upstairs game room. As you ascend the stairs, a vast space unfurls, beckoning you to challenge your family to monopoly or perhaps charades. "Guess the Gothic Novel!" anyone?
Flanked by bedrooms 3 and 4, it's the perfect space for kids, teens, or that uncle with an unhealthy obsession with board games.
So, there you have it, the Gothic-Inspired Modern Farmhouse, where beams meet dreams, and game nights may just end in dramatic readings of Edgar Allan Poe. It's not just a home; it's a story waiting to be written. You bring the cloak; we've got the ambiance!
Plan 56507SM