Specifications:
3,052 Sq Ft
4 – 5 Beds
3.5 Baths
2 Stories
3 Cars
Picture this: a modern farmhouse, sunbeams dancing through numerous windows, metal roof shining, a home that's as practical as it is beautiful.
I mean, who doesn't dream of a window seat? Well, guess what? This farmhouse plan doesn't stop at just one!
Stay Tuned: Detailed Plan Video Awaits at the End of This Content!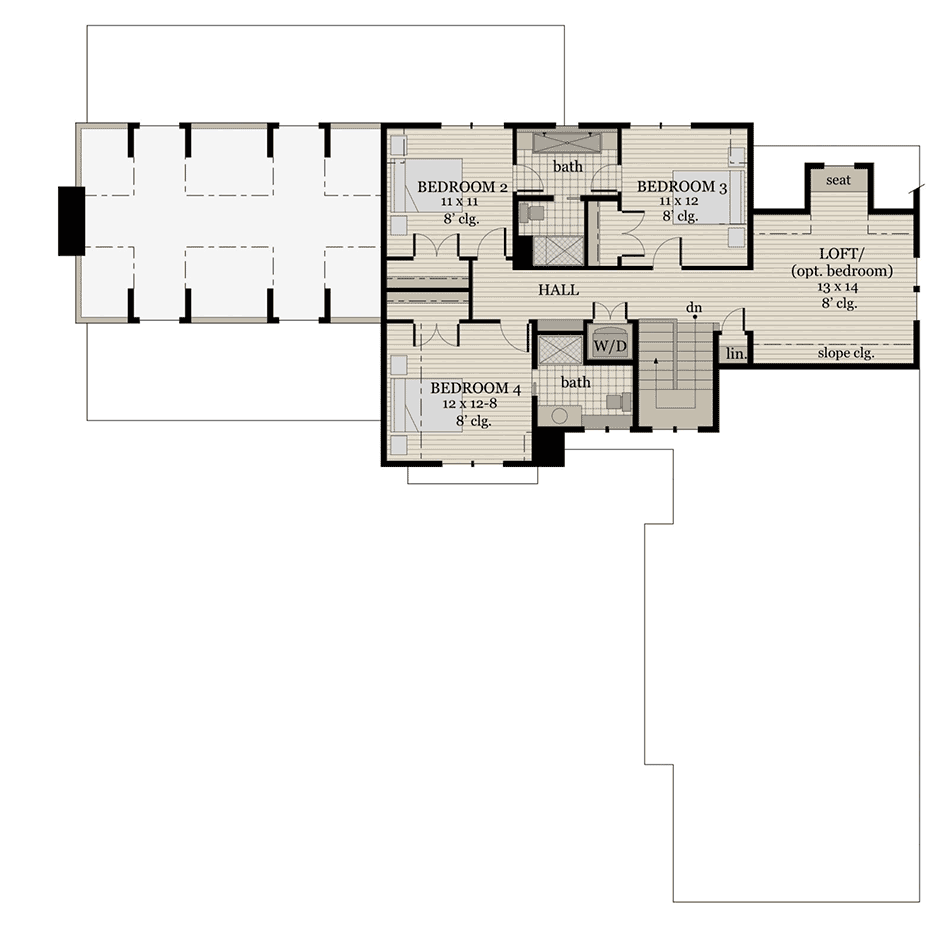 Starting with the exterior, those charming dormers aren't just for show. They invite sunlight into rooms, making the space feel open, warm, and welcoming. And the metal roof?
Not only is it striking, but let's be real, it's a lifesaver during rain showers when you forget to put your plants inside. It's like nature's own lullaby.
Now, the vaulted great room is the heart of this home. Windows on three sides mean you can stalk the mailman from every angle. (Just kidding!
But hey, if you're expecting an exciting package, who can blame you?) With porches on both the front and back, you can choose where you want to enjoy your morning coffee or evening wine. Flip a coin or follow the sun; it's up to you!
This house knows how much we love our snacks, so it graciously offers two walk-in pantries. That's right. One for healthy stuff, and another, well, for those chocolate bars and chips. No judgment here.
The home office is a modern-day necessity, and with dual built-in desks, it's an entrepreneur's or student's dream. Imagine having the space for you and your partner to work side by side.
Or maybe it's for the kiddos, transforming it into a homework hub or a homeschooling haven. No matter its use, the space is there, adaptable and ready for you.
Heading into the master suite, prepare to be wooed. Not only does it provide you a cozy sanctuary, but it's also got a window seat.
You know, for those days when you want to sit, read, and pretend you're in a romance novel or a mystery thriller.
The cherry on top? The master walk-in closet that conveniently opens right into the laundry room.
Say goodbye to trekking across the house with armfuls of clothes. Efficiency has a new name, and it's this modern farmhouse plan!
Venture upstairs and you'll find three generously-sized bedrooms. Perfect for kids, guests, or that cousin who says he's "just passing through" but ends up staying a week.
Plus, they won't fight over laundry since there's a shared laundry closet right there. Ah, domestic tranquility!
The loft provides an additional lounging space, and yes, you guessed it – another window seat! At this rate, you'll have a favorite window seat for every day of the week.
This 3,052 Sq Ft modern farmhouse is a blend of style and functionality, fitting perfectly for families, work-from-homers, and those who have an eternal love for window seats.
With enough rooms for both privacy and shared moments, this home might just be the dream you never knew you had. So, why wait? Dive into the world of window seats, dual pantries, and vaulted ceilings. Welcome home!
Plan 14659RK