Specifications:
3,477 Sq Ft
4 Beds
3.5+ Baths
2 Stories
4 Cars
Ah, the barndominium – a quirky term for an even quirkier concept that has taken the world of home design by storm.
When I first heard about it, I thought, "What in the world is a barndominium?" But folks, let me tell you, it's like peanut butter and jelly, two things you wouldn't necessarily put together, but it just works.
And today, we're diving into the nitty-gritty of a specific 4-bed barndominium-style house plan that's not just a living space; it's practically a small palace.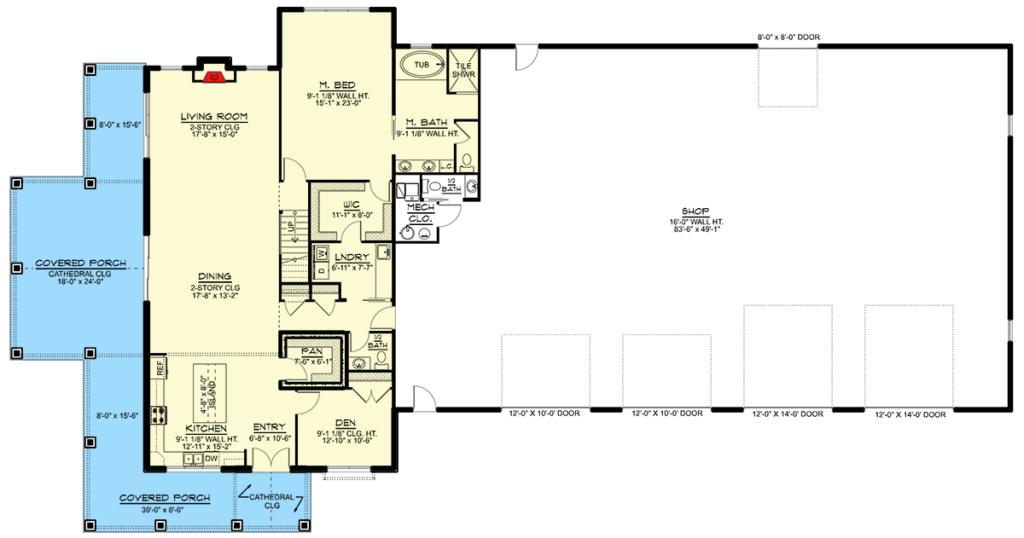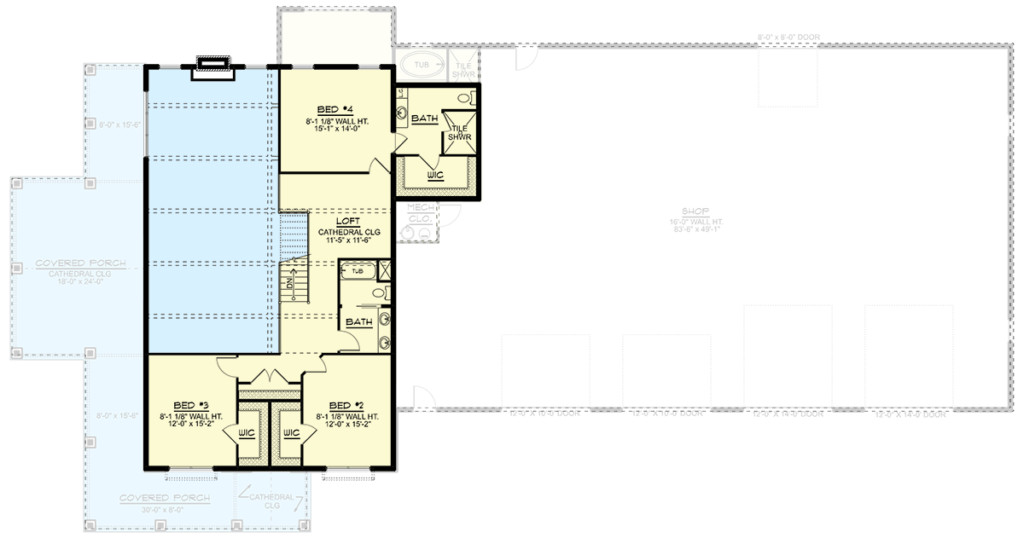 With a whopping 3,477 square feet of heated living space and a jaw-dropping 4,006 square foot shop, this house is basically telling every other house on the block to step aside.
But before we get lost in the vastness of it all, let's break it down room by room, feature by feature, and find out why this house is the bee's knees.
First off, the heart of the home. And no, I'm not talking about the kitchen, although we will get there. I'm talking about the living and dining rooms, which are enveloped in a two-story ceiling that basically screams, "I'm grand, and I know it."
It's open, it's airy, and it's the perfect space for entertaining guests, hosting family gatherings, or just lounging around in your pajamas on a Sunday morning.
Speaking of entertaining, let's mosey on over to the kitchen. Now, this is not just any kitchen. This is a spacious, chef's dream kind of kitchen where you can whip up a feast and not bump elbows with anyone.
There's enough room for a dance party in there, although I wouldn't recommend it while the stove is on.
And for those moments when you need a little peace and quiet, there's a den nearby, a secluded space to unwind, read a book, or binge-watch your favorite show.
Now, let's talk about the master bedroom, conveniently located on the main level, because who wants to climb stairs after a long day?
Not me. The master suite is more like a master retreat, complete with a 5-fixture bathroom that makes getting ready in the morning feel like a spa experience.
And ladies and gents, there's a walk-in closet connected to the laundry room. Yes, you heard me right. It's like they read our minds and knew that we've been dreaming about this for years.
But wait, there's more! Head on up to the second floor, and you'll find bedrooms 2 and 3, which are basically twinsies, mirror images of each other, sharing a hall bath. And then there's bedroom 4, with its very own bathroom, because it's fancy like that.
All three bedrooms have walk-in closets, because let's be real, you can never have enough closet space.
And for the kiddos or maybe just a communal space to chill, there's a loft that completes this floor. It's like they've thought of everything.
Now, let's talk about the pièce de résistance, the 4,006 square foot garage. I mean, calling it a garage feels like an understatement. It's massive, and it's got space for a shop, storage, and probably a small country.
With two 12′ by 10′ overhead doors and two 12′ by 14′ overhead doors, plus an 8′ by 8′ door on the backside, you've got options, my friend.
Whether you're a car enthusiast, a woodworker, or just have a lot of stuff, this space has got you covered.
And let's not forget about the exterior, which is spec'd for corrugated metal siding, giving it that rustic, industrial vibe that's all the rage these days.
It's like the house is wearing a stylish outfit, ready to impress and stand out in a sea of cookie-cutter homes.
So there you have it, a 4-bed barndominium-style house plan that's as grand as it is practical, as spacious as it is stylish. It's the kind of house that makes you stop and say, "Wow, I want to live there."
And who wouldn't? With all that space, all those features, and all that style, it's a no-brainer. This house is not just a living space; it's a statement, and it's ready to make your wildest home dreams come true.