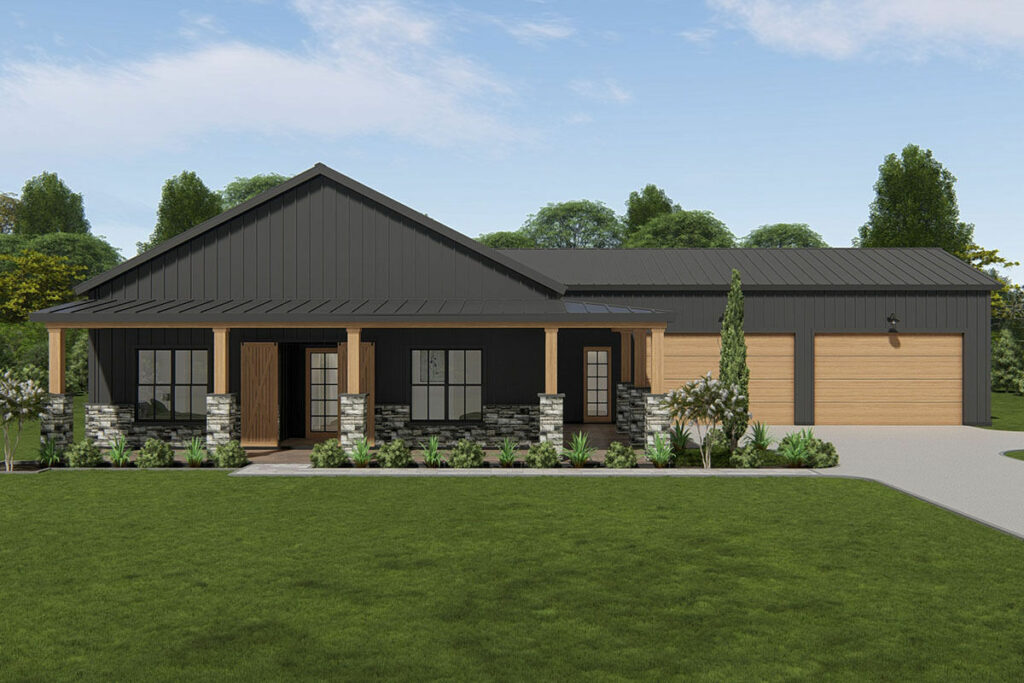 Specifications:
2,381 Sq Ft
3 Beds
2.5 Baths
1 Stories
4 Cars
Welcome to a home that knows how to make a statement without yelling from the rooftops! Today, let's talk about a house plan that's as charming as it is practical: a 3-Bed Barndominium with a 4-Car Garage, spreading its splendor over 2,381 Sq Ft.
Picture this: a single-story sanctuary with ample room for your family, your cars, and even your in-laws (if you're feeling generous).
So, buckle up as we take a tour through this architectural marvel that perfectly balances rustic charm and modern elegance.
Stay Tuned: Detailed Plan Video Awaits at the End of This Content!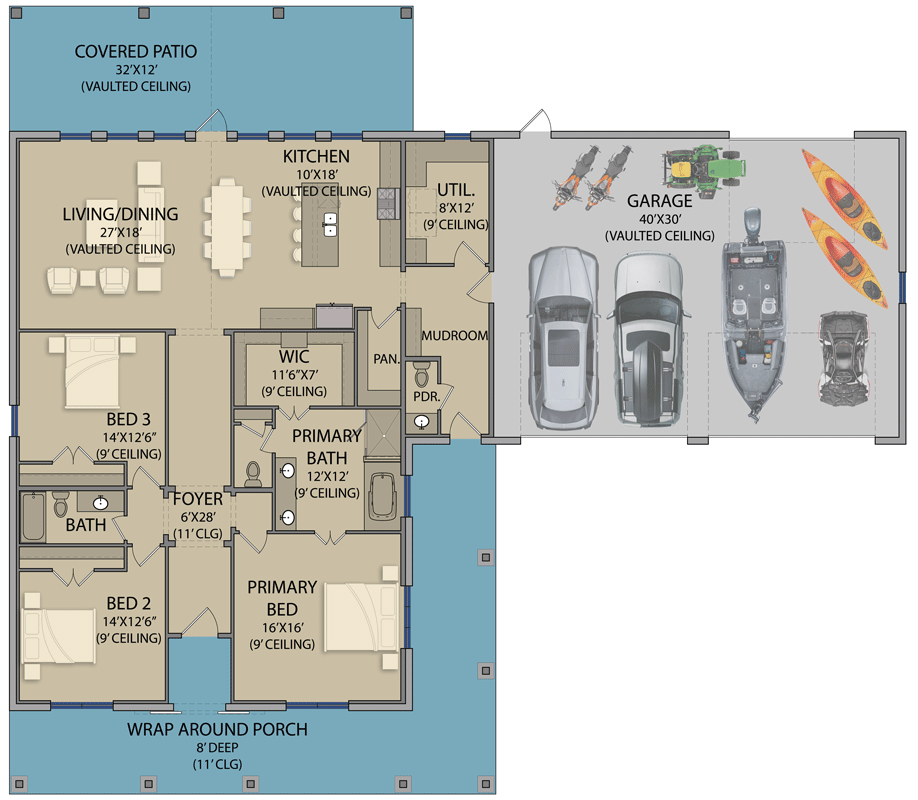 One of the highlights of this Barndominium is its open living area.
We're talking about a space where your living room, dining room, and kitchen gracefully collide, creating the ultimate setting for family gatherings and impromptu dance parties.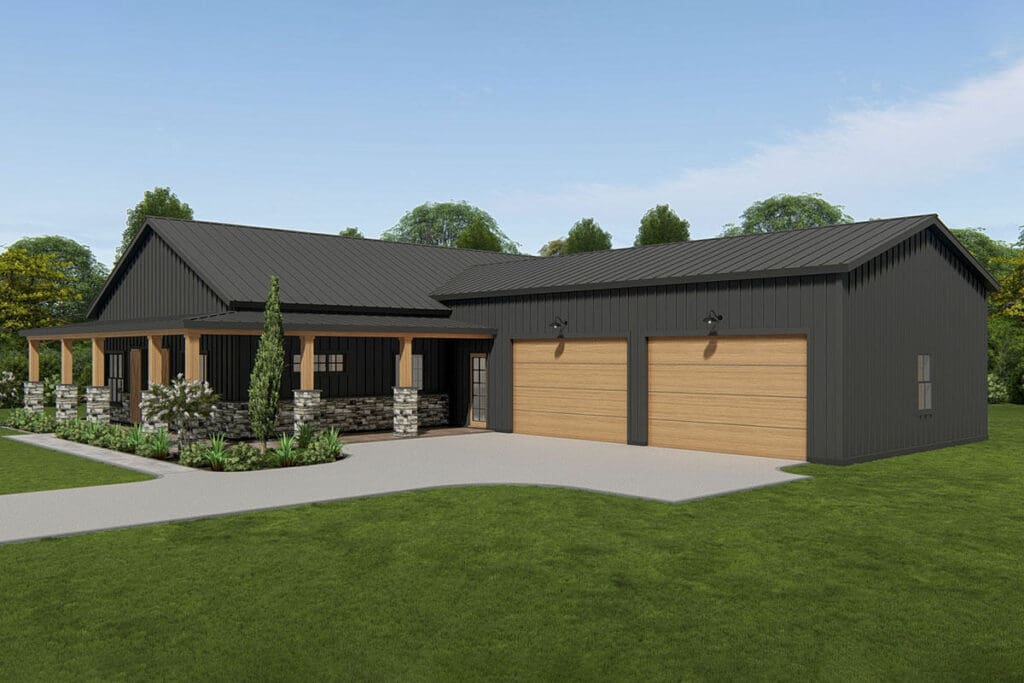 Vaulted ceilings give the illusion of an even grander space, ensuring that your in-laws will think you've hit the jackpot (even if you haven't).
And for those moments when you need a breath of fresh air, the big back porch is just a hop, skip, and a jump away.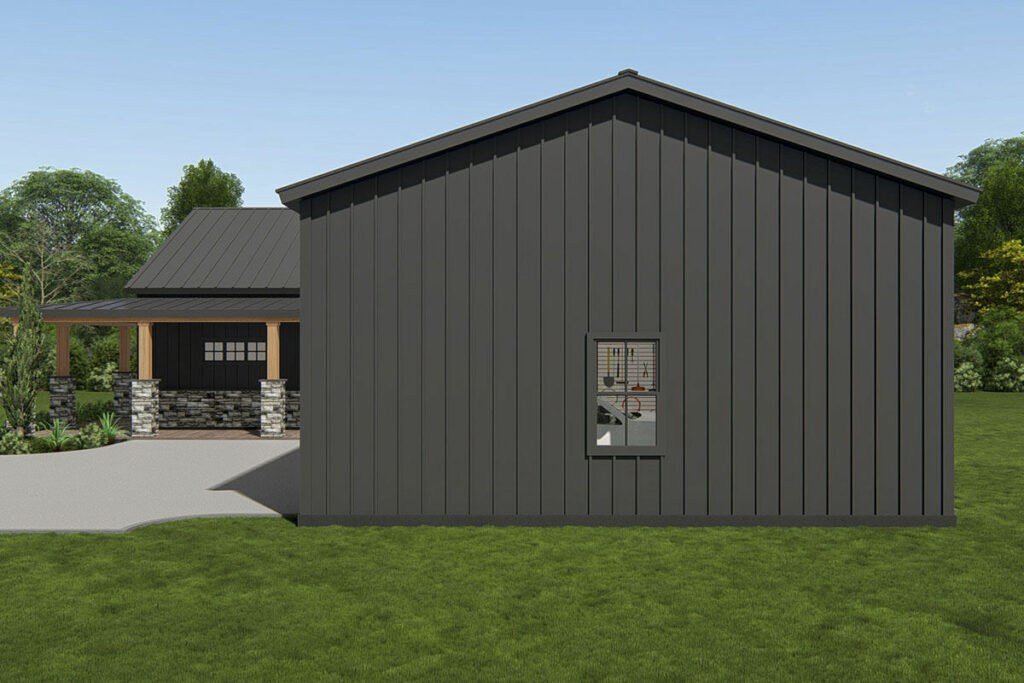 With direct access from the living area, it's the perfect spot for a morning cup of coffee or an evening glass of wine.
Let's talk about the garage, shall we? This isn't just any garage; it's a 30'x40′ sanctuary for your vehicles, your tools, and maybe even that secret stash of snacks you don't want to share.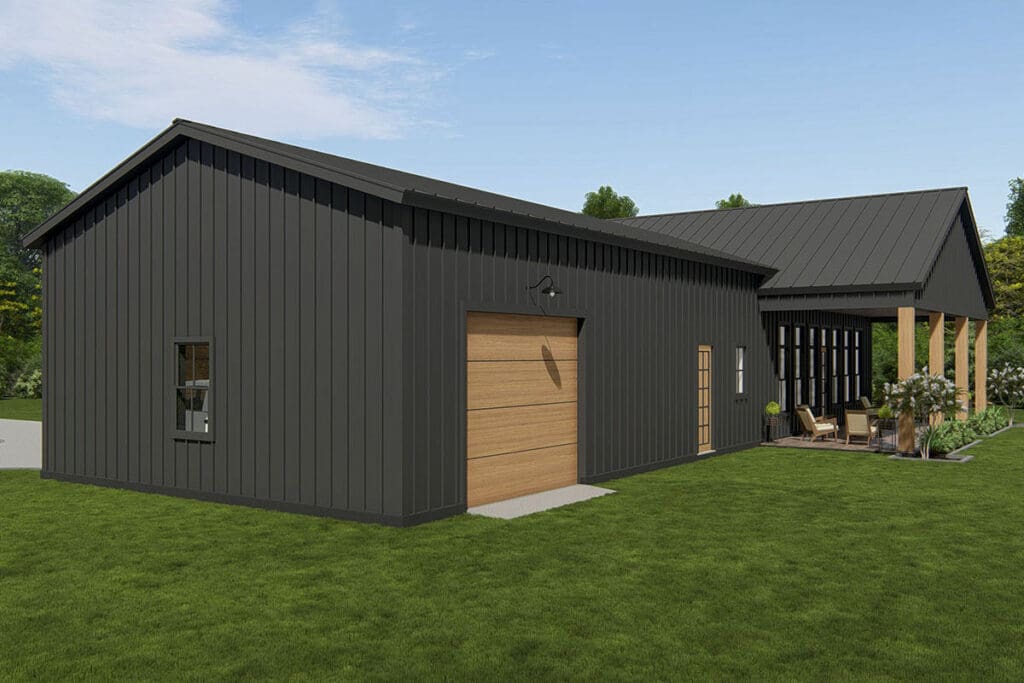 With matching 16′ by 10′ overhead doors at the front and a 12′ by 10′ one at the back, it's practically begging for you to bring in your cars, your bikes, and anything else you can think of.
The drive-through bay ensures easy access, making this space as practical as it is grand.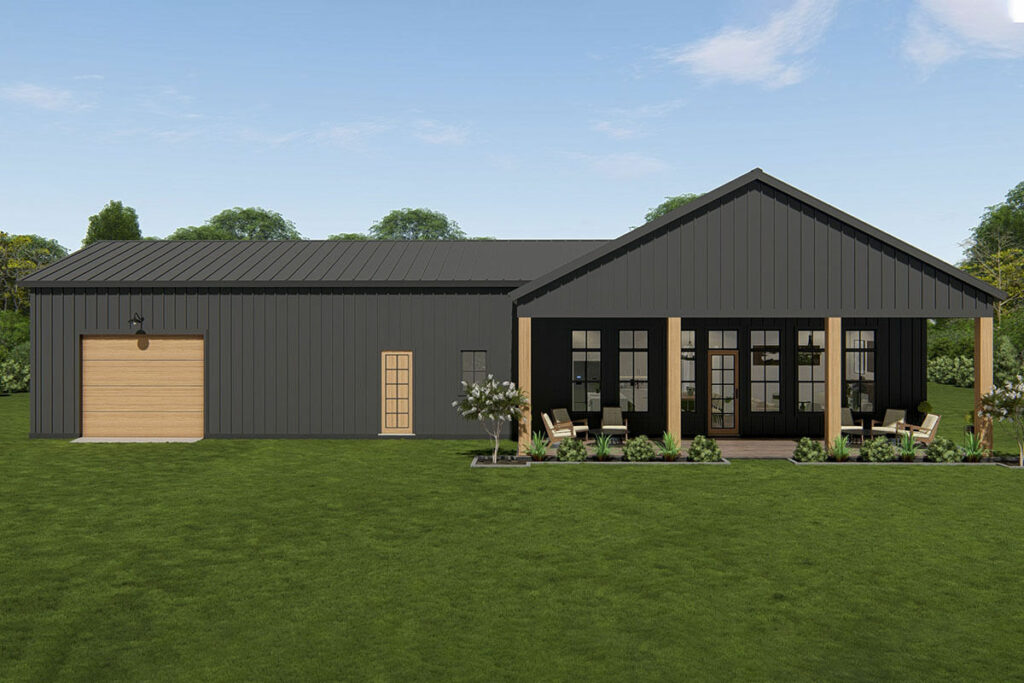 The 8′-deep wraparound porch is the cherry on top of this architectural sundae.
Connecting the formal entry to the family entrance, it's the perfect spot to unwind after a long day or greet your guests in style.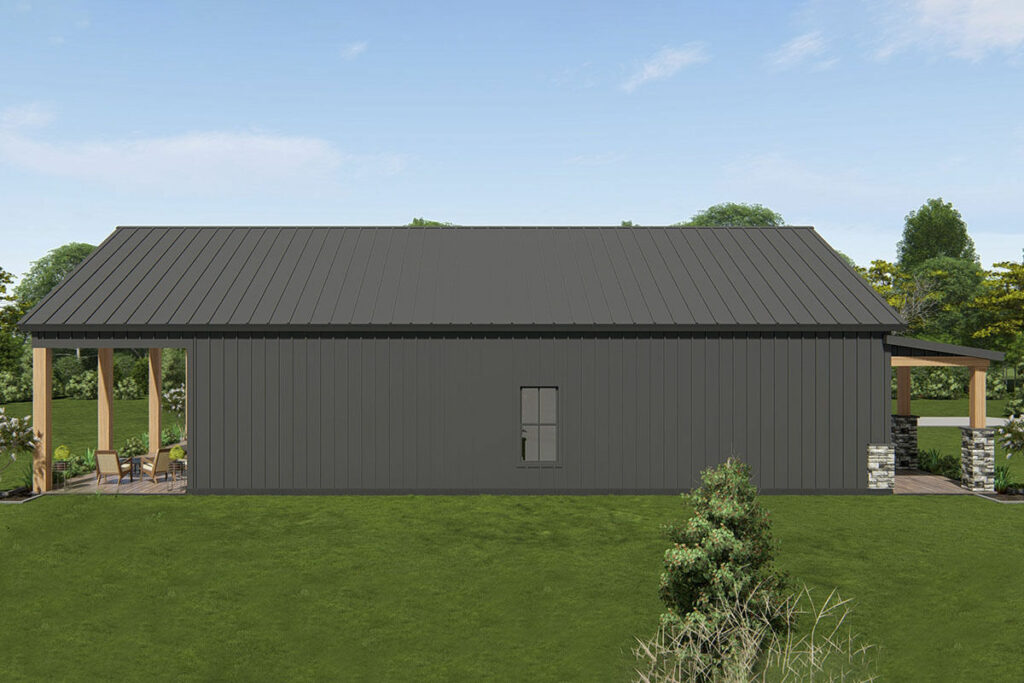 And with direct access to the mudroom, it's as practical as it is pretty.
Imagine sipping on your morning coffee while the world wakes up around you, or catching up with old friends as the sun sets. This porch is not just a part of the house; it's a lifestyle.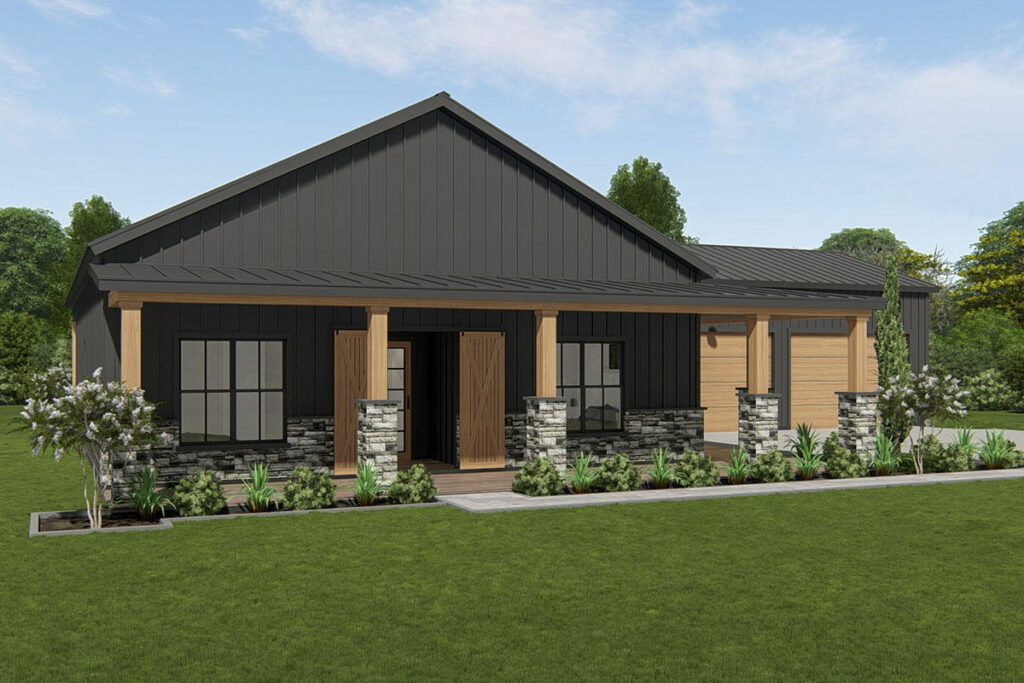 Back inside, the kitchen awaits, ready to make all of your culinary dreams come true.
The island, measuring a generous 8′ by 3'6″, is the perfect spot for casual meals, homework sessions, or deep conversations with a glass of wine in hand.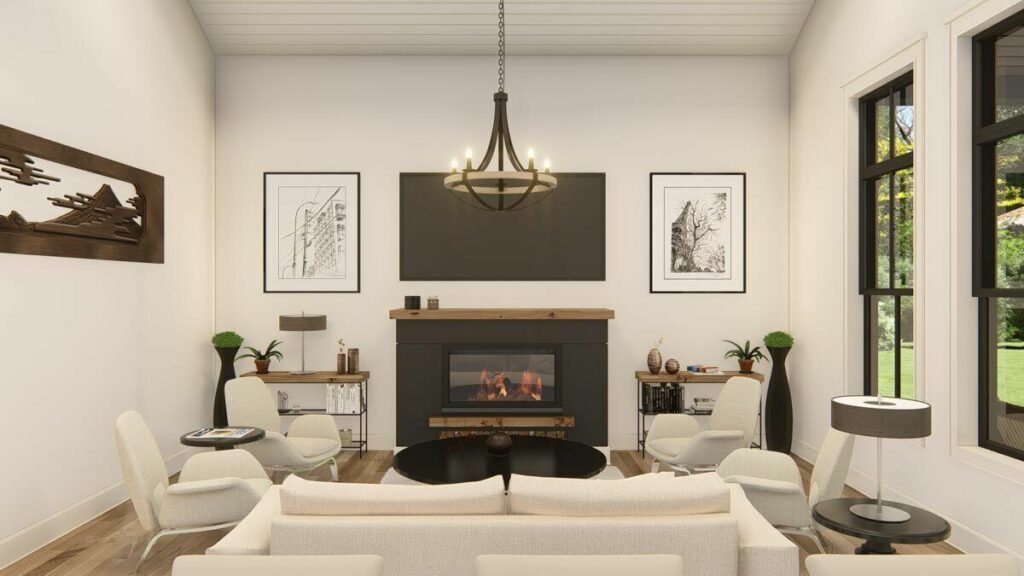 And with the cook never far away, it ensures that you're never out of the loop. Plus, the walk-in pantry nearby is a game-changer.
Say goodbye to cluttered countertops and hello to a world where everything has its place.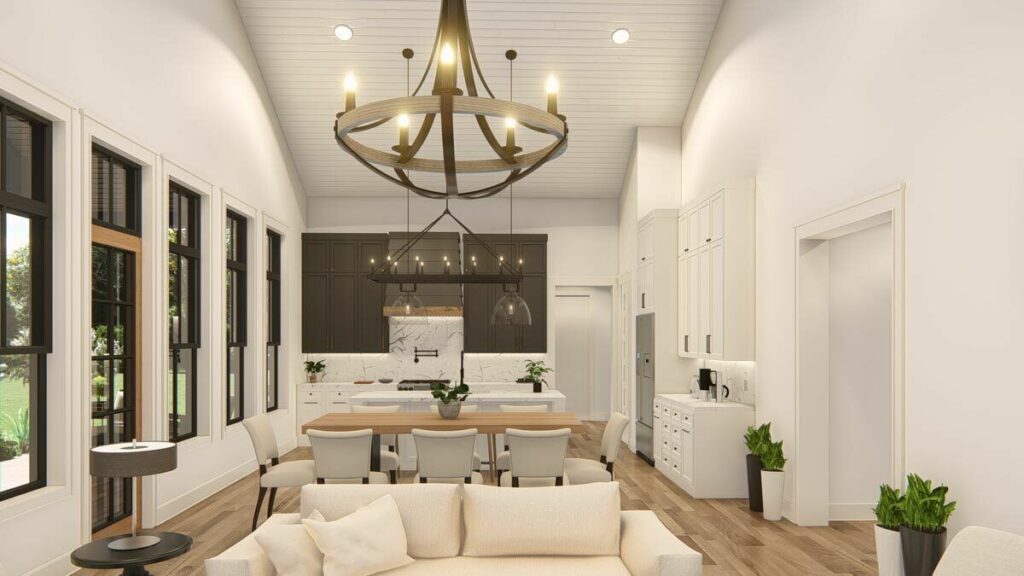 As we move toward the front of the house, we find the bedrooms, our private havens of comfort.
The primary bedroom, complete with its own bath, offers a sanctuary away from the hustle and bustle of daily life.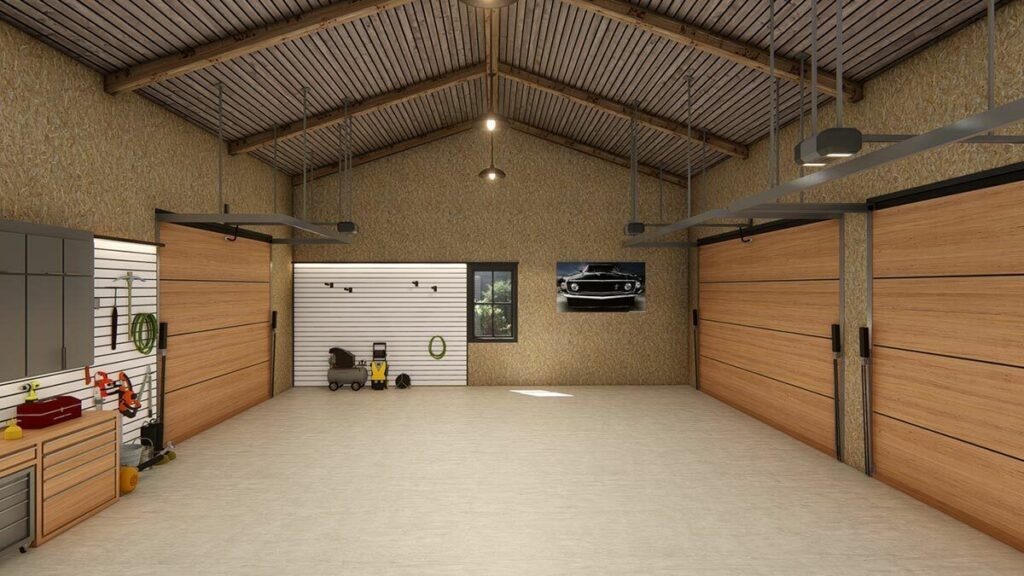 On the other side of the hallway, two secondary bedrooms await, perfect for kids, guests, or that home gym you've been dreaming of.
The separation ensures privacy while still keeping everyone under the same roof.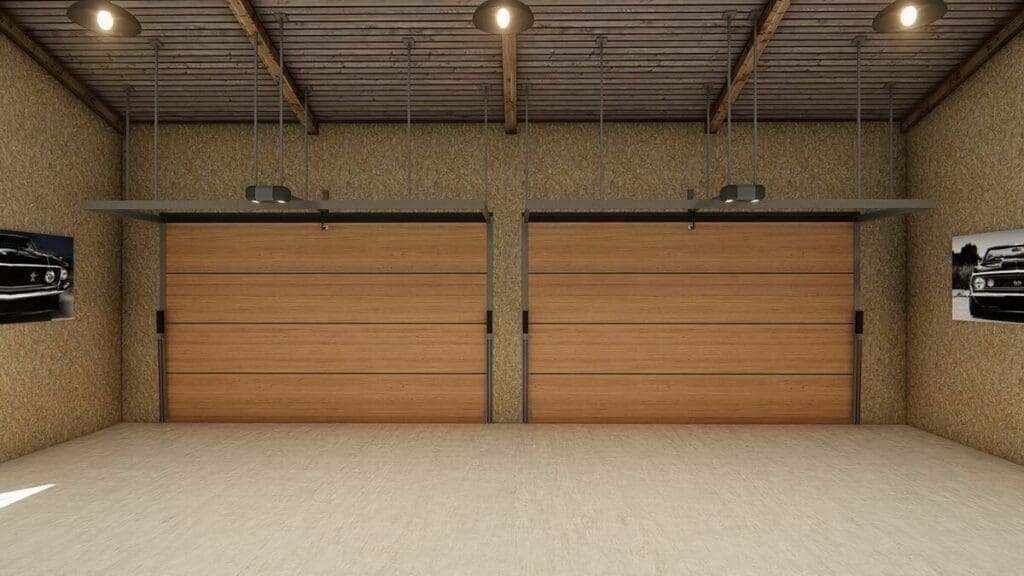 So there you have it, a house that's as functional as it is beautiful. This 3-Bed Barndominium Plan with a 4-Car Garage doesn't just offer a place to live; it offers a lifestyle.
From the open living spaces and the grand garage, to the wraparound porch and the well-planned kitchen, every inch of this house has been designed with you in mind.
It's a place where memories are made, laughter is shared, and life is enjoyed to the fullest. So, what are you waiting for? Your dream home is just a blueprint away!