Specifications:
2,113 Sq Ft
3 Beds
2 Baths
1 Stories
1-3 Cars
Picture this, folks.
It's a beautiful morning, you're sipping a hot cup of coffee on your porch while rocking in a comfy chair, and you're watching the sunrise with a panoramic view, courtesy of your massive wrap-around porch.
Ah! The simple pleasures of life.
This isn't some make-believe fairy tale. It's just another day in our featured beauty today: a one-story Barndominium-style house plan that's as cozy as a barn kitten on a hay bale and as elegant as a quarter horse in a Texas sunset.
Let's saddle up and take a closer look.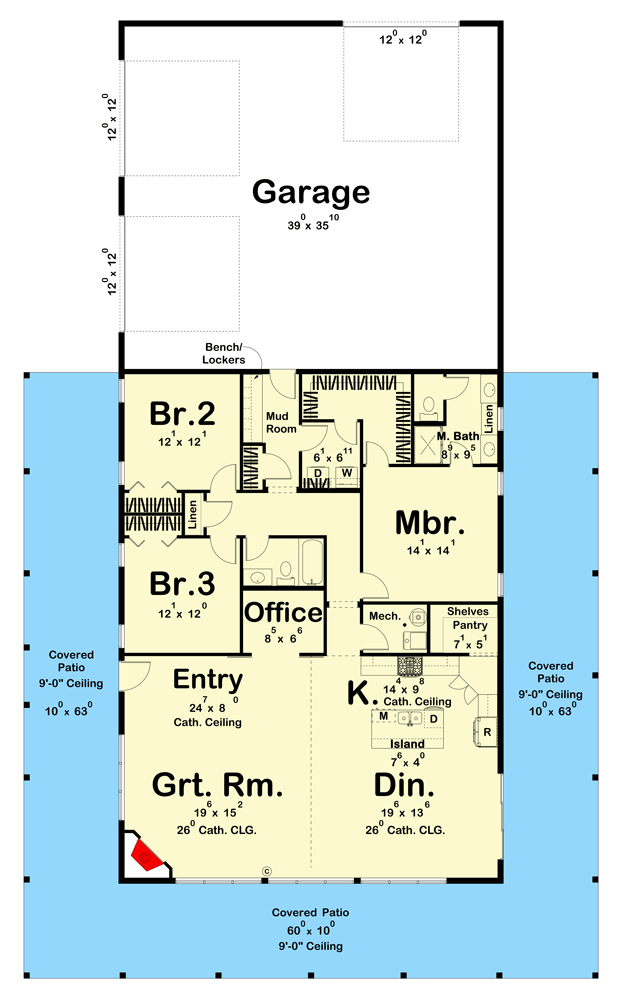 Nestled comfortably on a footprint of 2,113 square feet, our Barndominium is a neat package of simplicity and elegance. With 3 bedrooms and 2 bathrooms, this single-story abode is the perfect setting for your family, whether it's just the two of you or if the stork has made a few deliveries.
Add a garage that can house 1-3 cars (or a modest collection of vintage Harleys, no judgments here), and you've got yourself a home that's as practical as it is beautiful.
Let's talk about the showstopper here: the 9-foot deep wrap-around porch. This isn't just an outdoor space, it's your personal slice of heaven.
A place for family barbecues, lazy Sunday afternoons, or a midnight rendezvous under the stars. It's basically your very own grandstand to the greatest show on earth – nature.
Step inside, and you'll find yourself amidst a wide-open floor plan that's as freeing as a tumbleweed on the open prairie.
High cathedral ceilings soar above you, inspiring awe, and a feeling of boundless space. The walls, a towering 14′ high, echo the grandeur of the ceilings, framing your life in luxury and comfort.
The great room, your haven of relaxation, is lit by the warm glow of a charming corner fireplace.
Picture snowy winter evenings spent curled up here, with a good book, hot cocoa, and the crackling of fire as your soundtrack. Pure bliss.
Let's mosey on over to the kitchen, shall we? With a generous walk-in pantry, this is where you'll do your best work, whether it's whipping up a Sunday brunch or preparing Thanksgiving dinner.
The island is more than just a landmass in your kitchen; it's a snack bar, an impromptu homework spot, or just a place to share a late-night ice cream.
The office, conveniently located off the main living space, is your sanctuary of productivity, whether you're penning the next bestseller or merely trying to keep the kids' schedules straight.
The master bedroom is discreetly tucked on the right side of the home, offering you a private retreat.
The master bathroom is a symphony of comfort and style, with his/her vanities, a linen closet, and an enclosed toilet area. It's practically a spa in your own home. Meanwhile, bedrooms 2 and 3 are just a hop, skip, and jump from a hall bathroom, ensuring everyone is catered to with convenience and ease.
And let's not forget the garage. With space for up to 3 cars and three doors (no more playing car tetris!), this isn't just a garage; it's a gearhead's paradise, a hobbyist's studio, or simply a home for your pride and joys.
In conclusion, this Barndominium style house plan doesn't just offer a home, it offers a lifestyle. A haven of comfort, functionality, and rustic elegance, it's the perfect place to hang your hat at the end of the day.
So pull up a rocking chair, take a deep breath of the fresh country air, and welcome home. Your Barndominium awaits.