Specifications:
2,000 Sq Ft
3 Beds
2.5 Baths
1 Stories
2 Cars
Howdy, home enthusiasts!
Ever felt torn between your love for rustic barn aesthetics and the creature comforts of suburbia? Rejoice, for the perfect solution is here!
Allow me to introduce the 2000 Square Foot 3-Bed Barndominium-Style Farmhouse.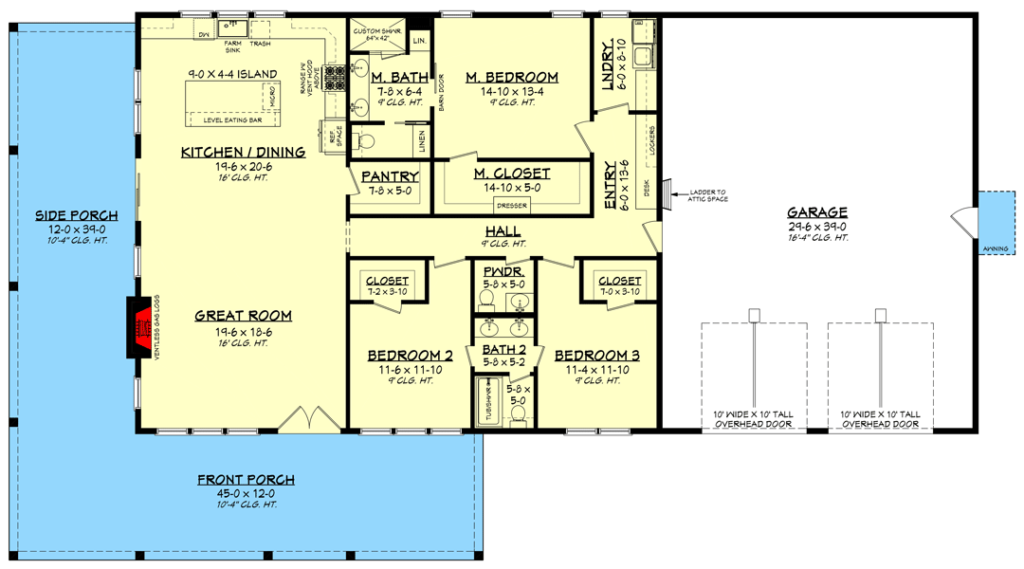 Imagine waking up on a Saturday morning, sipping your freshly brewed coffee (or a mimosa, I don't judge) on your impressive 10'4″-deep porch.
This isn't just any porch – it wraps around two whole sides of the house! Whether you're waving to your neighbors or simply soaking in the peace and quiet, this is the ideal spot to kick back and enjoy life. You might need to remind yourself you're not starring in a Nicholas Sparks movie.
Calling all gearheads, DIY mavens, and folks with an absurd collection of holiday decorations (guilty as charged)! This bad boy comes with a colossal 1,200 square foot garage.
Think of all the potential! Two massive 10′ by 10′ overhead doors promise smooth entrances and exits, even if you're not exactly an expert at parking. Those of you who've previously suffered from 'tiny garage syndrome' will shed tears of joy!
As you swing open the front door (I'd suggest a dramatic flourish for added effect), you're greeted by a living space so grand it might just make your grandpappy jealous. With 16-foot ceilings, you've got space to store, well, your ego, probably.
This open-concept great room is crowned by a cozy fireplace, making it the go-to spot for family gatherings, game nights, and impromptu interpretive dance sessions.
Flowing seamlessly from the great room is a dining space where you can host dinners that become the stuff of legends.
And for all those passionate home chefs and meal preppers, the adjacent kitchen flaunts a 9′ by 4′ island that's the size of some small countries. Oh, and did I mention the walk-in pantry? You might get lost in there, so consider leaving a trail of breadcrumbs.
Now, let's gallop (or stride elegantly, your choice) over to the bedroom cluster. Three sanctuaries that promise rest, relaxation, and refuge from those days when you accidentally binge-watch an entire series (no shame, it happens to the best of us).
These rooms share a conveniently placed laundry area. Gone are the days of schlepping your unmentionables across the house or, heaven forbid, to a laundromat.
Thought we were done? Not quite! Remember that massive garage? Well, hidden within its expanse is a ladder leading to storage space above the main living quarters.
It's like Narnia, but for your stuff. Whether you need to hide presents from nosy kids (or adults), or just want to hoard more things without judgment, this extra space has got you covered.
This 2,000 Sq Ft 3-Bed Barndominium-Style Farmhouse isn't just a house; it's a lifestyle. A balance of rural charm and modern living that guarantees an envy-worthy abode.
So, whether you're a city slicker with country dreams or just someone looking for a space that oozes character, this might just be the key to your home-sweet-home dreams.
Stay barn-tastic, dear reader.
Plan 51942HZ