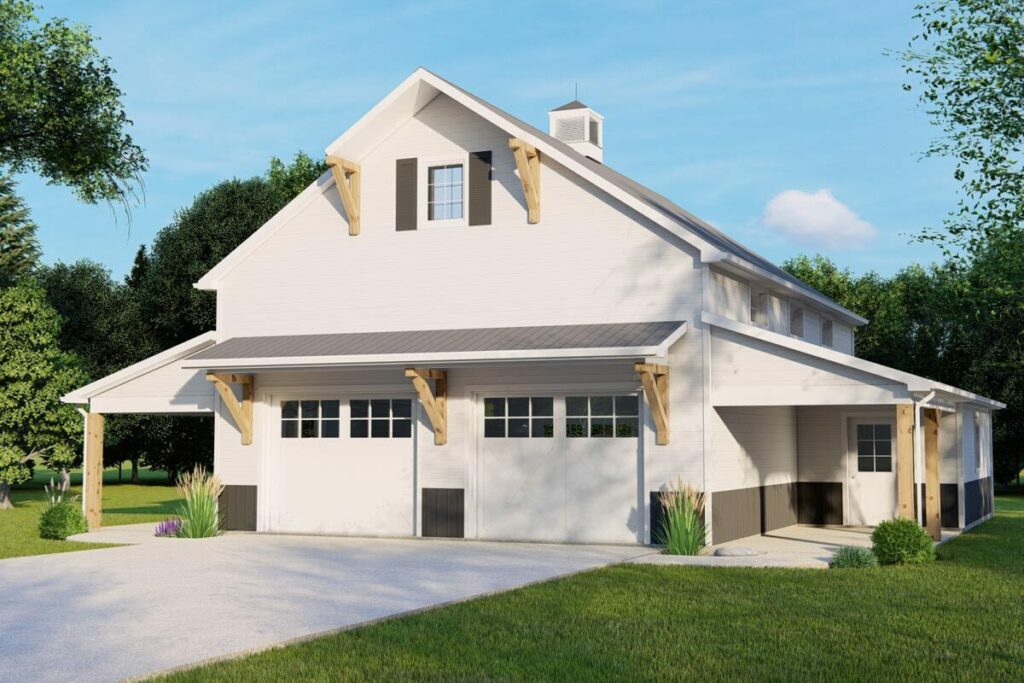 Specifications:
1,200 Sq Ft
1 Stories
2 – 3 Cars
Ah, the humble garage. Often overlooked, sometimes cluttered with forgotten hobbies and holiday decorations, but what if I told you about a garage that could be the envy of every neighbor, friend, and passing squirrel?
Let's dive into a house plan feature that's more than just a place to park your car – a detached barn-style garage/shop with covered porches. Yes, you heard that right. It's not just a garage; it's a statement.
First off, let's talk size because, in the world of garages, size does matter. We're looking at a spacious 1,200 square feet of pure potential. That's enough room to comfortably fit 2 to 3 cars, or, if you're like me, one car and an ambitious amount of weekend projects that you swear you'll finish someday.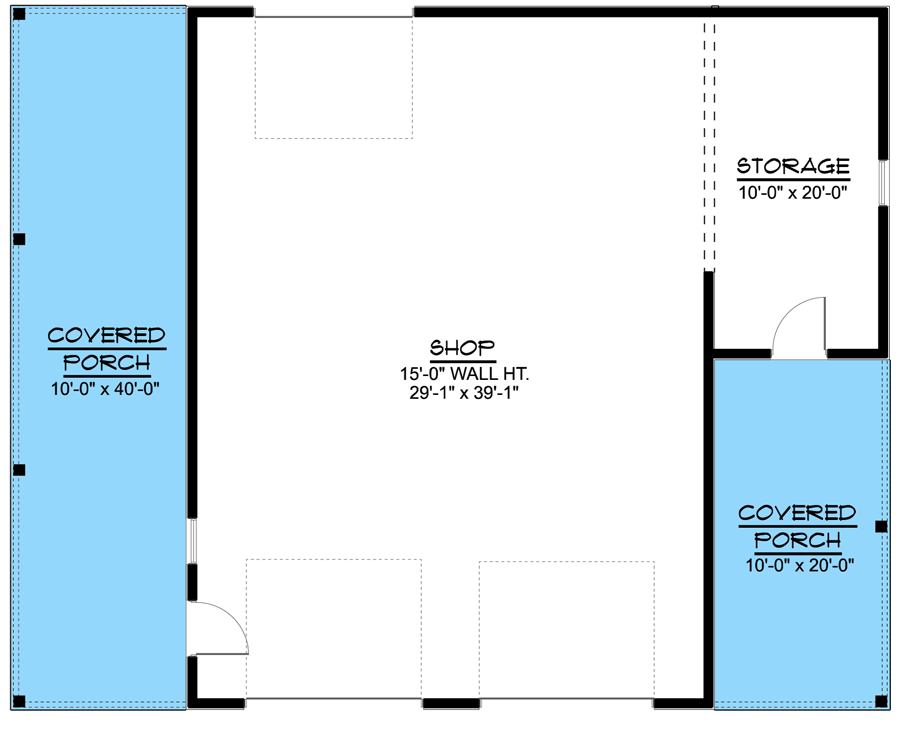 Now, picture this: a garage that tells a story before you even step inside. This isn't your average, run-of-the-mill, cookie-cutter garage. No, sir. This is a Craftsman-style masterpiece.
Wooden brackets support deep overhanging eaves and a rain awning that not only adds character but also makes you feel like you're entering a rustic retreat rather than a place to store your leaf blower.
But wait, there's more! Three overhead doors – yes, three – offer not just the standard front entry but also a sneaky rear door. Why? Because sometimes life gives you a rear door, and you've got to take it – especially when it leads to an ideal space for a workshop or a haven for your lawn equipment.
The dimensions of this beauty? A generous 29 ft. by 39 ft. space. That's not just a garage; that's a dance floor with room for cars. And let's not forget the covered porches flanking this structure.
These aren't just porches; they're weatherproof sanctuaries perfect for sipping your morning coffee, contemplating if you really need that fourth lawn gnome, or simply enjoying the view of your kingdom.
But here's the real showstopper – the tall ceiling. This isn't just any ceiling; it's the kind of ceiling that dreams are made of. It's so tall that it allows for clerestory windows.
These high windows are not just a source of natural light; they're like the eyes of your garage, providing a glimpse of the sky while keeping your privacy intact. Imagine working on your projects with natural light streaming in, making you feel like the main character in a home improvement show.
Now, let's talk about the potential of this space. With 1,200 square feet, you're not limited to just parking cars or storing tools.
Oh no, my friend. You've got room for a workshop that would make any DIY enthusiast weep with joy. Woodworking, metalworking, or perhaps a space for your artistic endeavors? The sky – visible through your clerestory windows – is the limit.
And those covered porches? They're not just for show. They're the perfect spot for an outdoor workbench, a cozy reading nook, or a place to display your collection of wind chimes. The possibilities are as endless as the amount of stuff you can accumulate in a 1,200-square-foot space.
Let's not forget the style. This garage is more than a storage space; it's a fashion statement for your home.
The Craftsman design with its wooden brackets and deep overhanging eaves speaks of a time when attention to detail and craftsmanship were king. It's like having a piece of architectural history right in your backyard.
In conclusion, this detached barn-style garage/shop with covered porches is more than just a building; it's a lifestyle. It's for the car enthusiast, the weekend warrior, the hobbyist, the artist, and the dreamer. It's a space that can evolve with your needs, a space that's as versatile as it is beautiful.
So, if you're thinking about adding a garage to your property, why settle for ordinary when you can have a structure that's as unique as you are? Remember, in the world of home improvement, the only limit is your imagination (and maybe your budget, but that's a story for another day).