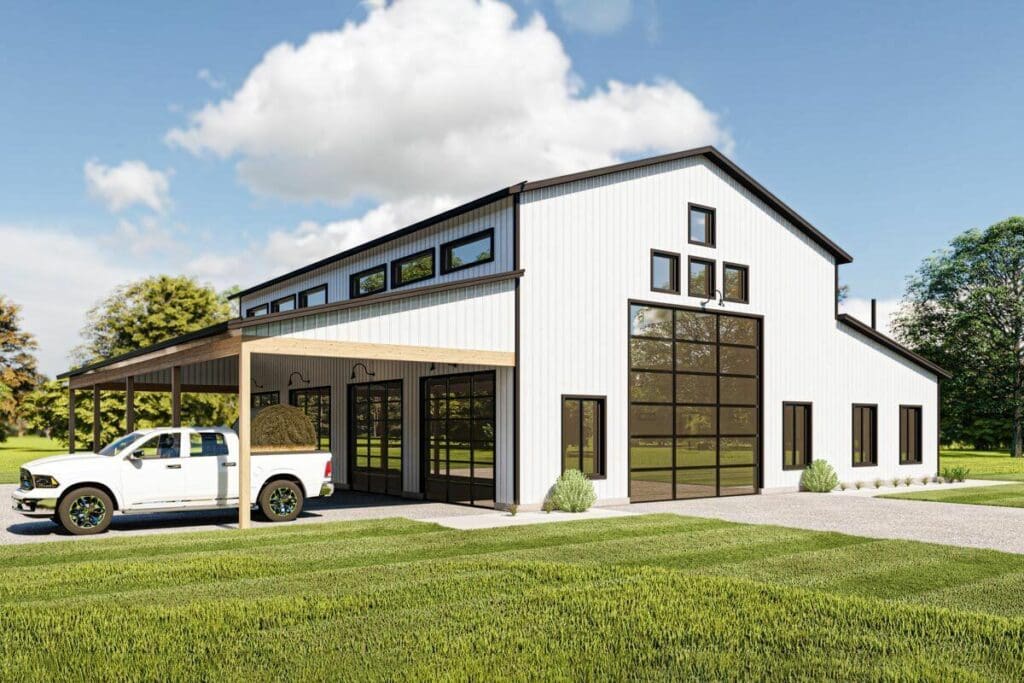 Specifications:
1,230 Sq Ft
2 Beds
2 Baths
1 Stories
4 – 8 Cars
Ah, the splendid sanctuary for the wanderer at heart! Introducing a cozy nest that welcomes both humans and vehicles with equal warmth: The RV-friendly barndo-style house, seamlessly meshing your workspace, homely haven, and vehicular vault into one impeccable design.
Let's embark on a homely journey, shall we?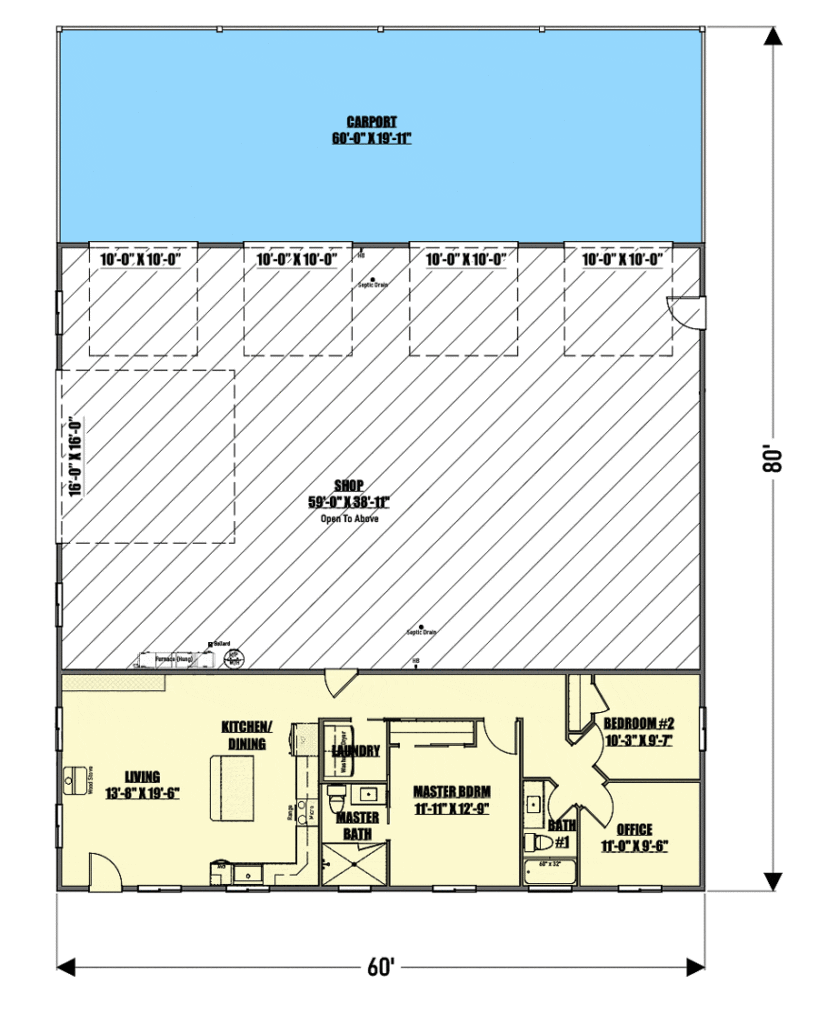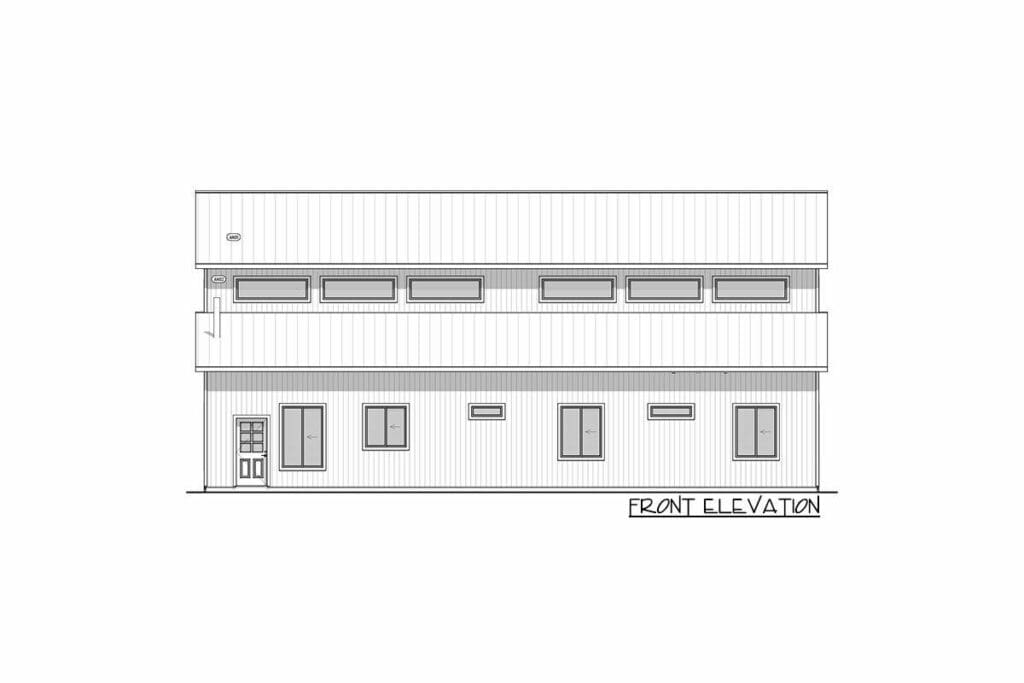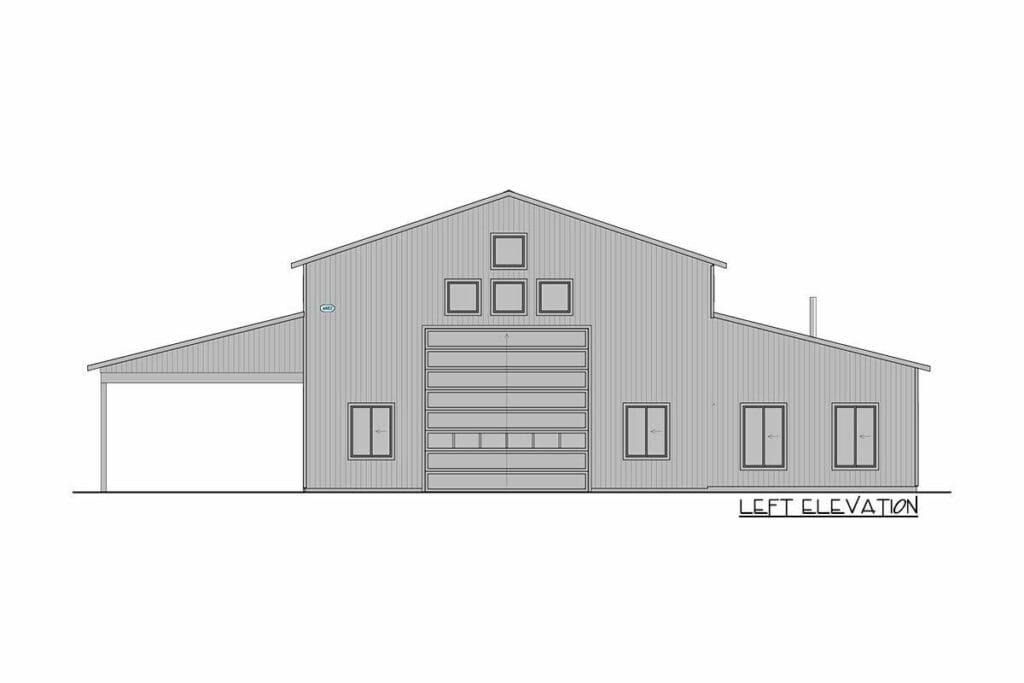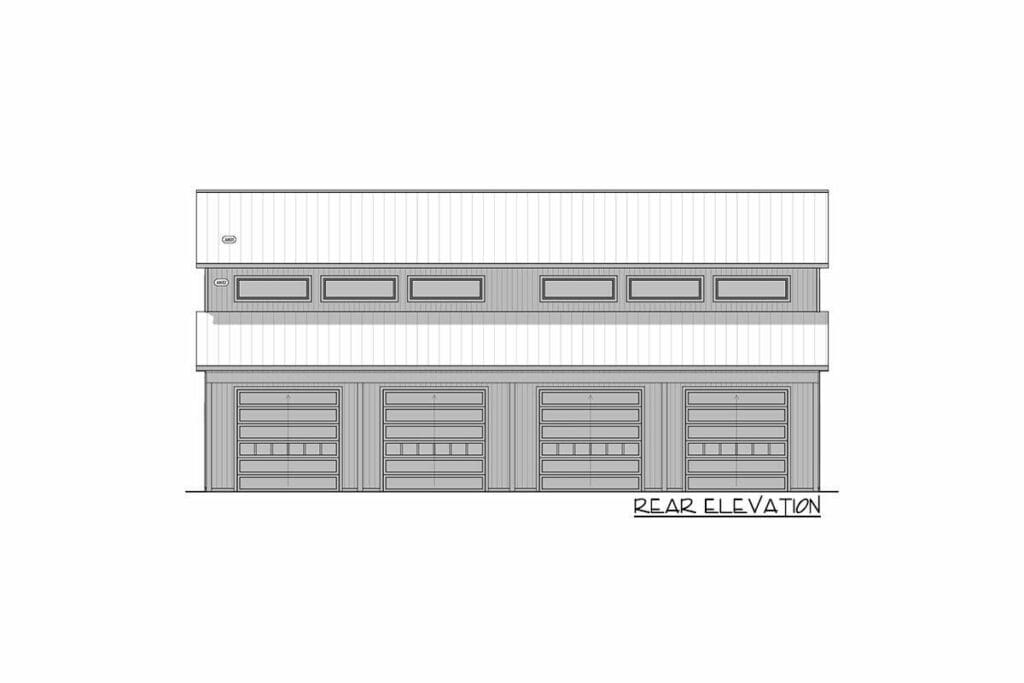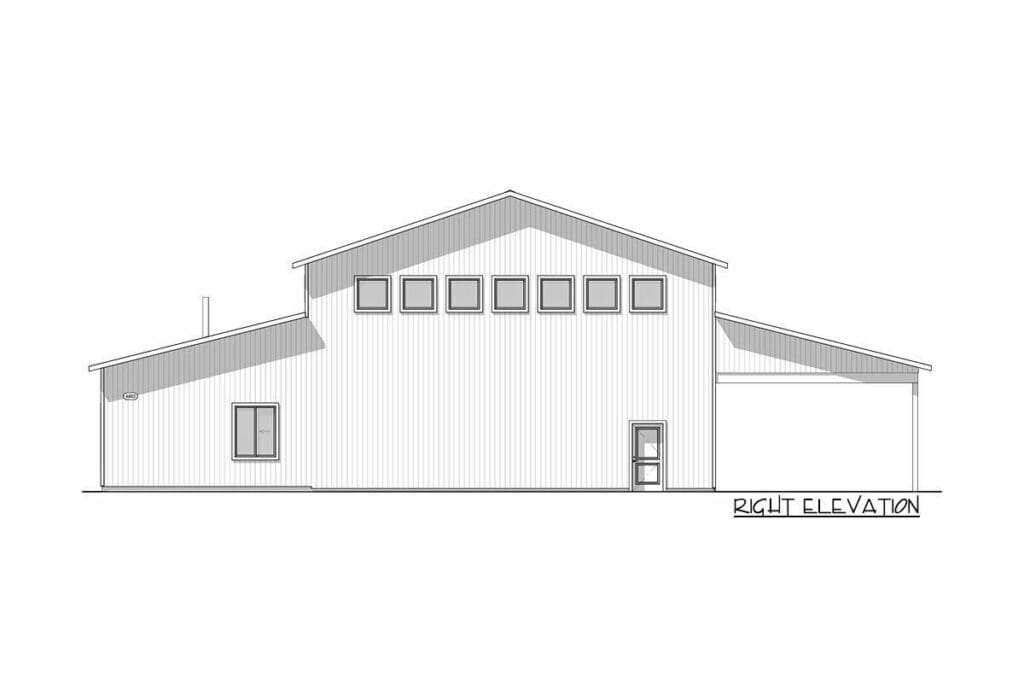 "Oh, honey! The RV needs a home," might just be the peculiar sentence that lands you in the delightful domain of a barndo. This isn't your everyday home.
Imagine a harmonious marriage between a spacious workshop, snug home, and a garage, ample enough to host a party for your 4-wheel friends. Voila! You've brewed yourself a delightful "shouse" – a solution where your truck doesn't get jealous of your comfy bed.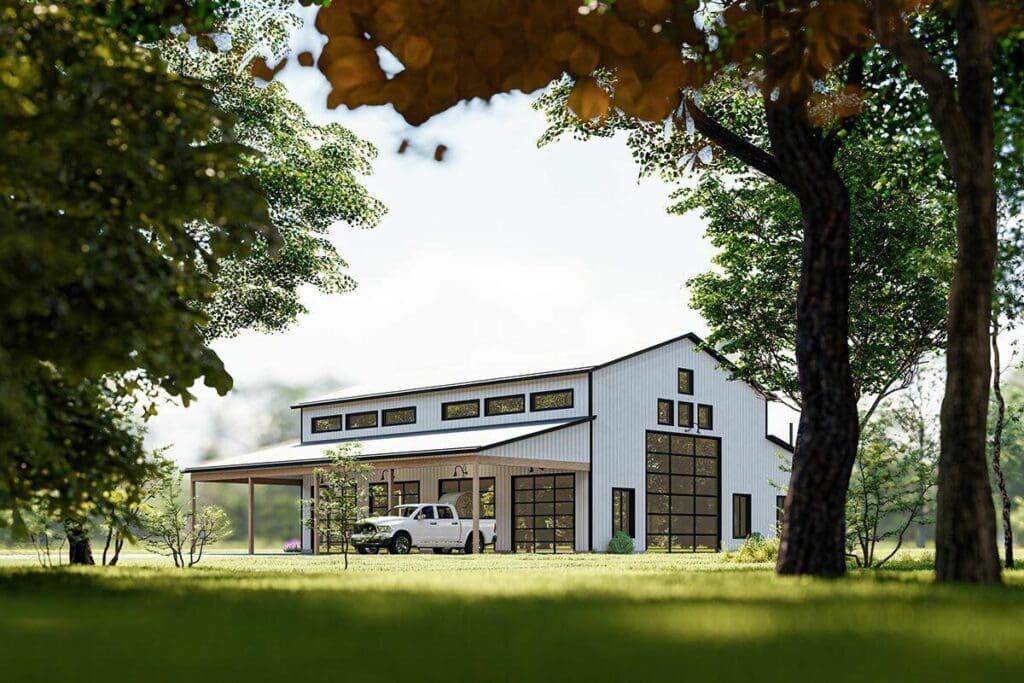 With 1,230 square feet of thoughtfully designed space, this abode invites you to live, work, and maybe start an unexpected romance with homesteading.
Nestled within are two cozy bedrooms, ideal for recharging after a day of adventures, along with two baths ensuring no morning queues for a shower.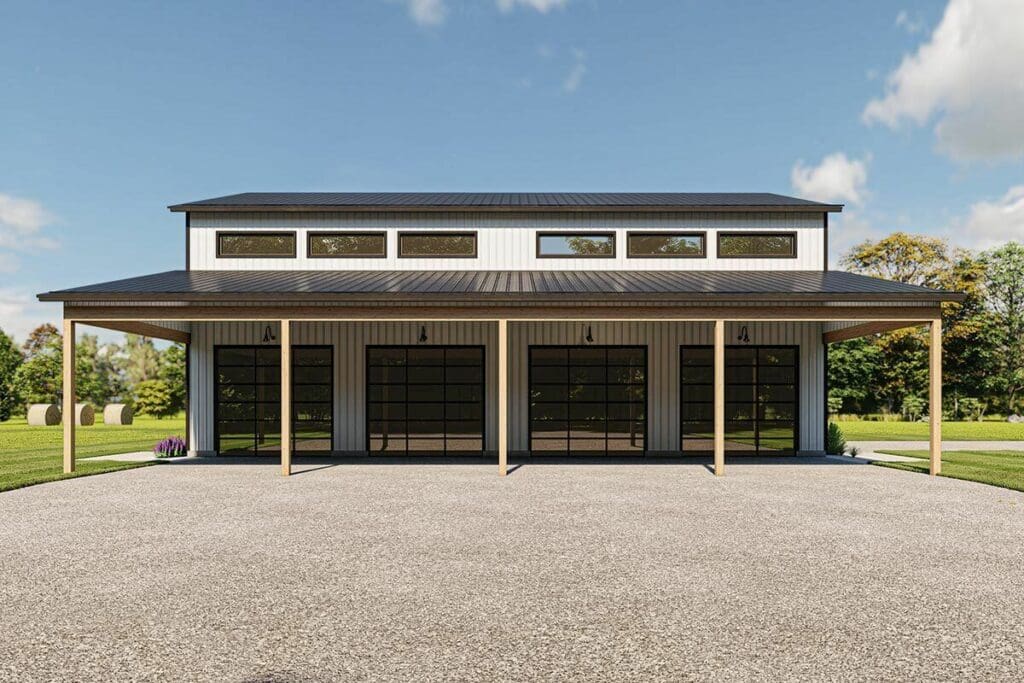 Now, let's talk about a feature that would make any automobile enthusiast's heart rev with excitement: a lavish garage.
With four bays, each flaunting a 10′ by 10′ garage door, your cars will enjoy the luxury of choice for their resting spots. Ever witnessed a garage that could potentially serve as an automobile catwalk? This is it!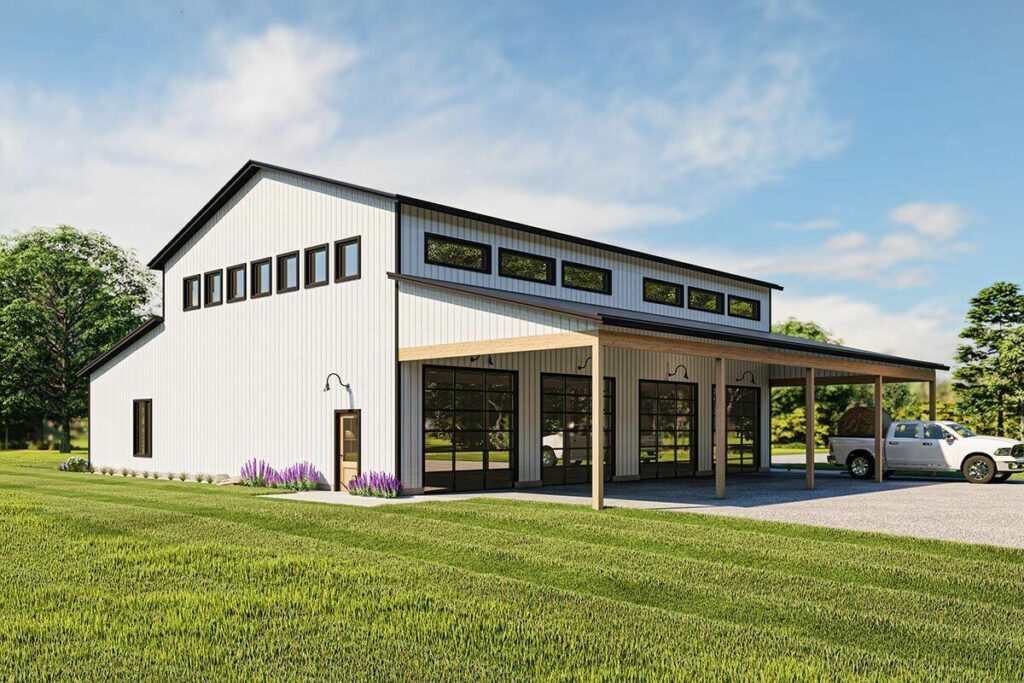 And for your glorious road warrior (also known as your RV), a 16′ by 16′ overhead door graciously opens to accommodate its mighty frame.
It's not just a storage spot; think of it as a protective cocoon for your mobile mansion, ensuring it stays prim and proper for all those future escapades.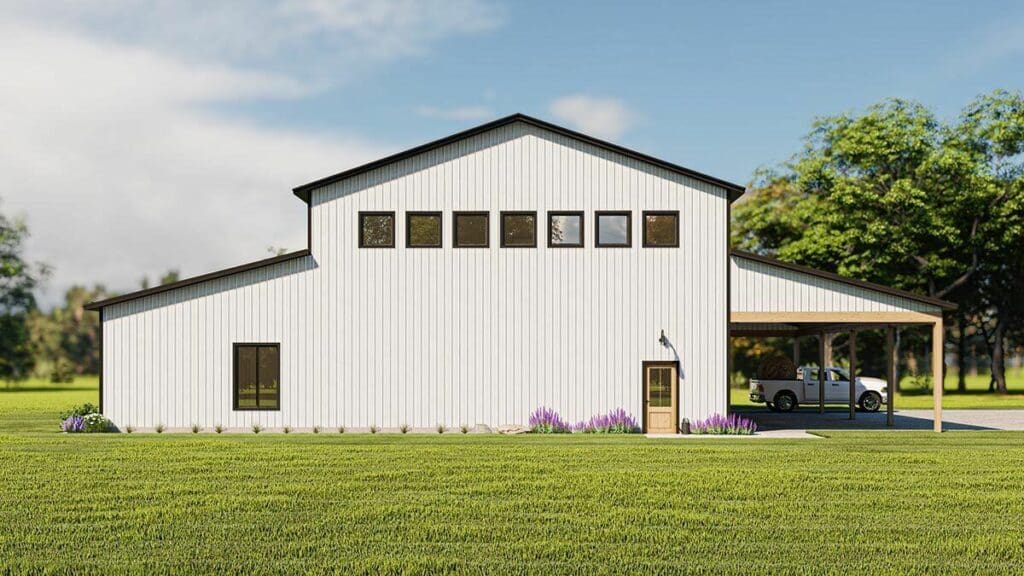 Further, the 60′-wide carport – a broad, protective wing – expands generously across the home's width, guaranteeing your vehicular companions are perpetually shielded.
This isn't merely a carport; it's a testament to the blend of utility and thoughtful design, where every square foot is respected and utilized to the fullest.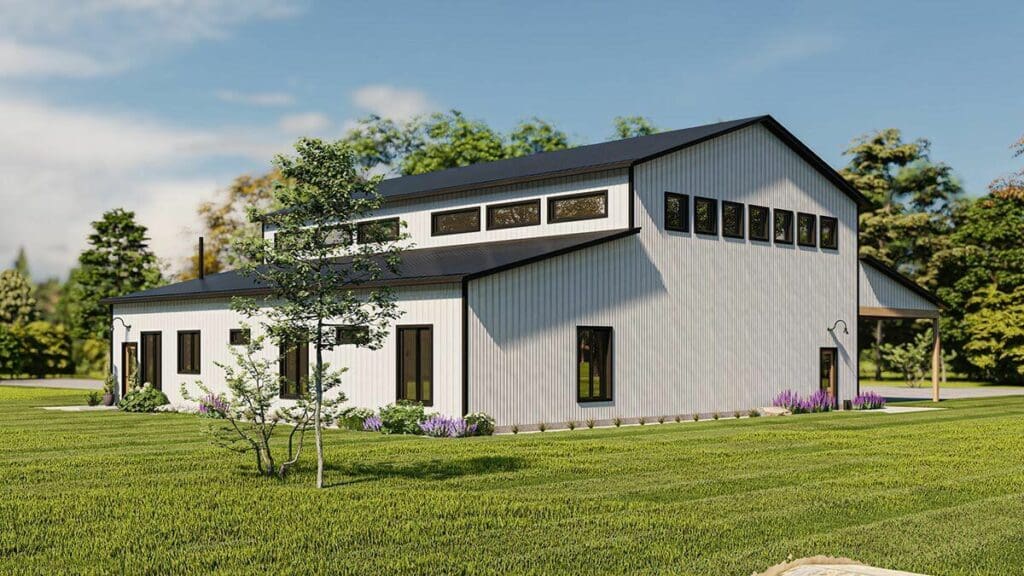 Enough about the cars. After all, a house, or shouse, is about balance. The inside is where the human heart beats, where your boots are kicked off and memories are brewed.
The open space, shared amicably by the living room and kitchen/dining area, isn't just an architectural feature; it's where stories of road trips get shared over cups of cocoa by the wood stove.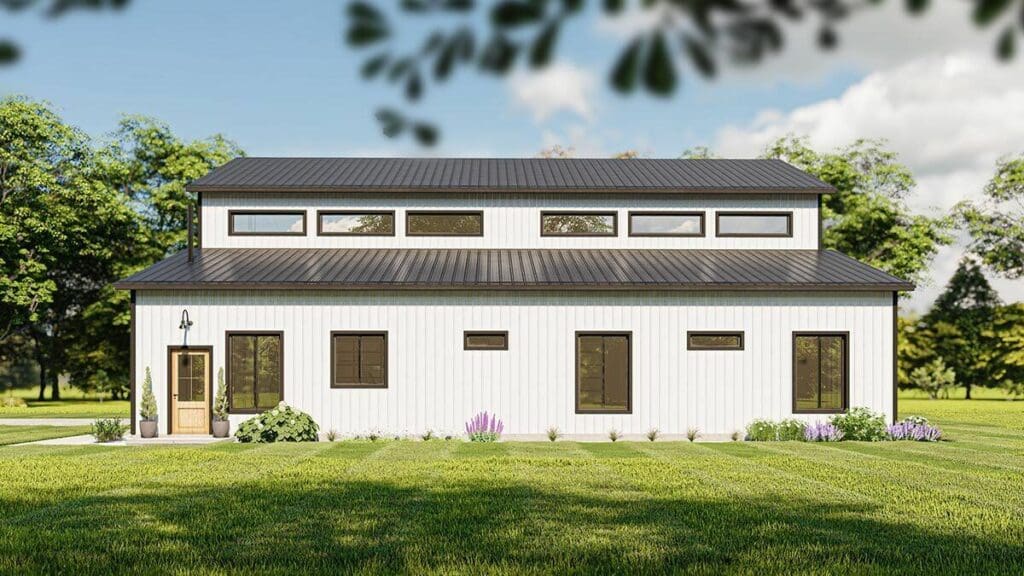 The kitchen island isn't merely a space to dine; it's a gathering spot, where casual chats morph into deep, unforgettable conversations.
It's where the aroma of freshly baked cookies dances with the crackling sounds from the wood stove, crafting a symphony of homeliness and warmth.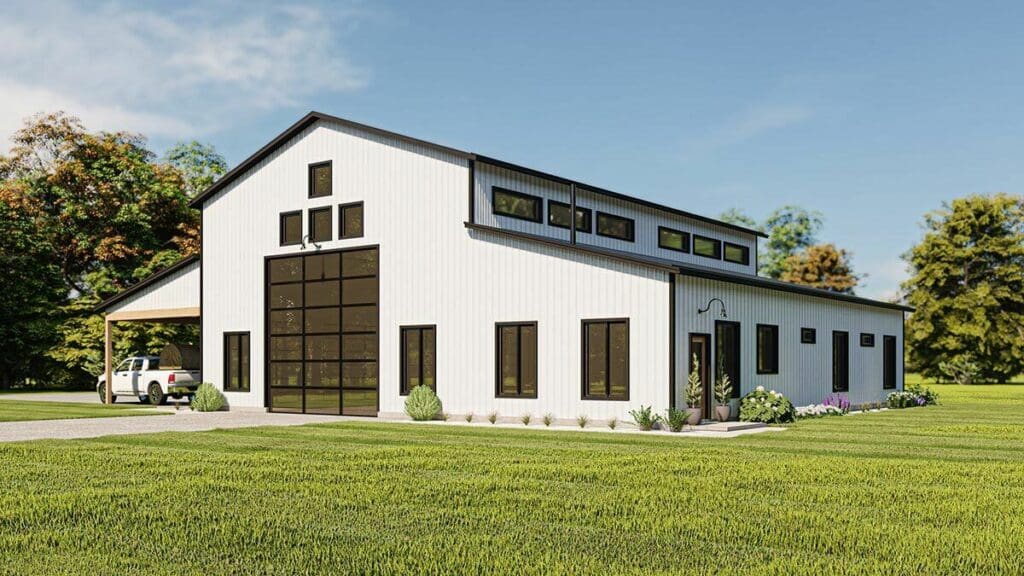 Your work should never eclipse the joys of home, and the dedicated home office within this barndo ensures just that. It's a safe nook where your dreams and duties intertwine, away from the comfy bed and close to the kettle, in case midnight oil needs burning.
With a space like this, your work might just take on a refreshingly new character, defined by tranquility and inspired by the cozy confines of your dwelling.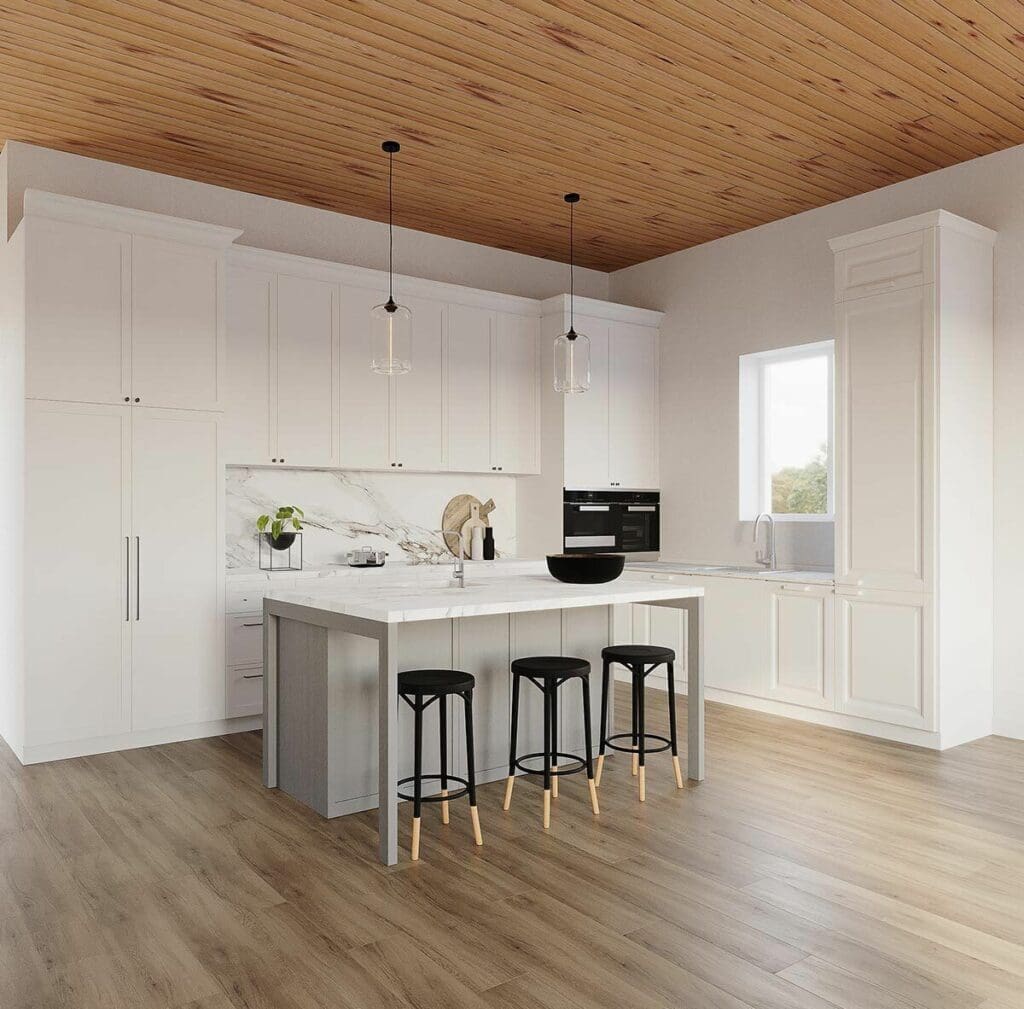 And oh, how could we forget the almost cinematic wood stove? More than a source of heat, it's a quiet character in your living space, crackling softly as you dive into a good book or share laughter with loved ones.
It's not merely an appliance; it's an unwavering companion during chilly winter nights, a humble reminder of the timeless beauty encapsulated in simplicity.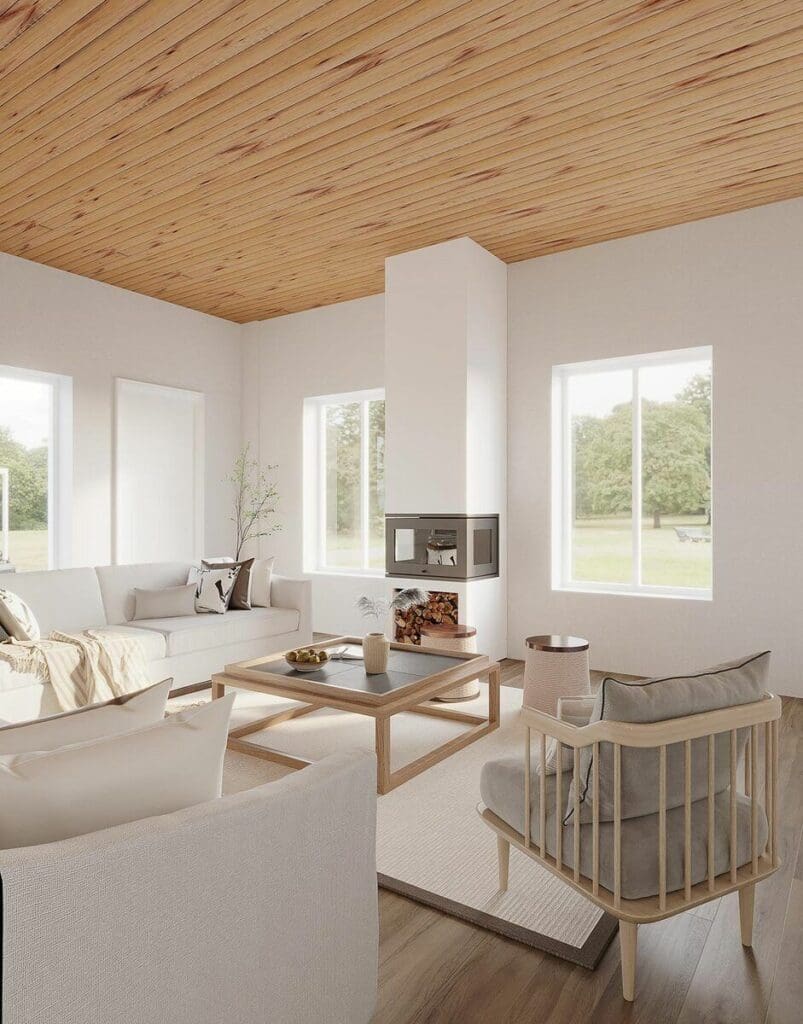 What makes this barndo-style shouse shine isn't just its ability to shield both humans and vehicles.
It's the meticulous stitching together of diverse elements: The utility of expansive garages, the heartwarming openness of the living space, and the undisturbed serenity of a home office.
In a world that often nudges us towards the conventional, this 1,230 sq ft marvel stands boldly, proving that homes can be functional, stylish, and a tad bit audacious, all at once. It's a fortress for your adventures on wheels and a soft landing spot for the soul yearning for warmth and familiarity.
Embarking on a journey with this house is like crafting a tale where every nook and cranny has a story, every beam and wall is erected with thought, and every space is a canvas for your life to beautifully unravel.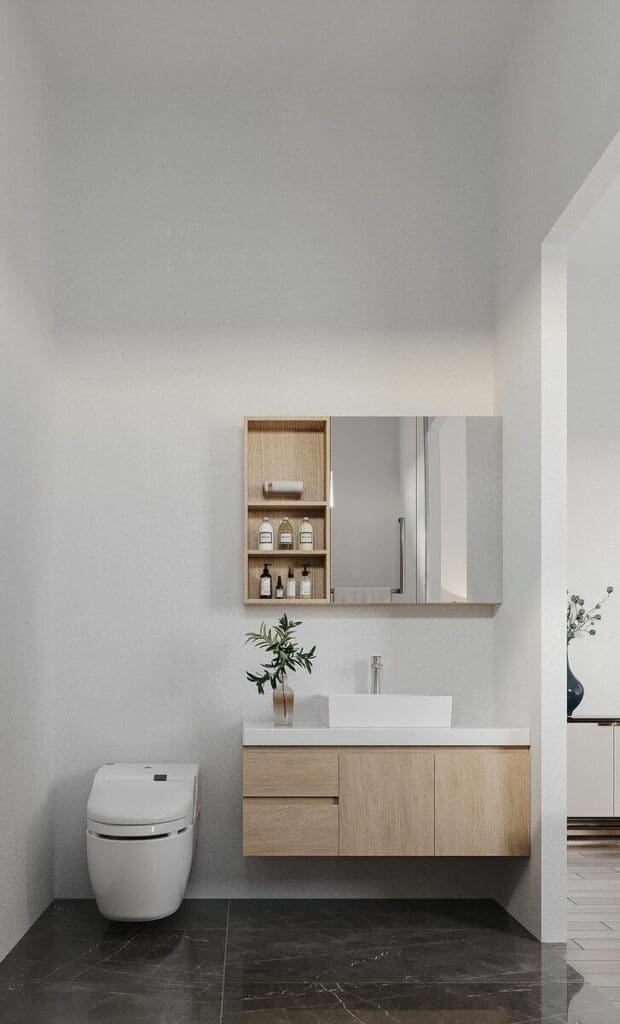 It's not just about housing your vehicles and providing a roof over your head. It's about embracing a lifestyle that accommodates adventures, serene workspaces, and cozy living under one, incredibly planned roof.
Through the seamless amalgamation of the workshop, residence, and expansive garage, the barndo-style house emerges as a realm where your adventurous spirit and homely heart find a harmonious dwelling.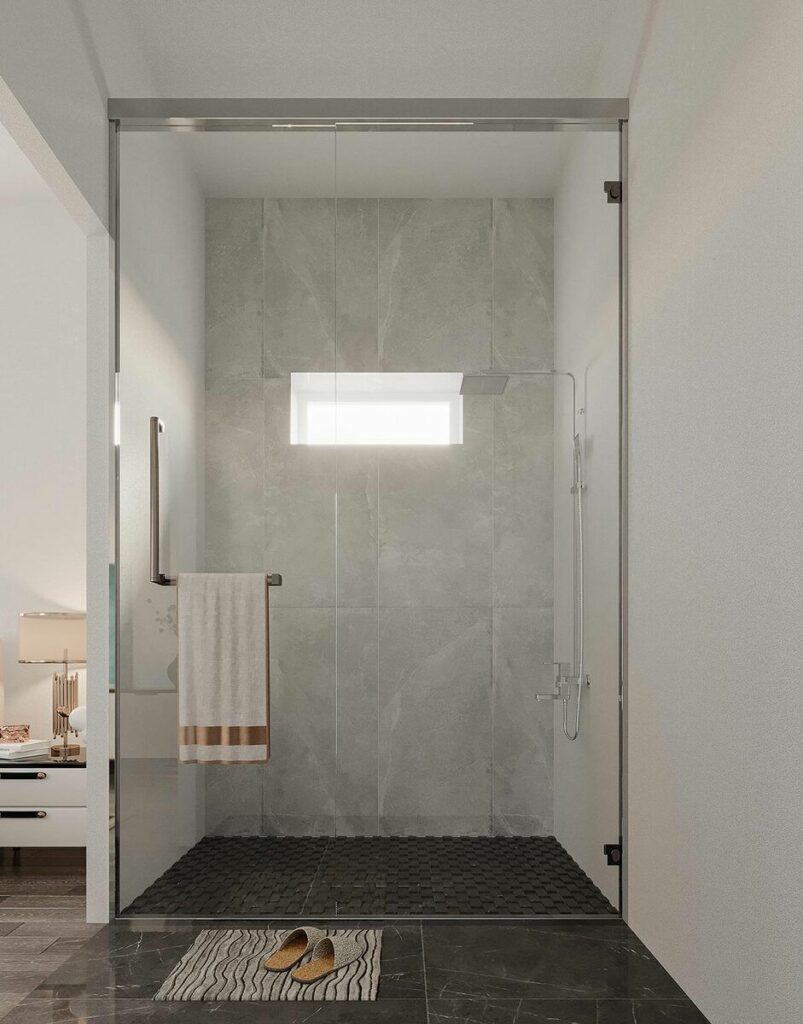 As wheels find their rest and kettles whistle in the tranquil indoors, you discover a place where every sunset brings a new promise and every dawn is a sweet symphony played by the crackling wood stove.
In the endearing embrace of this shouse, your heart finds a peculiar peace, watching the coexistence of contrasting worlds, all under a single, welcoming roof.
And there we have it, folks – your future adventure hub, work sanctuary, and cozy nest, all bundled into one marvelous house. Welcome home.
Plan 400011FTY