Specifications:
3,752 Sq Ft
5 Beds
5 Baths
2 Stories
3 Cars
Who wouldn't want to feel like European royalty without even boarding a plane?
Cue drumroll, please… for this exquisite European house plan is all about living grand with a twist of modern charm.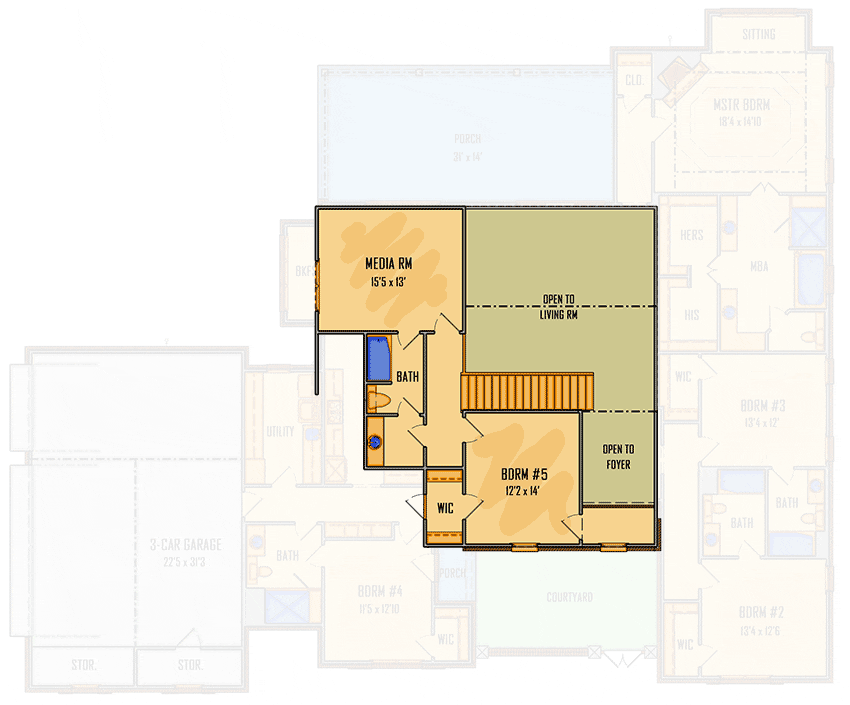 Before you even step foot inside, this house makes a statement. Forget about plain driveways or mundane entries; a front courtyard greets you, reminiscent of elegant European estates.
Picture sipping your morning espresso or greeting neighbors as they gawk at your incredibly chic taste. Let's just say, if your home had a LinkedIn profile, it would be titled "Professional Showstopper."
A vaulted ceiling? Yes, please! A large living room? Definitely! But wait, there's a cherry on top: a two-way fireplace that's also shared by the cozy keeping room.
Whether you're hosting a Downton Abbey marathon or playing charades on a chilly night, this is THE place to be. Plus, you'll feel that touch of European grandeur every time you glance upwards.
Ever had a tall friend who constantly bumped their head in your old house? Worry no more. With a standard 10′ high ceiling on the first floor, your home practically screams (in a sophisticated British accent), "Darling, there's room for everyone!"
Imagine a lazy Sunday morning, the air filled with the sizzle of your grill, a book in one hand and a mimosa in the other.
The generous rear porch ensures that whether you're an "invite the entire neighborhood" type or more "low-key family brunch," there's space for all. Besides, who wouldn't want an "outdoor room" that pairs perfectly with sunshine or starlight?
Tucked away like the crown jewels in the Tower of London, the master suite is nothing short of magnificent.
With its serene sitting room, stylish tray ceiling, and a dreamy corner fireplace, it's where opulence meets comfort.
After a long day, this suite is your sanctuary. And if you're wondering if it's rude to make guests refer to you as "Your Majesty" when they visit, it's totally not. Well, maybe a tiny bit.
Every one of the five bedrooms boasts walk-in closets, which, by the way, is a shoe lover's fantasy. No more cramming boots next to sandals or losing that one scarf you got from Italy. There's room for all your sartorial splendors.
And if someone asks, "Why do you need so much space?" just remind them that dressing fabulously is your superpower.
Gone are the days of fighting over the remote in a cramped den. Welcome to the age of your second-floor media room!
It's where popcorn meets plush seating and every night feels like a movie premiere.
Whether you're a rom-com aficionado or an action film fanatic, this space is your ticket to cinematic bliss.
This European house plan is more than just bricks and mortar; it's a dream sculpted into reality. It's where old-world charm flirts with modern-day luxuries.
And while it might not come with a real-life butler named Jeeves, it sure gives you the feel of a regal life, minus the tiara. So, are you ready to call this majestic marvel "home"?
Plan 510008WDY