Specifications:
3,252 Sq Ft
4 Beds
3.5 Baths
2 Stories
3 Cars
Welcome to a journey through a home plan that encapsulates countryside charm and modern elegance, embodying comfort with a touch of luxury.
This 4-bedroom country home plan, sprawling over 3,252 square feet, boasts a 2-story great room, a cozy yet regal master bedroom on the main floor, and a sanctuary-like study for your intellectual pursuits.
From the minute you step in, each corner unfolds a tale of thoughtful design and functionality, wrapped in a warm, inviting ambiance.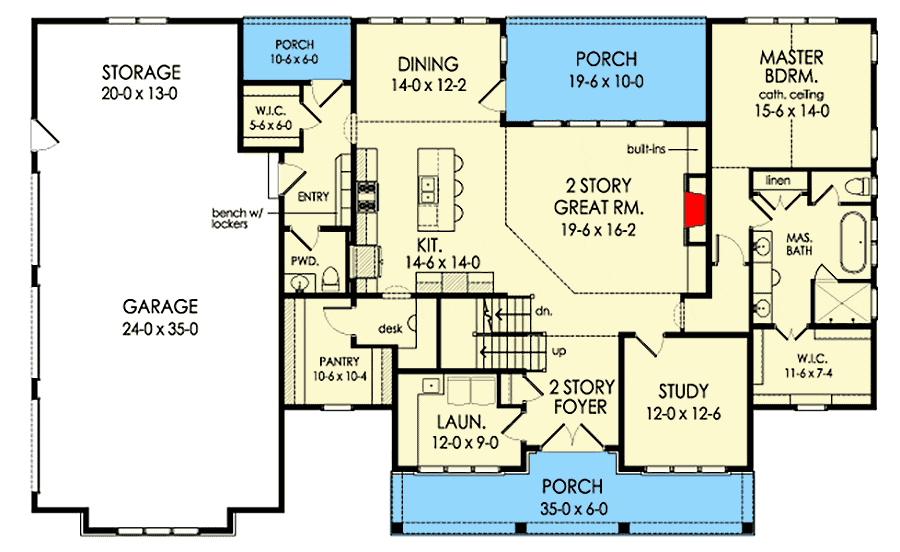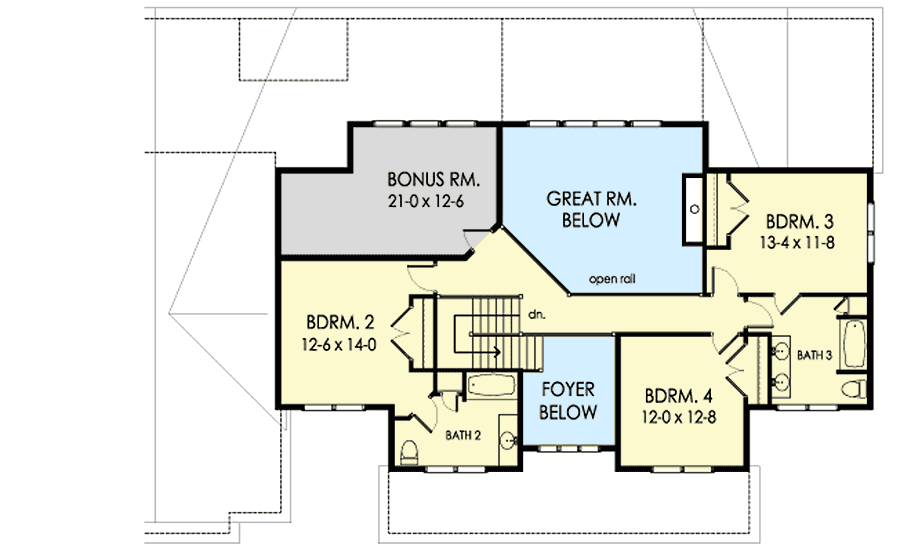 Now, let's saunter through the heart of this dwelling: the 2-story great room. Picture a lofty space drenched in the golden morning sun, with a gentle breeze flirting through the windows. This isn't just a room; it's a haven where laughter echoes and memories are stitched together over time.
The charm intensifies with quaint built-ins, ensuring your cherished porcelain makes a statement, and who could overlook the eating bar at the kitchen island? It's where Sunday pancakes get served with a side of giggles, and late-night wine pours come with deep conversations.
As you proceed, the main-floor master bedroom awaits to provide a serene retreat. Its cathedral ceiling is not just a design element; it's a lofty dream woven with threads of elegance. Here, sophistication meets comfort at every nook and cranny.
The adjoining 5-fixture bathroom is not merely a functional space, but a spa-esque haven. And the generous walk-in closet? It's the sanctuary of your sartorial splendors. This master suite ensures your days start in luxury and end in serene comfort.
Oh, and for the lovers of tranquility and the written word, a quiet study bids you welcome. It's a room where ideas flourish, deadlines are met with a cup of strong coffee, and perhaps, the next great American novel takes shape amidst the peaceful ambiance.
Let's take a jaunt upstairs, shall we? Here lie three commodious bedroom suites, each a cozy nest for the members of the family or guests.
The optional 249 square foot bonus room is the wild card – a game room, a gym, or a home theater, the choice is yours to tailor. It's the blank canvas waiting for a stroke of your lifestyle.
Now, as we drift towards the exteriors, the spacious 3-car garage subtly whispers of practicality. Yet it's more than just a shelter for your vehicles; it's a potential hobby shop or a storage heaven, ensuring the main house remains uncluttered.
The little extra luxuries like a powder bath, built-in lockers, and a walk-in closet just inside make dashes from the garage to the home a breeze, underscoring the thoughtful planning involved.
The quaint countryside aura doesn't just stop at the doors; it extends into every design element, marrying rustic charm with contemporary amenities. This home isn't just a shelter; it's a lifestyle, a dream nurtured in the lap of comfort and convenience.
And, as the sunset casts a golden glow on the façade, you know, your little country castle awaits to wrap you in its warm embrace as you traverse through rooms filled with love, laughter, and a dash of luxury. So, when are you moving in?
Plan 790104GLV