Specifications:
1,404 Sq Ft
3 – 4 Beds
2 – 3 Baths
1 Stories
You know what they say about first impressions?
Well, let me introduce you to the Darling Cottage, a house plan that has a smiley face drawn on it (metaphorically, of course).
With a footprint that's wallet-friendly and smart as a whip, this cottage is the sweet spot between functionality and good ol' charm.
Let's walk you through, but mind you, you might fall in love!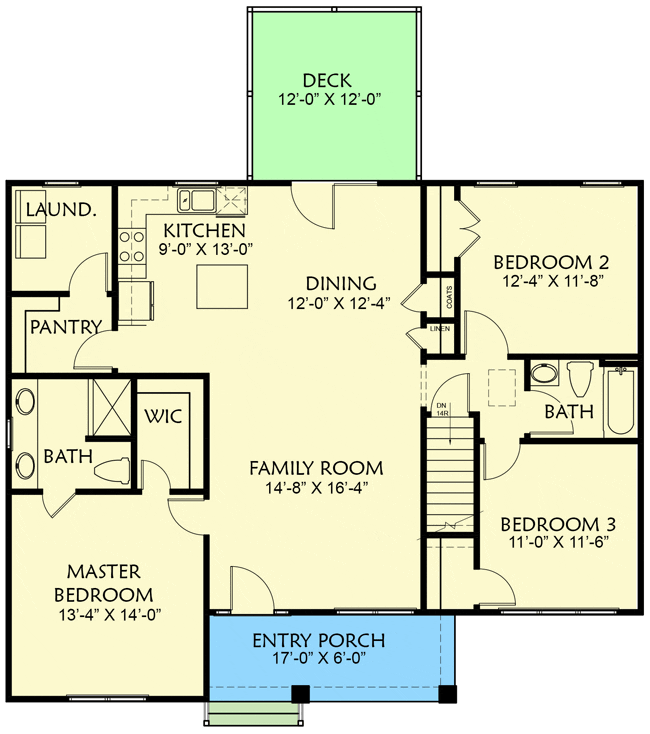 The first thing that grabs you is its welcoming front porch. If it could talk, it'd probably say, "Come on in, let's have some iced tea and a chat."
This isn't just any ordinary porch; it's seasoned with craftsman detailing, giving your home a vintage touch. Imagine rocking chairs, a lazy afternoon, and maybe a book?
At the core of this lovely abode lies the trio of dreams: a family room, dining area, and the kitchen.
They're like the Three Musketeers of house spaces, but without the swords and feathered hats. Having them centralized means you can dance from one to the other with ease.
Want to grab a snack during a movie? Two steps away. Want to yell at your teen for texting at dinner? Easy peasy.
And with the master bedroom set apart from bedrooms 2 and 3, you can have your slice of peace without hearing your kid's latest metal band phase.
Nope, it's not Narnia, but it's close. This kitchen boasts an island that's perfect for preparing those Saturday brunches (or late-night tacos; no judgments here).
And behind the magic door (also known as a regular door), lies a spacious walk-through pantry leading to the laundry room.
It's like your personal behind-the-scenes tour every day! And oh, if you ever felt the urge to share a joke with your washing machine while fetching flour, now you can.
Adjacent to this magical kitchen is a dining room with a back deck. I mean, if you ever wanted to combine the pleasure of outdoor barbeque with the comfort of indoor dining, here's your golden ticket! Perfect for when you want to dine under the stars or sunbathe with a mimosa in hand.
The master bedroom is your own personal retreat. After a long day, you deserve a space that screams comfort. With a 4-fixture bath (yes, that's one more than three), and a walk-in closet big enough to get lost in, it's the kind of luxury every monarch, or should I say "master", deserves.
On the flip side, bedrooms 2 and 3 are like the dynamic duo – perfect for kids, guests, or that hobby room you always wanted. They're like two peas in a pod, sharing a hall bath which probably has the best acoustics for shower concerts!
Thinking about the future? Well, the Darling Cottage has got you covered. The optional lower level is a wonderland in itself.
Think of a recreation room where game nights reach legendary status. There's also a fourth bedroom (guests? teens seeking refuge?), and a full bath which ensures no more queuing for morning rituals.
In conclusion, the Darling Cottage isn't just a house plan; it's a lifestyle, an experience, and quite frankly, a witty, charming friend that keeps on giving. So, are you ready to move in? Because this house is practically winking at you!
Plan 500061VV