Specifications:
4,023 Sq Ft
3 Beds
3.5 Baths
2 Stories
6 Cars
Ah, the Barndominium – it's like the Swiss Army knife of house plans, isn't it? It's got a bit of everything, and then some. Let's dive into this architectural marvel that's more multifaceted than my grandma's crystal collection.
First off, let's talk size because in the world of Barndominiums, size does matter. We're looking at a whopping 4,023 square feet of living space.
That's enough room to swing a cat, a dog, and maybe a small llama (not that I endorse animal swinging). Spread over two stories, this isn't just a house; it's a mini-kingdom.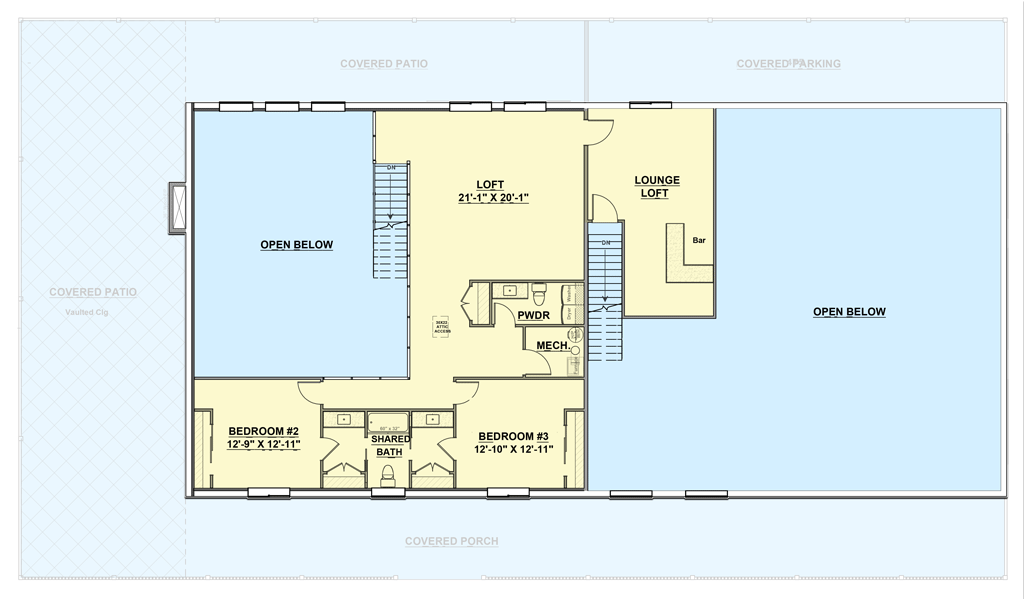 Now, bedrooms – we've got three of them. But these aren't just any bedrooms. Imagine waking up in a space so serene, you'd swear you were in a five-star resort, minus the room service, unfortunately.
Each bedroom is a haven of peace, perfect for those days when you want to escape the world, or just your family.
Bathrooms? 3.5 of them. That's right, no more morning queues or debates over who gets to shower first. The half bath is perfect for guests or when you've had one too many tacos and need quick access. Trust me, it's a lifesaver.
The house is a two-story affair, which means you get to enjoy that delightful feeling of superiority as you lord over your domain from the upper floor.
And speaking of floors, let's not forget the garage. This isn't just a garage; it's a 6-car wonderland.
It's so spacious; you could host a dance party in there. But wait, there's more – it also includes a home gym and a storage room. Say goodbye to expensive gym memberships and hello to convenience.
The wraparound porch is the crown jewel of this Barndominium. It's like a hug for your house, offering stunning views of your surroundings.
Whether you're sipping coffee at dawn or enjoying a glass of wine at dusk, this porch is the place to be.
Inside, the great room is, well, great! With two-story ceilings, it's airy, it's spacious, and it flows into the dining area and kitchen like a dream. The kitchen boasts an island that's not just a piece of furniture; it's the command center.
And let's not forget the butler's pantry – it's so roomy, your butler might just move in there. Don't have a butler? No problem, it's still a great space for all your storage needs.
The master bedroom is a sanctuary on the main level, complete with access to the porch through French doors. It's like having a private escape route when you need a break from your relatives during the holidays.
For those of you working from home, the office space is a godsend. It's versatile too – need an extra bedroom? Just add a closet, and voila, you've got a four-bedroom house. The magic of construction!
Upstairs, the loft is so spacious, you might need a map to navigate it. It leads to two family bedrooms that share a Jack-and-Jill bath, which is basically like having an en-suite, but with a fun twist.
The pièce de résistance is the bonus loft above the garage, complete with a built-in bar. It's the perfect spot for entertaining, relaxing, or pondering life's mysteries, like why we say "pairs of pants" when it's just one item.
And for those who need even more space, there's the option to transform the garage and loft into a mother-in-law suite.
Just add a bathroom, and you're set. It's like having a mini-apartment within your house. Your mother-in-law might love it so much; she'll never leave. On second thought, maybe just keep it as a bar.
In conclusion, this Barndominium is more than just a house; it's a lifestyle. It's spacious, it's versatile, and it's got character.
Whether you're a fitness enthusiast, a work-from-home professional, or just someone who enjoys the finer things in life (like a built-in bar), this house plan has something for everyone. So, if you're in the market for a home that's as unique as you are, look no further. The Barndominium awaits!