Specifications:
3,146 Sq Ft
4 Beds
3.5 Baths
2 Stories
2 – 3 Cars
Ever thought about the three L's of real estate – Location, Layout, and… Laundry?
Hold onto your farmhouse boots because this 4-bed modern beauty is here to redefine luxurious living with a splash of country charm!
Stay Tuned: Detailed Plan Video Awaits at the End of This Content!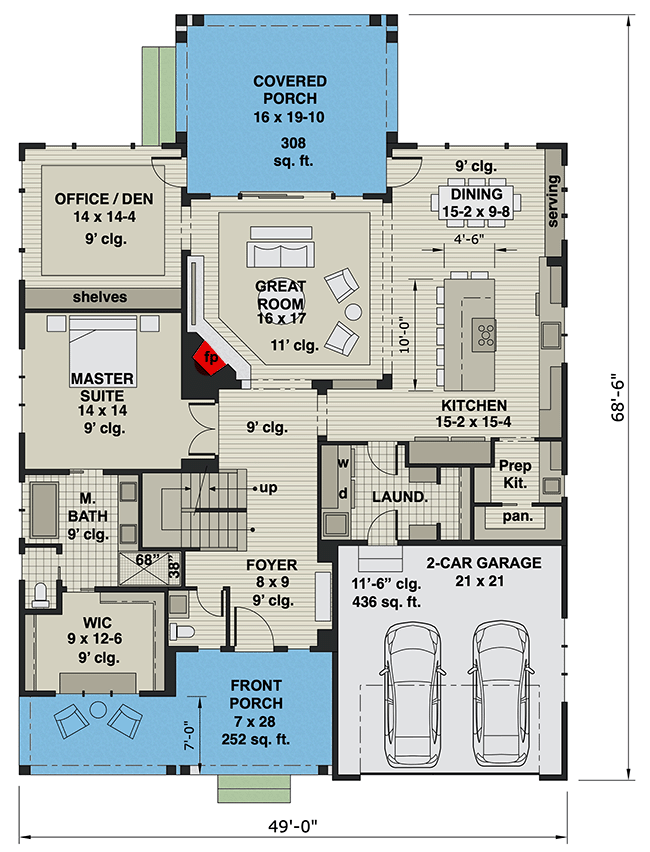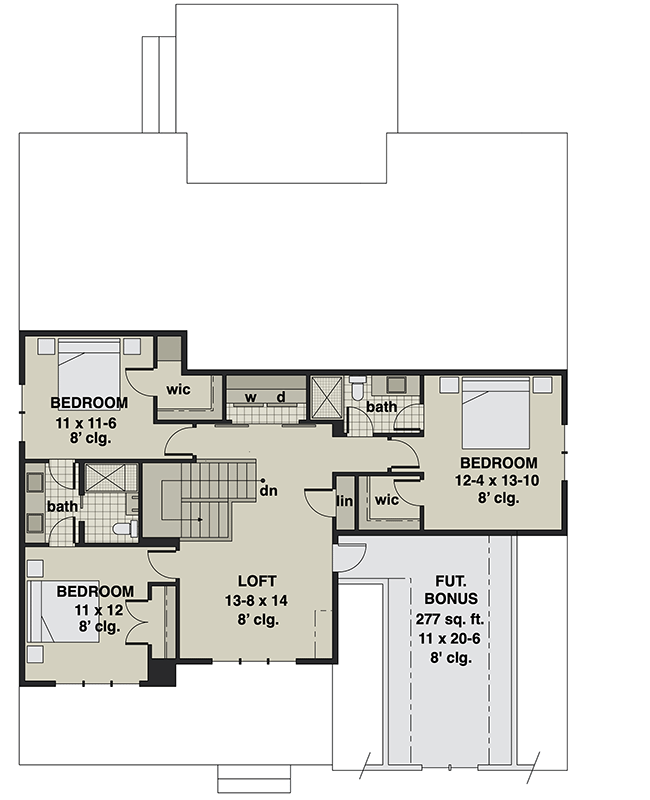 Let's kick off with that inviting front porch, 252 sq. ft. of pure, unadulterated 'sip your morning coffee while watching the world go by' magic. This house just screams, "Come in, take off your shoes, and stay awhile!" – and trust me, you'd want to.
Walk in, and the magic doesn't stop. The foyer graciously introduces you to an open floor plan so family-friendly that even your in-laws would approve. That great room?
With the corner fireplace and an 11' ceiling? It's the kind of space where memories are made, from cozy winter nights to lively summer get-togethers.
And if you're feeling a little outdoorsy, slide open those glass doors, and bam! Covered rear porch. Perfect for barbecues, or perhaps, for some quiet reading time while you pretend not to see your kids smearing mud all over.
Now, let's talk kitchen. Can we take a moment to marvel at the two-level center island that's so large it practically has its own postcode? At 4'6″ by 10′, this isn't just an island; it's practically a continent.
Built-in range, seating for up to 7 (because let's face it, everyone gathers in the kitchen at parties), and the amount of cabinet space?
Let's just say if you're a kitchen gadget hoarder, your secret's safe here. The prep kitchen and walk-in pantry aren't just for show either. With these, you could probably host a season of a cooking show and still have room to spare.
And speaking of spare, let's move to the main floor master suite. With a 9' ceiling and vast window expanse, this room combines spaciousness with intimacy.
The master bathroom is more like a personal spa – think dual vanities, bathtub, shower, and yes, a private throne area. The enormous walk-in closet could give Narnia's wardrobe a run for its money.
However, the pièce de résistance (that's right, we're going fancy) is having laundry on both floors. Moms, dads, folks who change outfits five times a day – rejoice!
No more hauling laundry up and down the stairs. The main floor laundry doubles as a mudroom, strategically located so that you can stealthily dump those muddy shoes before waltzing into your pristine abode.
Head upstairs and it's like entering a whole new world. Three more bedrooms await, two of which are playing the walk-in closet game strong.
The Jack and Jill bathroom setup ensures minimal morning squabbles, while the third bedroom has its very own bathroom sanctuary nearby.
If you ever manage to run out of things to do downstairs (unlikely, but let's humor the idea), there's a vast loft waiting to be whatever your heart desires: game room, home office, art studio, or a hideout from the kids.
Let's round this out with that garage. Two cars? Easy. Want a side garage instead? Done. Feeling ambitious and want space for three cars?
Say no more. Just keep in mind; they need a wee bit of notice if you're going for those optional garage versions.
In conclusion, this modern farmhouse is more than just a house; it's the ultimate dream wrapped in 3,146 sq. ft. of pure, unfiltered awesomeness.
So, whether you're a city slicker looking for a country escape or just someone with impeccable taste, this might just be the "home sweet home" you've been dreaming of. Remember, folks, double the laundry means double the love (and fewer sock casualties)!