Specifications:
750 Sq Ft
2 Beds
1 – 2 Baths
2 Stories
Let's talk small, but mighty.
The kind of small that punches way above its weight.
No, I'm not talking about that pesky Chihuahua from next door, but rather, an exclusive small home plan that packs luxury and charm into a snappy 750 sq ft.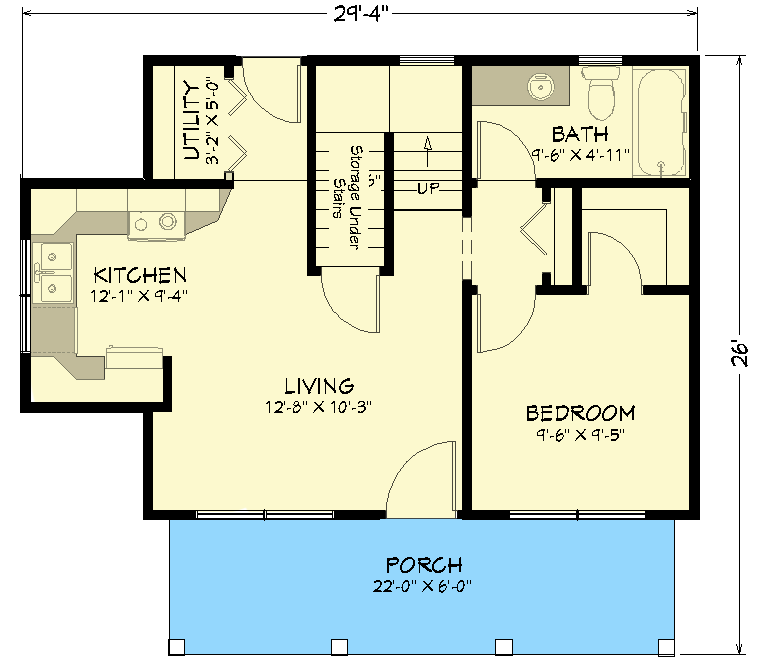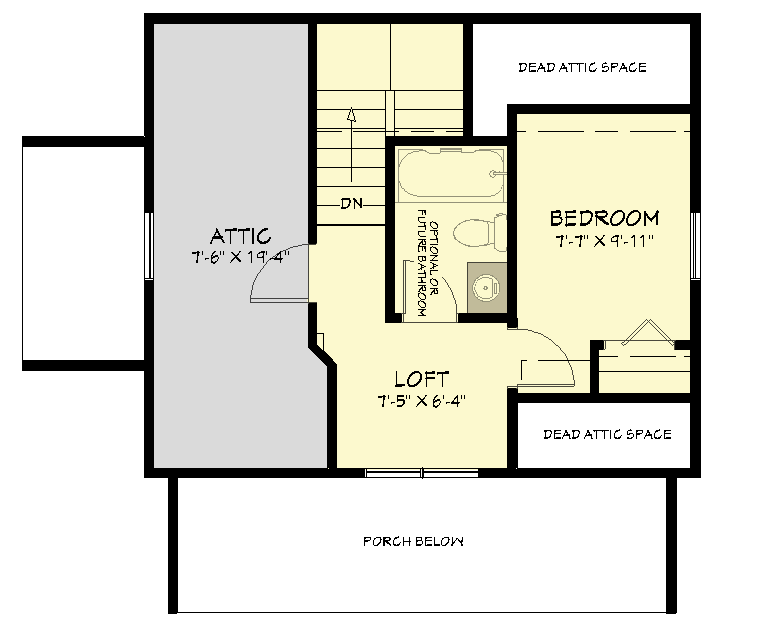 First impressions matter. That's why when you first lay eyes on this house, the board and batten siding makes you go, "Ooh, that's some stylish armor!" And that lengthy front porch? It practically extends its arms out, ready for a big ol' welcoming hug.
Whether you're envisioning this as your snug vacation hideaway, an ADU (that's 'Additional Dwelling Unit' for the uninitiated), or your "I'm-done-with-cleaning-a-mansion" downsizing option, it's bound to make a statement.
Step inside and you're greeted by a living room that says, "Hey there, make yourself comfy!" It gives you the kind of forward-facing views that make nosy neighbors a tad envious. (Oh, don't pretend like you don't love it.)
And adjoining it is a kitchen that I like to call "the U-turn magic." With U-shaped counters, it's perfect for those who want to whip up a meal and pretend they're on a cooking show.
And hey, if you accidentally burn that soufflé, there's a convenient back door right by the utility closet. Quick escape or extra ventilation? You decide.
Now, let's talk bedroom – the main floor kind. It's got a walk-in closet that's almost roomy enough for your shoe obsession (I mean, collection) and it's strategically placed across from a full bath. Because, let's be honest, nobody likes to sprint to the other end of the house wrapped in a towel.
Ever wished for a home workspace without giving up on the essence of homey? The loft upstairs says, "Wish granted!" It's got the perfect nook for a desk, or if you're feeling fancy, a chaise lounge for those inspired moments with a good book.
Beside it, you'll find the second bedroom. It's the kind of space that can be a cozy guest bedroom or the "I-need-my-space" teenage lair.
And because we're all about options here, the design thoughtfully includes an optional second bathroom. Hey, sometimes it's not about need, but luxury. Also, who enjoys morning bathroom queues?
One word: Attic. No, not the spooky, cobweb-riddled kind. This one's the jackpot for storage lovers. It's the place where you can stash away Christmas decorations, old photo albums, and that inflatable dinosaur costume you swear you'll wear…someday.
There you have it – a snug, stylish, and smart home all rolled into 750 sq ft. Small? Yes. Lacking? Absolutely not!
Remember, it's not always about sprawling estates and mega-mansions. Sometimes, the best things truly do come in compact packages. Just ask the Chihuahua!
Plan 430804SNG