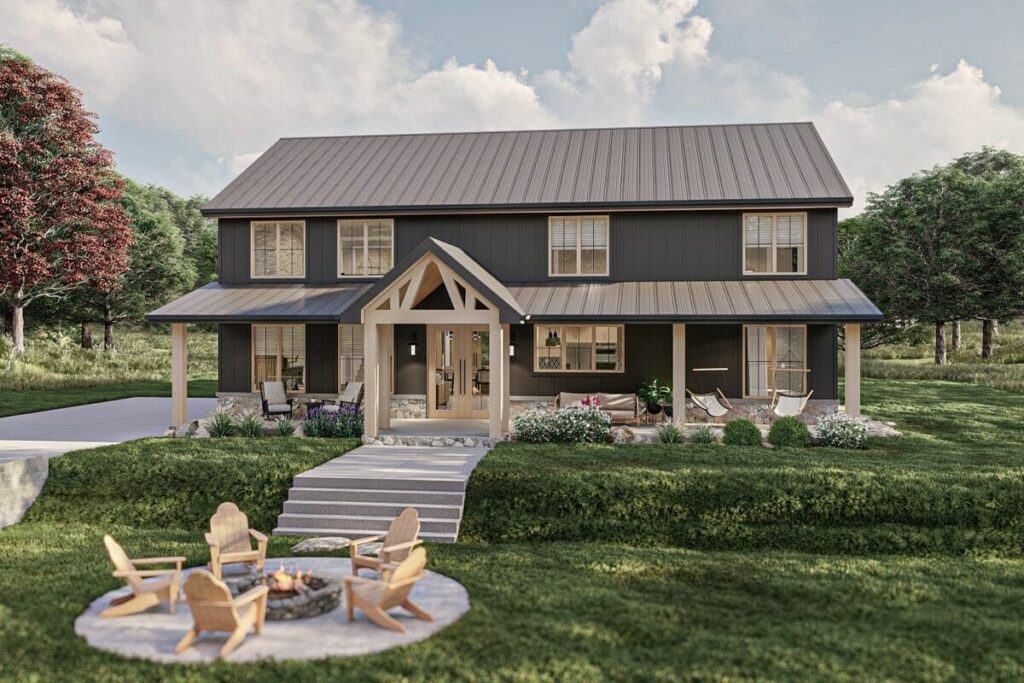 Specifications:
3,303 Sq Ft
4 Beds
2.5 Baths
2 Stories
Ah, the barndominium – it's like the unicorn of modern homes, a mythical blend of barn and condominium that somehow makes perfect sense.
And let me tell you, if you're in the market for a house plan that's as unique as a three-legged donkey but far more practical, you've stumbled upon a gem.
This isn't just any old barndominium; it's a 3,303 square foot castle with a twist of country chic. So, grab a cup of coffee (or a mason jar of sweet tea if you're feeling particularly rustic) and let's mosey through this architectural marvel together.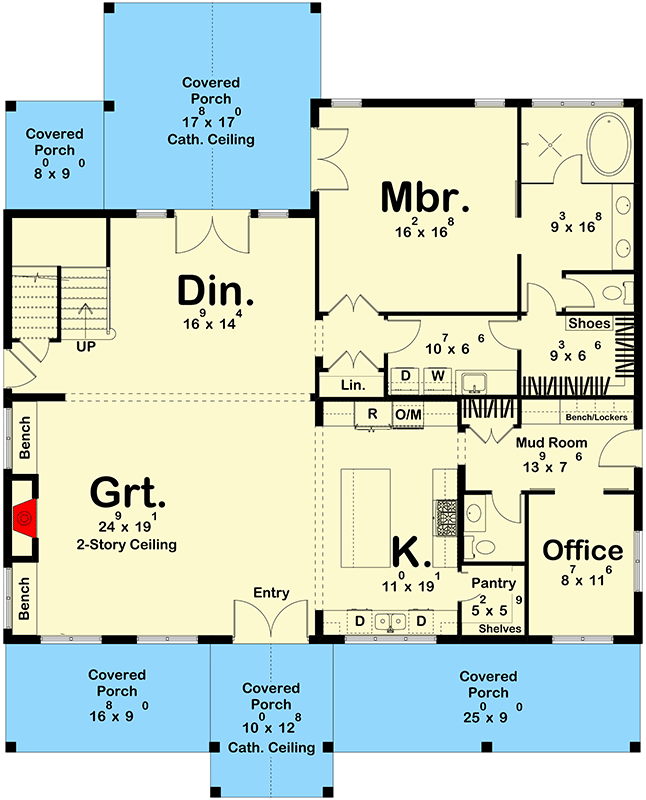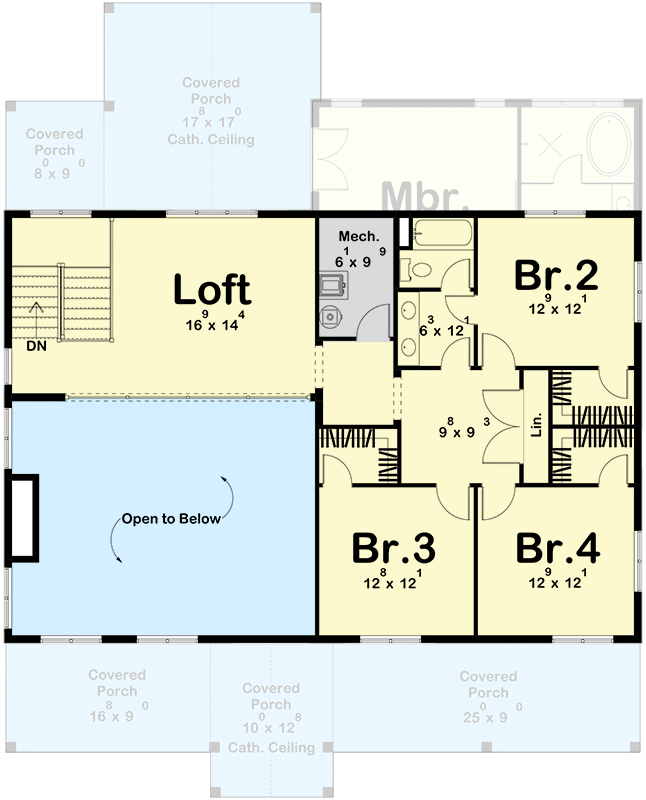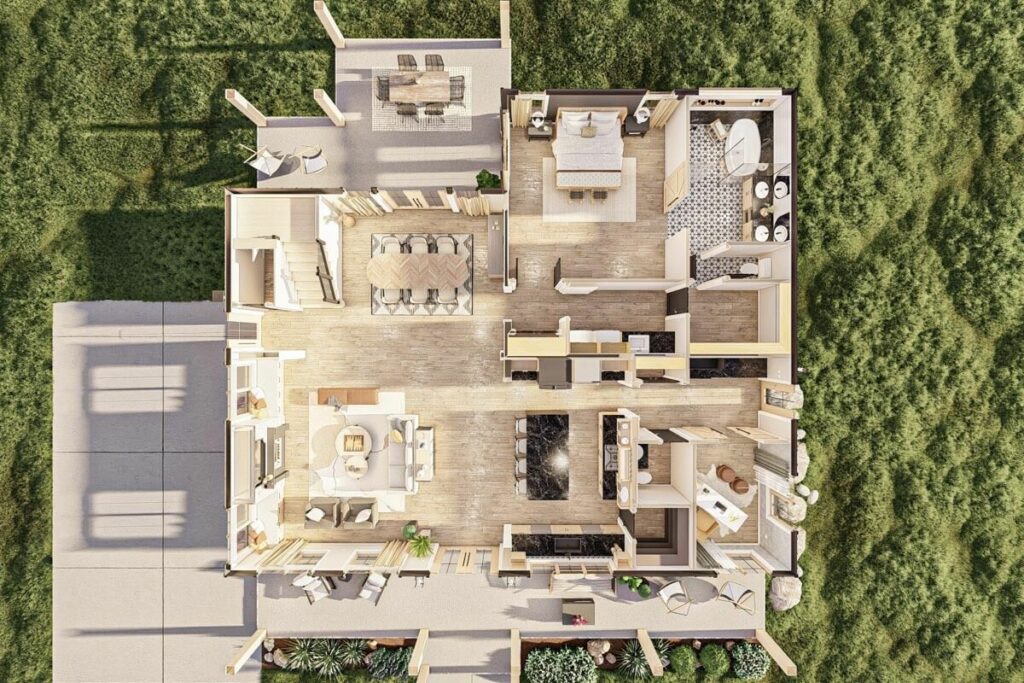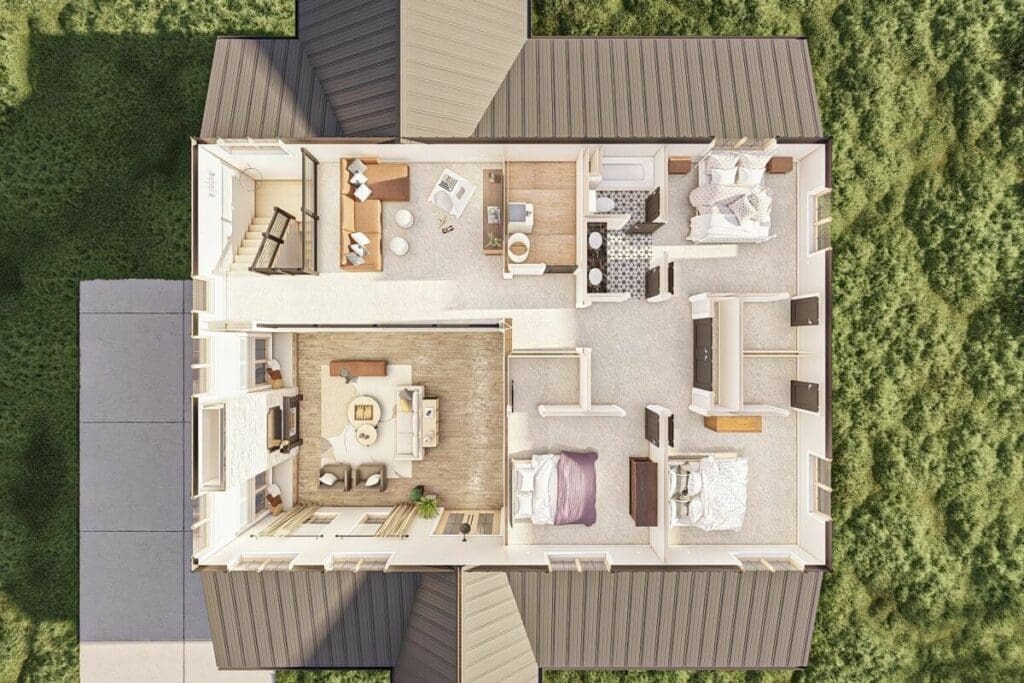 Picture this: you swing open the door and step into a two-story great room that's so airy and bright, you half expect a Disney princess to be serenading woodland creatures in the corner.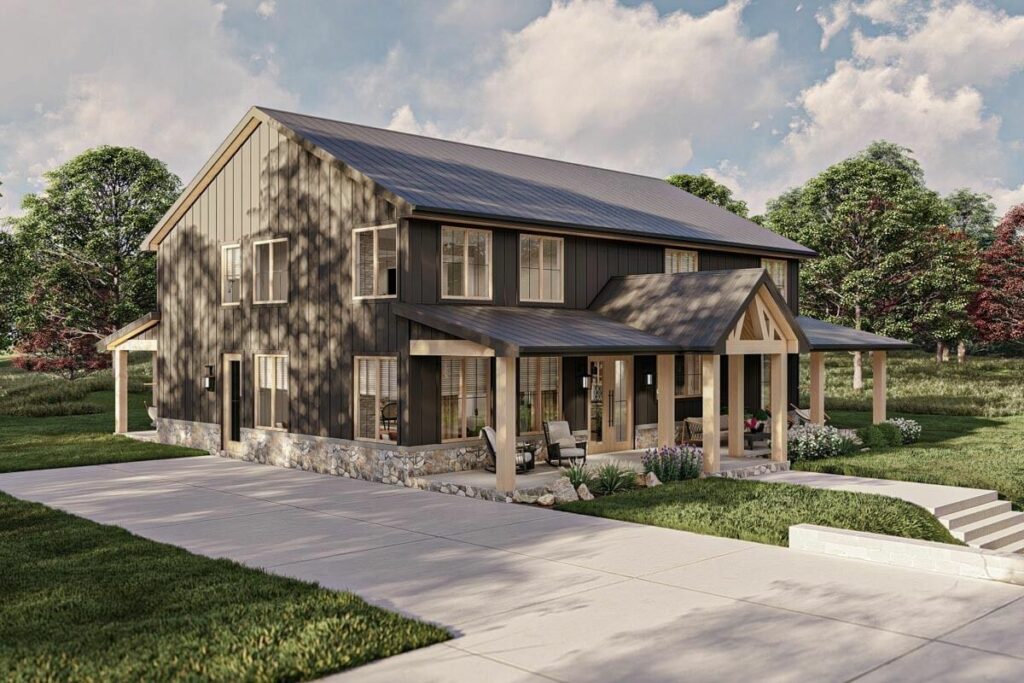 The natural light doesn't just pour in; it practically does a cannonball through the large windows, illuminating every nook and cranny.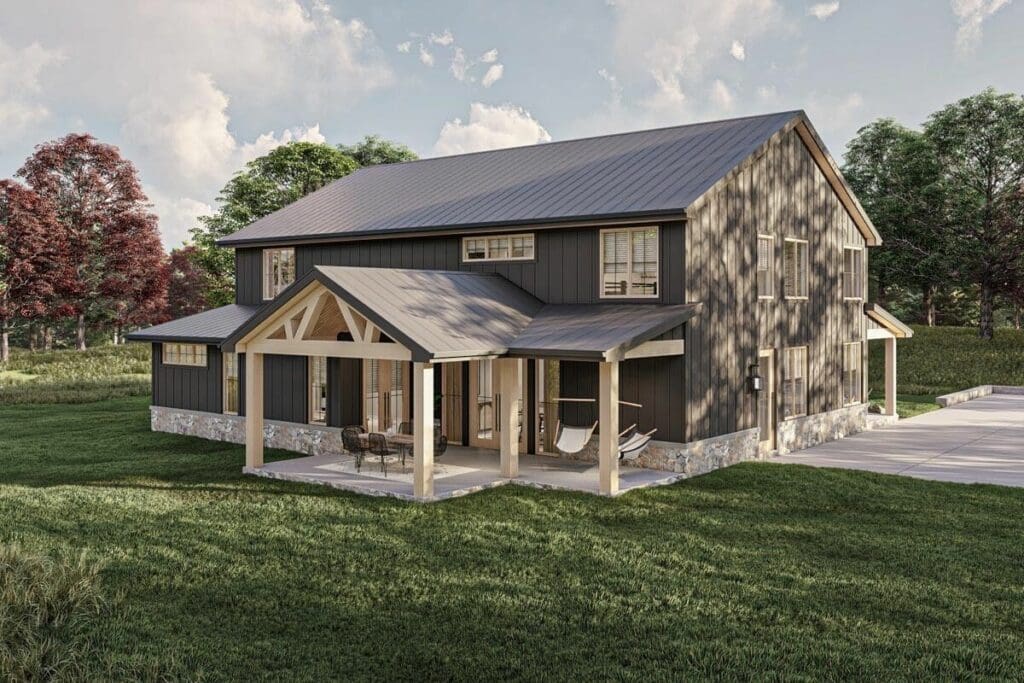 Now, if you're like me and believe that the kitchen is less of a room and more of a sacred space where both sandwiches and life decisions are crafted, then this kitchen will have you at "hello."
There's counter space for days, perfect for rolling out pizza dough or hosting an impromptu science fair. And the walk-in pantry? It's the Narnia of food storage – expansive, mysterious, and a little bit magical.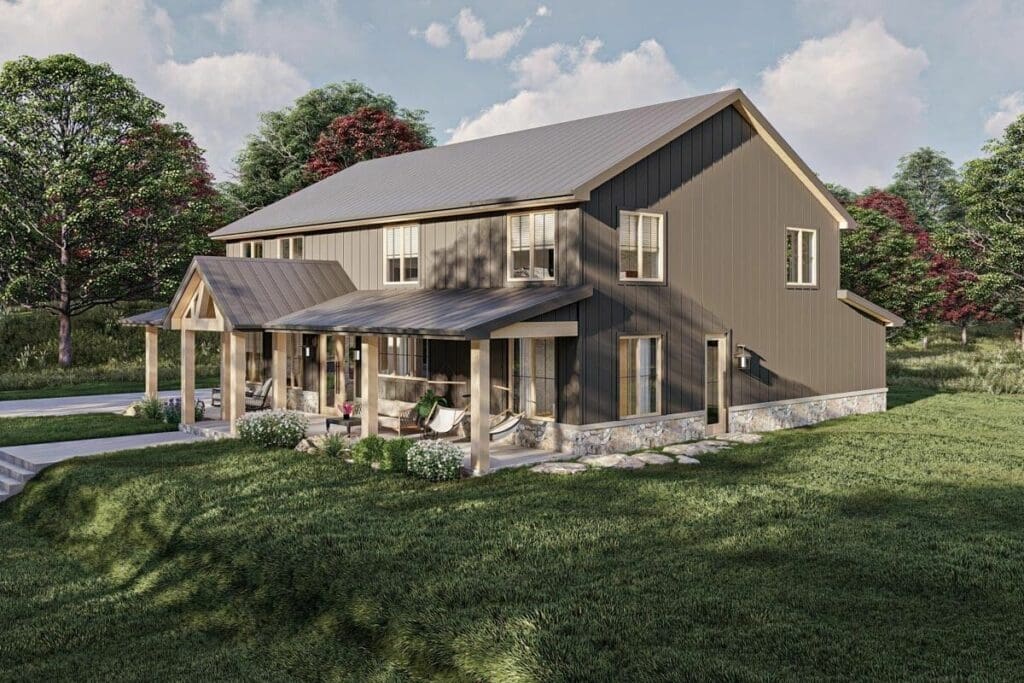 Adjacent to this culinary wonderland is the dining area, where you can break bread with your nearest and dearest without missing any of the action. It's an open concept that keeps the conversation flowing as smoothly as the wine from your glass.
Just off the mudroom – a space that's a godsend for those with an adventurous spirit and the muddy boots to prove it – there's a home office. It's a sanctuary for productivity, or at least a space where you can convincingly pretend to work while scrolling through memes. We don't judge here.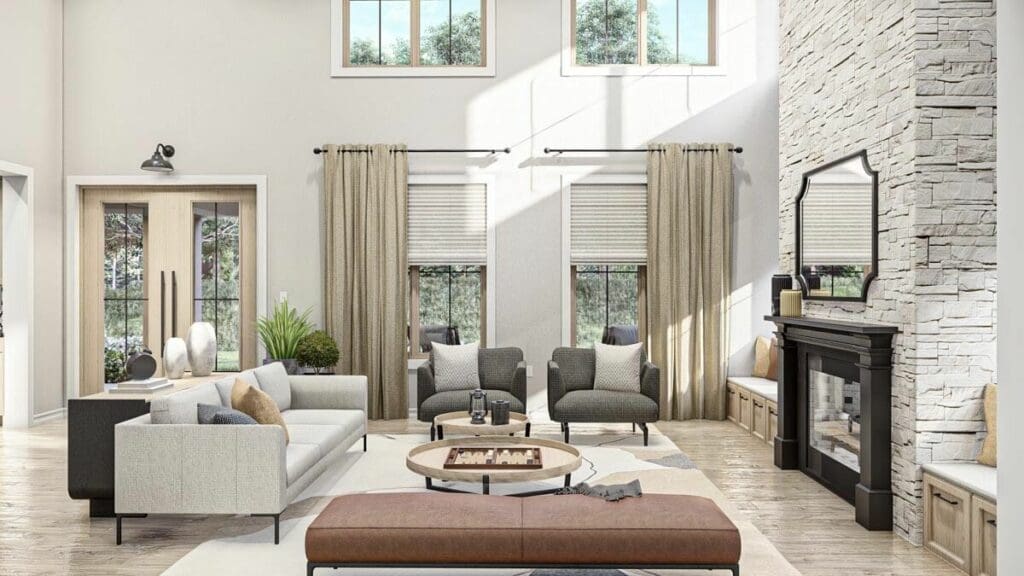 When the day is done, and you're ready to retreat from the world, the main level master suite is where you'll want to land.
It's more than a bedroom; it's a haven with a luxurious bath that could rival a spa. And the walk-in closet? It leads directly to the laundry room, because life is short, and convenience is king.
Venture upstairs, and you'll find a loft area that's the Swiss Army knife of spaces – it can be anything you need it to be. A reading nook for the bookworms, a play area for the tots, or a secondary entertainment zone for when you want to escape the main floor's hustle and bustle.
The three additional bedrooms are not just rooms; they're escapes for the imagination with walk-in closets that could double as small offices (or hiding spots when the in-laws visit). They share a bathroom that's got a double vanity, because let's face it, sharing is caring, but having your own sink is divine.
But wait, there's more! This barndominium comes with 868 square feet of fresh air space. It's like having your own personal park – a place to sip lemonade, watch the sunset, or stage an amateur production of "Oklahoma!" (complete with hay bales for seating).
So there you have it, folks – a barndominium-style house plan that's as charming as a southern accent and as welcoming as a homemade pie cooling on the windowsill. It's a home that says, "Come on in, kick off your boots, and stay awhile." And really, isn't that what we're all looking for at the end of the day?
Whether you're a family looking for room to grow, a couple seeking a slice of country living, or just a lone ranger with a penchant for space and style, this barndominium is more than a house – it's the backdrop to the life you've always wanted to lead.
So go ahead, dream big, and let this be the canvas for your masterpiece of homey happiness.