Specifications:
2,492 Sq Ft
3 Beds
2.5 Baths
2 Stories
2 Cars
Okay, folks, gather around!
We're about to embark on a house plan adventure, sprinkled with humor and a dash of awe. And yes, if you ever imagined being hugged by a house, this is THE one!
Stay Tuned: Detailed Plan Video Awaits at the End of This Content!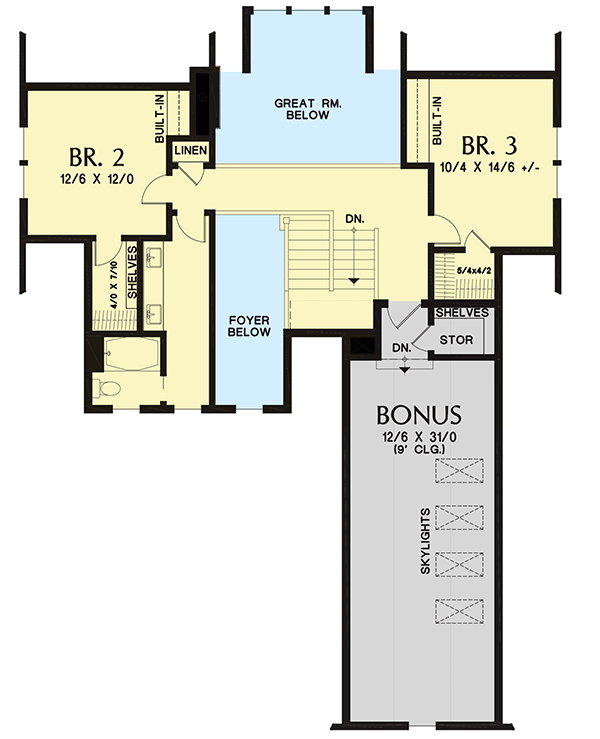 Whoever said "old is gold" probably never saw a blend like this! Bright-white, board and batten siding? Check. Raised-seam metal roof? Oh, double check. It's like the house wore its Sunday best, just for you. The elegant modern design seamlessly couples with classic architecture to drop jaws and turn heads.
Now, I know what you're thinking – two cars and a workshop? Yep, this isn't just any garage. This 2-car space protrudes confidently from the front like a peacock flaunting its feathers.
Plus, with that nifty workshop, the resident DIY enthusiast can revel in their little hobby haven. And let's be honest, who doesn't need a sanctuary for the "I can totally fix that" projects?
To your left, as you step into the house, there's an office – the very symbol of the modern hustle. Whether you're plotting world domination or logging into another Zoom meeting (pants optional), this space makes sure you do it in style.
Straight ahead, the vaulted ceiling of the great room reaches out to the skies, giving your dreams space to soar. If ceilings could talk, this one would probably sing opera.
And as if that isn't grand enough, there's an attached eat-in kitchen which stretches out into a covered porch. Barbecues, brunches, or book reading – the porch is ready for all and sundry.
Let's be real: all of us secretly want a bedroom that's a bit…extra. And this master bedroom delivers. Another vaulted ceiling (because why not?), giving the illusion of even more space than its generous size.
The en suite's freestanding tub practically begs for bubble baths with a glass of wine and a good book. Oh, and did I mention dual closets? Because one just isn't enough for all those impulse online purchases.
The house's charm doesn't end downstairs. Head on up to find Bedrooms 2 and 3 – perfect for kids, guests, or that cousin who just loves to drop in unannounced. Sharing is caring, and these rooms share a hall bath that's nothing short of cozy.
And if you're feeling a little extravagant, there's an optional bonus room above the garage. An extra 481 sq. ft., folks. Man cave, she shed, or disco dance floor – the possibilities are endless!
Let's face it: life can get messy. Enter the spacious mud/laundry room. With a built-in bench and utility sink, it's ready for muddy shoes, paint-smeared shirts, and wine-stained regrets.
Worried about guests seeing your "creative chaos?" Worry not. A handy pocket door keeps your mess a secret, proving once and for all that laundry rooms have feelings too.
So, if you ever wished for a house with character, class, and a sprinkle of sass, this is it. With 2,492 sq. ft. of pure, unadulterated awesomeness, it's the house-plan dream you didn't know you had. Grab your virtual hard hat, and let's make this dream a reality!