Specifications:
1,940 Sq Ft
3 Beds
2.5 Baths
1 Stories
2 Cars
Ah, the modern barndominium – it's like the love child of a barn and a condominium, and it's taking the housing world by storm, one stylish, metal-clad structure at a time.
Now, let's dive into a particular plan that's cozy enough to feel homey yet spacious enough to not trip over your pet every five steps – a sleek barndominium under 2000 square feet with a vaulted great room that's just waiting to be filled with laughter, life, and the occasional flying throw pillow.
At 1,940 square feet, this barndominium is like that one friend who's always organized – everything has its place, and there's a place for everything.
It's the Goldilocks of home sizes: not too big that you're echoing through hallways, and not too small that you're using your oven for storage. It's just right.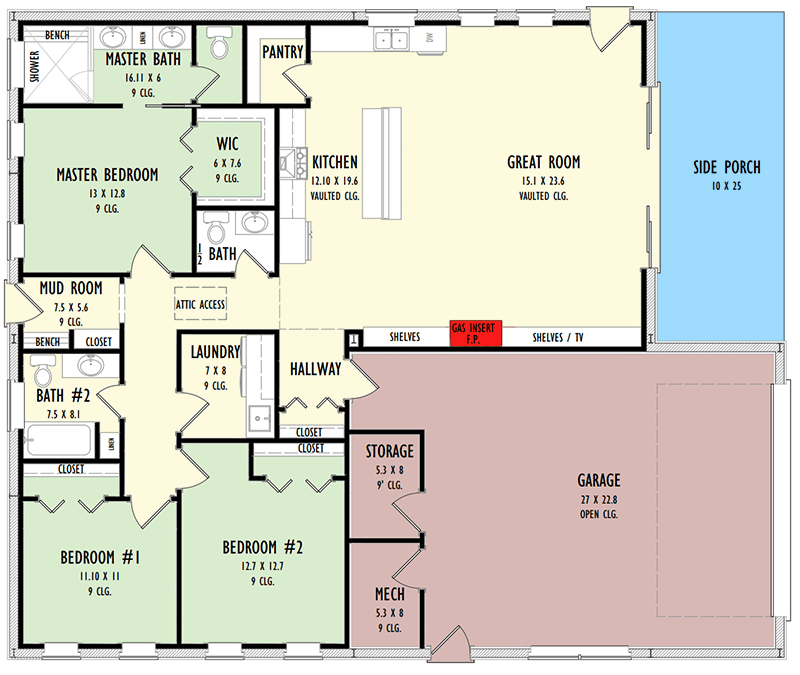 Step inside, and you're greeted by a great room that's so airy and bright, you'll half-expect a Disney princess to waltz through with woodland creatures in tow.
The vaulted ceiling gives the illusion of an even grander space, perfect for hosting game nights where the only thing more competitive than the Monopoly game is the race to the couch for the best seat.
The shed-style roof isn't just for looks – it's a clever ruse to incorporate transom windows that bathe the interior in natural light.
It's like living inside one of those fancy Instagram home feeds, except the plants are real, and you don't have to use a filter to make your living space look good.
The kitchen is the unsung hero of any home, and this one's open to both the dining area and the great room, so you can flip pancakes and not miss out on the morning gossip.
Plus, with a gas fireplace nestled next to built-in shelves and a TV niche, you can cook while catching up on your favorite shows. It's multitasking at its finest.
The 2-car garage comes with dedicated storage for when you finally decide to take up woodworking or need a place to hide the evidence of your online shopping habit.
And for the everyday adventurer, there's a coat closet just inside the home that's perfect for dumping your gear after a day out in the wild (or, you know, the mall).
The master bedroom is your personal retreat. It comes with a walk-in closet that's roomy enough for even the most enthusiastic fashionista. And the attached bathroom?
It features an oversized shower where you can sing off-key without judgment and a toilet room with a pocket door for when you need your privacy.
Across the hall, two additional bedrooms stand ready for kids, guests, or that home office you've been dreaming about since you first saw a Pinterest board.
Say goodbye to the days of fighting over who gets the bigger bedroom – these are as equal as your love for your children (or your hobbies).
A mudroom with a back door means you can slip in and out while working on your green thumb or DIY projects without traipsing dirt through the house. It's the unsung hero of a clean home and the best friend of muddy boots everywhere.
Designed with a Pre-Engineered Metal Building (PEMB) in mind, this barndominium is not just a pretty face.
It's the equivalent of a superhero in the home-building world – faster to put up than a traditional home and tough as nails.
Plus, with the option for 2×6 exterior framing, it's like giving your home a workout routine before it's even built.
This modern barndominium plan is more than just a set of blueprints; it's a blueprint for life – one that understands the balance between cozy nooks and open spaces, between communal living and private retreats.
It's a home that's ready to be filled with memories, messes, and the occasional peaceful moment when everyone's out, and you have the great room all to yourself.
So, if you're ready to embrace the barndominium life, to live in a home that's as unique as your fingerprint and as warm as your grandmother's hug, then this plan might just be the one for you.
And who knows? Maybe you'll be the one hosting the next game night, where the only thing better than the vaulted ceilings will be your legendary cheese platter.