Specifications:
1,967 Sq Ft
3 Beds
2.5 Baths
1 Stories
2 Cars
Well, butter my biscuit and call me a biscuit butterer, have I got a home to tell you about or what?
Picture this: a Split Bedroom Modern Farmhouse that doesn't just house your dreams, but rolls out a red carpet for them, too!
Now, I don't know about you, but the phrase "1,967 sq ft" gives me the same giddy feeling I get when I remember my phone charger on a weekend getaway.
It's like, "Yes, I CAN have it all!" With 3 bedrooms, 2.5 baths, a single-story layout, and garage space that doesn't just begrudgingly accept your two cars but celebrates them, this house is checking boxes I didn't even know I had.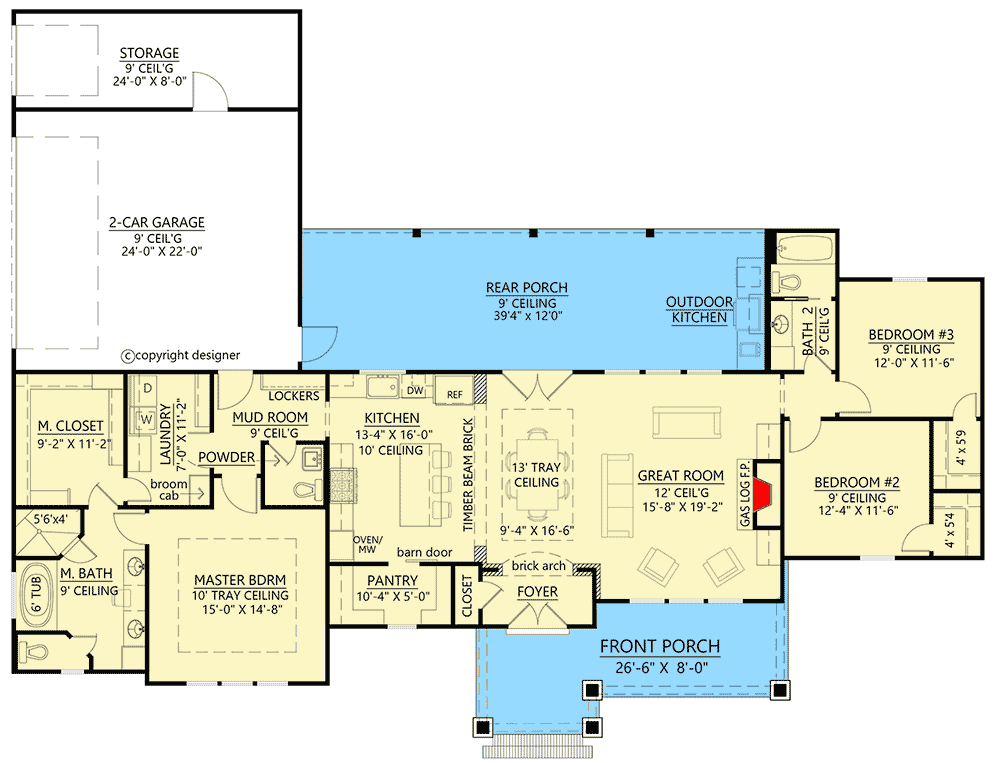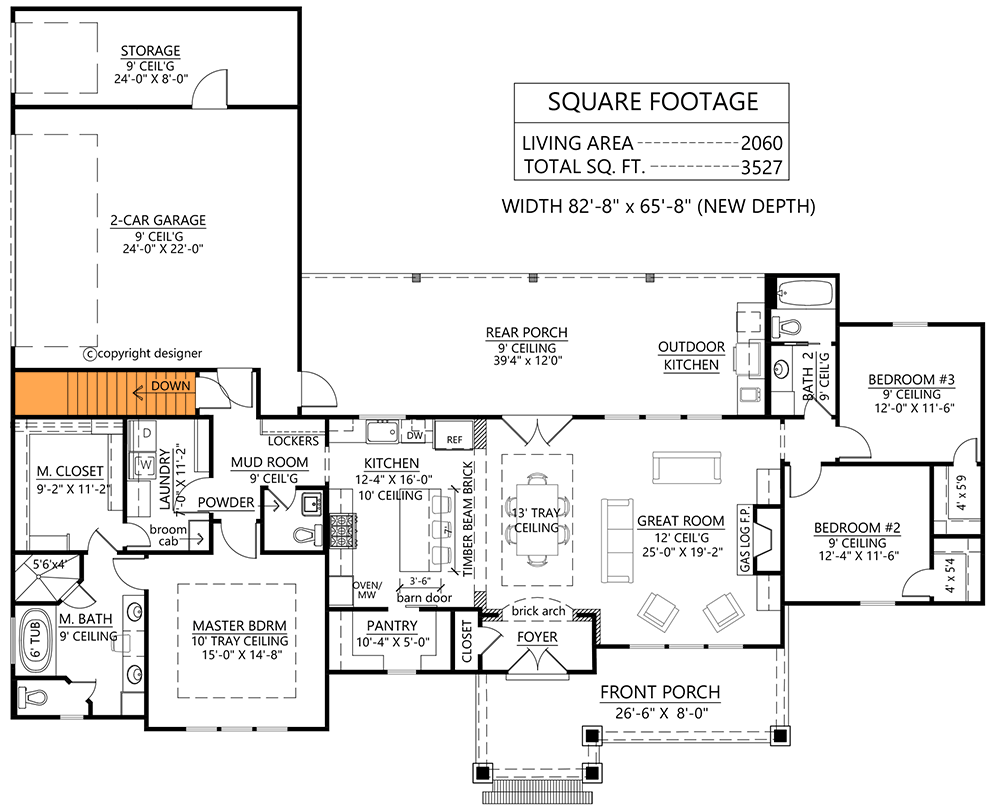 First off, can we talk about the exterior? Board and batten siding is like the comfort food of home design – timeless, with a side of "heck yes, I'm home." The covered entry is like a warm hug for your future guests, saying, "Welcome, I'm sophisticated but not stuffy."
You know what's annoying? Having to park your car where your living room should be. Thankfully, this plan totally gets it.
The side-entry garage isn't just a garage; it's a two-car wonder with a special nook for your not-so-big-but-equally-important rides, like maybe that vintage Vespa you impulse-bought during a quarter-life crisis. And storage?
You betcha. Your lawn equipment, your Christmas decorations, your forgotten New Year's resolutions? They all have a space to call their own.
As you sashay through the French doors, you're in the foyer, and BAM! There's a brick arch that's basically architectural jazz hands introducing you to the heart of the home.
The open floor plan here isn't just open; it's like "we need to talk about boundaries" open, combining the kitchen, dining area, and living room.
Speaking of kitchens – hold onto your oven mitts because this one's got a large walk-in pantry that could double as a command center for world domination (or, you know, snacks).
The prep island isn't just a space; it's an experience, offering seating for those heart-to-hearts during meal prep or the "You taste this; what does it need?" moments.
Then there's the living room. The gas log fireplace isn't just for show; it's a beacon of coziness, calling out to you like a siren to a sailor, but without all the crashing-on-rocks business.
It's perfect for those "let's stay in tonight" vibes when going out requires too many layers of clothing.
Now, let's talk French doors, part deux. These beauties open to a rear porch that's so roomy at 12′-deep, you'll start considering outdoor furniture with the same fervor typically reserved for choosing a Netflix series.
Imagine an outdoor living room where fresh air is on the guest list. And an outdoor kitchen? Al fresco dining just sent you a friend request.
Onward to the master bedroom, positioned in the left wing like it's plotting a political career. It's not just a room; it's a haven. The master bath laughs in the face of spa brochures, with a freestanding tub you'll want to write sonnets about.
Dual vanities say, "Yeah, we can both brush our teeth at the same time, and we like it." And the walk-in closet isn't just a closet; it's a realm unto itself, with direct access to the laundry room because, let's face it, convenience is the ultimate luxury.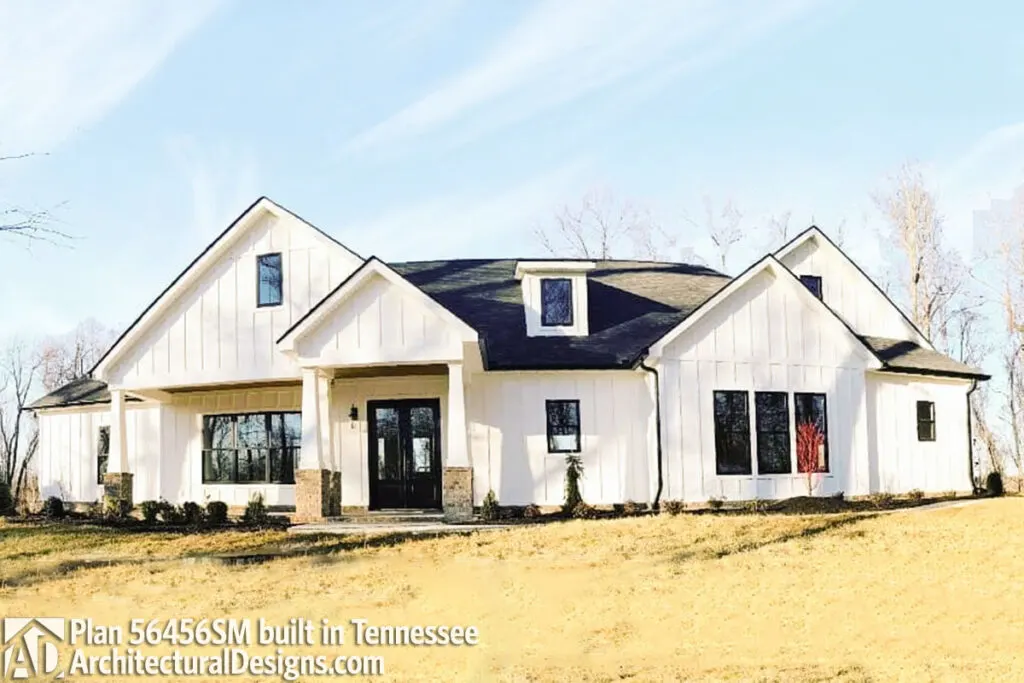 But wait, there's more! Bedrooms 2 and 3 are playing it cool on the other side of the house, sharing a hall bath and plotting midnight snack raids. They offer the perfect space for kids, guests, or an elaborate hobby room because you're a complex individual with interests, darn it.
This house isn't just a structure; it's a high-five to good living. It's a "where have you been all my life?" in architectural form.
And it's waiting for you to start imagining your life within its brilliantly-designed walls. So, let's turn this house plan into a "home plan," shall we?
Plan 56456SM