Specifications:
3,149 Sq Ft
4 Beds
3.5 Baths
2 Stories
3 Cars
Ever daydreamed about living in a luxurious Craftsman-style house while playing golf in your pajamas?
No? Well, you will now.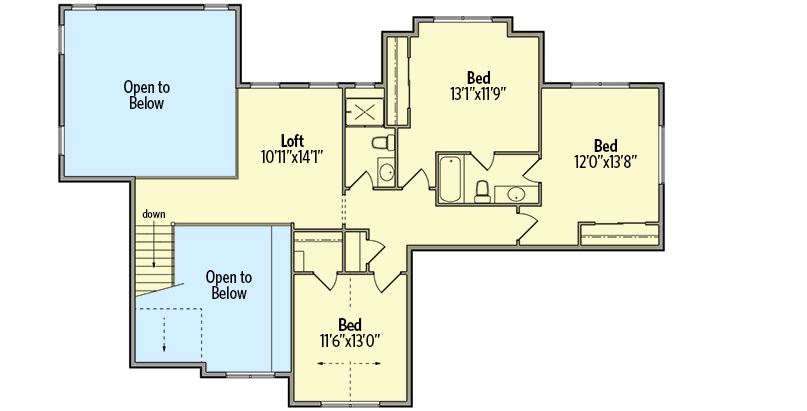 There's something about the New American Craftsman that screams "I've arrived!" It's not just a home—it's a statement. This particular house plan combines traditional charm with modern luxuries. And with a footprint of 3,149 sq ft, we're not just talking about space—we're talking about style. Let's take a look inside.
Imagine trying to prepare your famous spaghetti aglio e olio, but you're stuck dancing around family members, or worse, tripping over the dog. Here, that's not a problem. With its spacious design and a central island, the kitchen isn't just any regular kitchen.
It's what chefs dream of. And that pantry in the adjacent hallway? You can finally hoard all those weird but fascinating ingredients you found online. Ever needed a jar of pickled unicorn tears? Now you've got a place for it!
The adjoining great room with a fireplace isn't just cozy; it's the ultimate relaxation haven. Picture this: a cold winter evening, hot cocoa in your hands, fire crackling, and your favorite binge-worthy series on. Perfection, right? But wait, feeling a little summery?
Those oversized sliding doors beckon you onto the covered patio. Whether you're sipping on lemonade or hosting the next big BBQ bash, the space seamlessly fuses indoor and outdoor living. No need to climb the stairs after a long day. The master bedroom is strategically located on the main level, allowing you to live like royalty.
And speaking of royalty, this isn't just any bedroom; it's paired with a 4-fixture bath and walk-in closet. So, the next time you can't find that second sock, remember – with a closet this size, it's probably planning an escape.
Not just that, if you've been craving a space where you can read, ponder the complexities of life, or just spy on your neighbors, the quiet study on this level is a godsend. Add in the mud/laundry room, and this main level is everything a modern family could ask for.
Have kids, guests, or perhaps a group of band members who never seem to leave? No worries. Three additional family bedrooms reside upstairs.
And trust me, it's not just about giving them a room, it's about giving them a view. The shared loft overlooks the great room, making every morning feel like waking up in a five-star resort.
Now, for the pièce de résistance. You might think, "I've seen basements; what's so special about this one?" Oh, naive reader. Ever thought of playing golf without leaving your house? Yeah, I thought so.
This expansive family room isn't just a room; it's the heart of entertainment. Armed with a wet bar and plenty of space to shake a leg, it's party central. But here's the kicker—a simulator area for golf enthusiasts. So, the next time it's raining cats, dogs, and frogs, and you have an itching to play golf, you won't have to think twice.
In the realm of dream homes, this New American Craftsman house isn't just a contender; it's the reigning champion. Combining classic charm with modern eccentricities, it caters to every family member, including that one cousin with an inexplicable golf obsession.
So, if you've ever dreamed of having the perfect home (and frankly, who hasn't?), this might just be the blueprint you've been waiting for. All it lacks is a slide from the bedroom to the kitchen. But hey, there's always room for customization!
Plan 95106RW