Specifications:
3,314 Sq Ft
4 Beds
3.5 Baths
2 Stories
2 Cars
If you've been dreaming about the perfect suburban abode, a place that screams "Home Sweet Home" from a mile away, prepare to be wowed.
Picture this – a gorgeous New American house plan with a vaulted master bedroom that puts palace chambers to shame.
Sound like a place you'd want to live in?
Well, buckle up, buttercup, because we're going on a tour!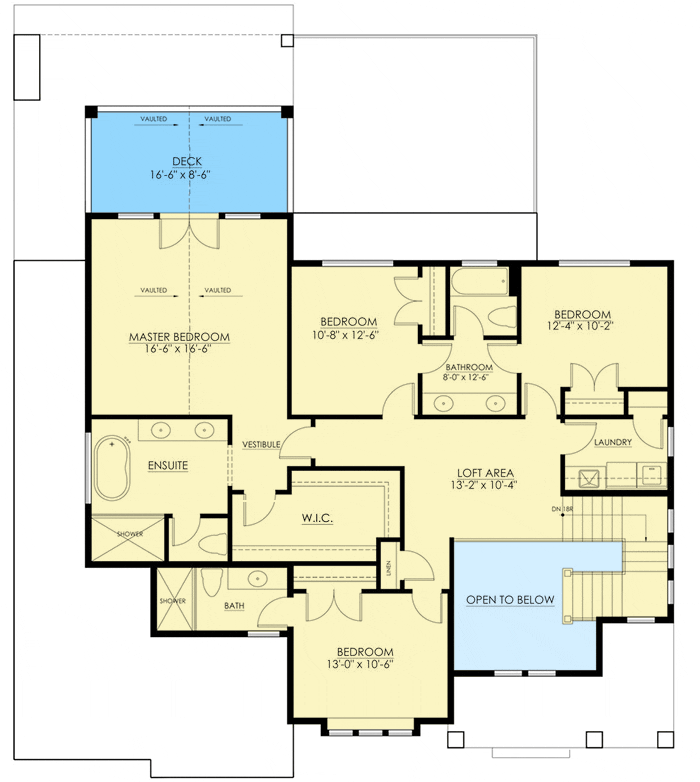 The first thing you'll notice about this place is its majestic steeply-pitched gables. It's like the house is wearing a crown, because let's be real, this house is royalty in the world of architecture.
The gables, together with the arched front porch, give the house an irresistible curb appeal that'll make your neighbors greener than a freshly mowed lawn. Talk about neighborhood envy!
But curb appeal is just the appetizer in this architectural feast. The main course is just as impressive. Step inside and the first thing that strikes you is the foyer with its tall ceilings that whisper grandeur.
It's so lofty, I'm half expecting to see a chandelier hanging down. No such luck, but the space is undeniably impressive.
Just to the left of the foyer, you'll find a formal dining room that would make Martha Stewart drool.
Featuring a lovely boxed bay window, it's the perfect spot for those fancy dinner parties where you dress up and pretend not to notice your dog begging for scraps.
Connecting the dining room to the kitchen is a butler's pantry. Who doesn't love a good old butler's pantry? It's the unsung hero of organized kitchens everywhere.
Then comes the pièce de résistance – the great room, complete with oversized windows that drench the room in natural light. I'm talking so much light, you might need to invest in some serious sunglasses.
And right there, in the heart of this radiant room, a large kitchen island stands majestically, anchoring the space like an architectural superstar.
Feeling a bit overwhelmed by all this glory? Take a retreat to the quiet study for some reading, or if you're more of the outdoor type, to the covered deck / patio. Ah, the deck, my personal favorite feature.
It's not just a deck; it's an outdoor oasis with an alluring fireplace that makes it a cozy hangout spot, regardless of the season. Trust me, it's the perfect spot for those late-night philosophical debates or early morning coffee rendezvous.
If you think the lower level was impressive, wait till you see the upstairs! A welcoming loft leads the way to a trio of family bedrooms.
Two of them share a Jack-and-Jill bath (Oh, the childhood memories!) and one even includes a full bath. Each one of them is so cozy and welcoming, your kids will never want to leave. Mission accomplished, parents!
And now, for the cherry on top – the master bedroom. Sequestered at the end of the hall, it's like a serene sanctuary away from the hustle and bustle of the rest of the house.
Featuring a vaulted ceiling that extends onto a private deck, it's the kind of room you'd never want to leave. Imagine waking up to that every morning, you'd feel like royalty!
So, there you have it. A whopping 3,314 sq ft of pure architectural delight, 4 bedrooms to accommodate a growing family, 3.5 baths to avoid the morning rush-hour chaos, 2 stories to make you feel on top of the world, and room for 2 cars because who doesn't want more garage space?
If this house was on a dating app, it'd be swiped right so fast, it would break the internet. And the best part? It's not just a house; it's a home, waiting for you to move in and make memories that last a lifetime.
Plan 270008AF