Specifications:
1,763 Sq Ft
4 Beds
2 Baths
1 Stories
2 Cars
So, you've been dreaming about the perfect house – one that combines the allure of the countryside with a sprinkle of modern flair, right?
Voila! Let me introduce you to a dwelling that looks like it strutted right out of a Pinterest board: the Modern Farmhouse Plan.
But wait, it gets better…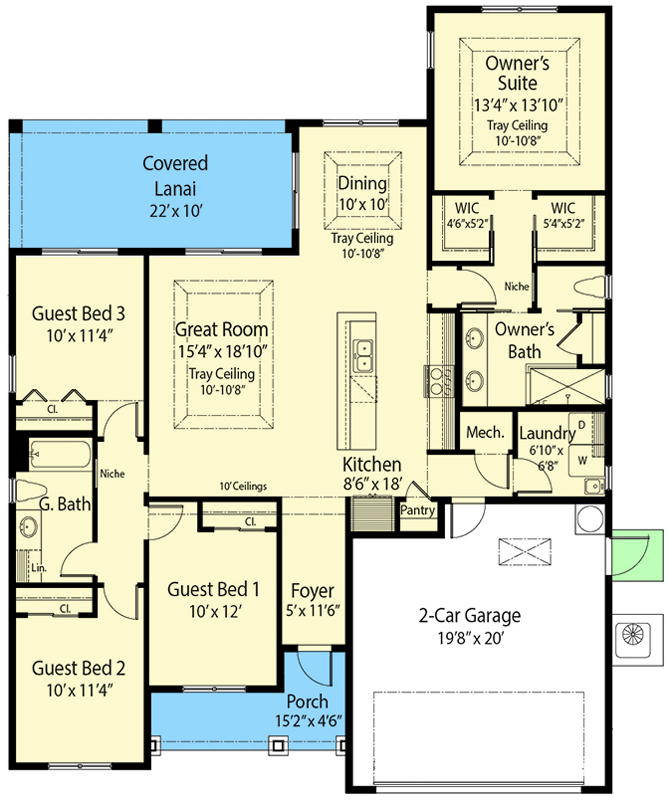 Clocking in at a spacious 1,763 square feet, this architectural gem isn't just your ordinary farmhouse. Imagine: four bedrooms wrapped in a cozy, board and batten siding embrace, topped with standing seam metal roofs.
Oh, did I mention the super swanky awnings over the front window and that generously sized 2-car garage? Chef's kiss. And to add that cherry on top? Decorative brackets that whisper – no, shout – charm.
Once you cross the threshold, the foyer plays the role of the perfect host, leading you on a journey to the heart of the house.
The open-concept core will surely leave you in awe. Can you feel the vibes of the kitchen, great room, and dining area blending seamlessly, creating an entertainer's dream space?
Picture it: you, serving hors d'oeuvres, wine flowing, laughter echoing. And let's not forget those tray ceilings in the great room and dining room that subtly scream elegance. Yup, ceilings can scream. Elegantly.
Every modern farmhouse lover's dream: French doors that lead to a covered lanai. Why fly to the French Riviera when you can sip on your morning coffee or evening wine right here?
Let the breezes play with your hair and the views delight your eyes. Who needs a holiday when your home feels like a resort?
The master suite? Oh, it's more than just a bedroom. Adorned with another one of those fabulous tray ceilings, it offers the serenity of back views and not one, but TWO walk-in closets. Because, let's face it, a person can never have too much wardrobe space (or shoes, or bags, or…).
As for the rest of the clan or your occasional guests? Three perfectly sized bedrooms await, huddled around a shared bath which, mind you, boasts twin vanities. Fighting over bathroom time is so last century!
Perhaps one of the most impressive features of this modern farmhouse plan isn't something you can see, but something you'll certainly feel—both in the comfort of the home and in your wallet.
Thanks to some exclusive energy-saving designs incorporated into this beauty, you're looking at a whopping 50% savings compared to other new homes.
And for those trading in an older home? Drumroll, please… 60-70% savings! That's right; this farmhouse isn't just chic, it's smart too.
Now, I don't want to sound like an overzealous realtor from a 90s movie, but this modern farmhouse plan? It's what home dreams are made of.
So, whether you're yearning for a place that oozes charm, efficiency, or both, it might just be time to turn those blueprints into reality. After all, "Home Sweet Home" has never sounded sweeter. Cheers to new beginnings and tray ceilings!
Plan 33233ZR