Specifications:
1,881 Sq Ft
3 Beds
2.5 Baths
1 Stories
Well, buckle up my dear home-seekers, because today we're stepping into a veritable dreamboat of modern living – a beautiful one-story, three-bedroom house that slips comfortably under 2,000 square feet.
It even has a home office to cater to all your Zoom meetings or secret late-night work sessions.
And the best part?
It's got style and substance by the bucket load!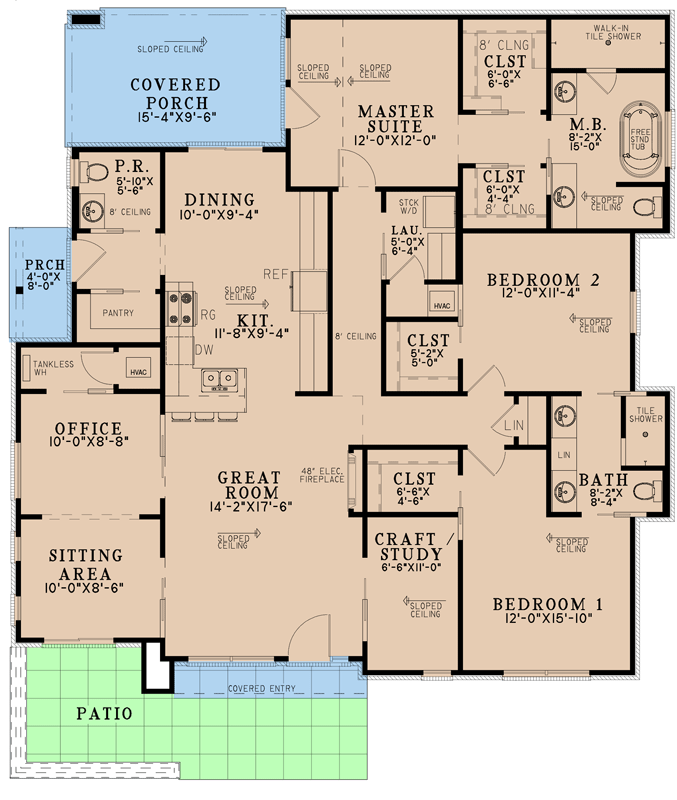 Let's kick things off with a little walk around the outside, shall we? I promise, you won't even need your walking shoes.
As we approach this modern wonder, the first thing that strikes us is the dazzlingly sleek exterior and the unique roofline. It's the architectural equivalent of that cool, nonchalant character in every film that you can't help but be drawn to.
Inside, it's a symphony of luxuriousness. And the conductor? None other than the tall ceilings, working their magic from the great room all the way to the kitchen and dining room.
They're so tall, you'll feel like you're in your own cathedral of contemporary living. "Breathtaking" is the only word.
But what's a house without a little R&R? And by that, I mean "rooms and relaxation"! This house flaunts a master suite that would make royalty blush.
His and her closets, because sharing is caring, but not when it comes to wardrobe space! A double vanity because, let's be honest, you deserve to admire your reflection twice.
And the crowning glory? A free-standing tub. Imagine sinking into a bubble bath after a long day with a glass of your favorite Pinot Noir. Sigh.
Let's not forget about the other two bedrooms. Each come with their own walk-in closets – yes, you heard that right. It seems the builders really knew how much we cherish our storage space!
And a shared Jack and Jill bathroom is the cherry on top. There will be no more morning rush hour with this clever design!
But wait, there's more! Hidden away behind pocket doors is a home office, designed for those of us who have the luxury, or the curse (depending on the day), of working from home.
I don't know about you, but an expanded sitting area for meetings sounds like a great excuse to upgrade my desk chair to something a little more plush!
In a nutshell, this house is a perfectly tuned orchestra of modern design, convenience, and comfort. It packs three bedrooms, two and a half baths, a home office, and so much style into a compact 1,881 square feet. It's like the Mary Poppins bag of houses, seemingly endless in its offerings.
To wrap things up, let's just say that if you're looking for a home that offers an artful blend of style and practicality, this modern one-story gem should top your list.
With its remarkable features and well-thought-out design, it's not just a house, it's a lifestyle. It's the kind of home where you walk in after a long day and can't help but think, "Ahh, this is the life!"
So, my dear home-seekers, what are you waiting for? Put on your favorite slippers and start imagining your life in this fantastic one-story modern house.
Just remember, if you find yourself talking to the tall ceilings, you might have just found your dream home!
Plan 70822MK