Specifications:
2,442 Sq Ft
3 Beds
2.5 Baths
2 Stories
3 Cars
Ladies and gentlemen, prepare yourselves for a jaw-dropping journey through the masterfully planned under-2400-square-feet, 2-story modern farmhouse. Grab your lemonade and porch swing – we're taking the scenic route!
Dressed up in white and brimming with charm, this farmhouse has everything from a grand front porch to cozy fireplaces and, wait for it, space for three shiny cars!
And that's just the appetizer, folks. Trust me, the main course is more impressive.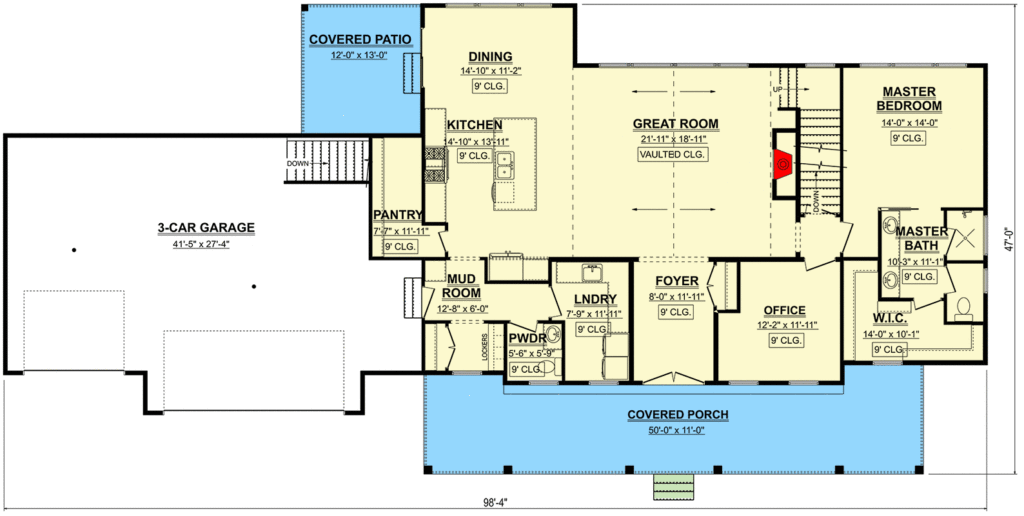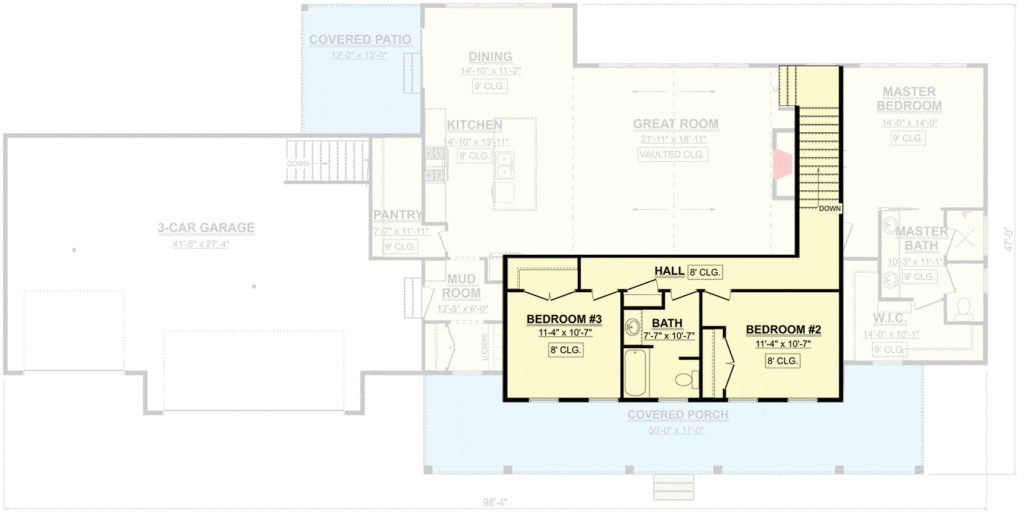 The first thing that'll steal your breath away is the sweeping front porch. At a whopping 50 feet wide and 11 feet deep, it's the perfect spot to spend a lazy Sunday afternoon.
You could set up a good old-fashioned rocking chair, crack open that book you've been meaning to read, and before you know it, you'll be a bonafide porch potato.
Strolling through the French doors, you're welcomed into a tastefully designed foyer, complete with a coat closet – because, let's face it, who among us hasn't dreamed of elegantly shrugging off our coats and tossing them into a nearby closet like in those fancy movies? Just me? Well, moving on…
The house then opens up into a generous vaulted great room that'll make you say, "This is great!" I mean, it's in the name. The star of the room is the fireplace – because nothing says 'home' like a cozy fire crackling on a chilly evening.
You can picture it already, right? Curled up on the sofa, sipping on hot cocoa, watching the flames dance. Sign me up!
Adjacent to the great room is the eat-in kitchen, complete with an oversized opening that ensures that whoever's stuck cooking can keep an eye on the shenanigans in the great room. Trust me, you won't miss any of the juicy gossip while you're whipping up your famous lasagna.
You know what they say – the heart of the home is the kitchen. And the heart of this kitchen is the walk-in pantry. No more scrounging around in cramped cabinets! Say goodbye to kitchen Tetris and hello to an expansive space for all your culinary tools and treats.
The service areas don't stop at the pantry, though. This farmhouse has it all, including a mudroom with a coat closet for those mucky boots, and lower-level storage accessible from both the 3-car garage and the main stairwell of the home.
You didn't think you'd have to haul those Christmas decorations up two flights of stairs, did you? We've got you covered!
The pièce de résistance? The main-level master bedroom, which features a walk-in closet that's so large, you might need a map. I'm talking room for all the clothes, shoes, hats, and random items that somehow find their way into our wardrobes. Marie Kondo would be proud.
Upstairs, you'll find two more bedrooms that share a bathroom. Perfect for kids, guests, or that massive teddy bear collection you just can't part with. Don't worry, we don't judge.
But wait, there's more! This gem of a home also boasts a dedicated home office space for those days you're "working from home" (we know you're in your pajamas), an enclosed porch just off the dining room for the perfect dinner party ambiance, and the option to finish the lower level for even more square footage.
So there you have it, folks – a 2-story modern farmhouse that's under 2400 square feet but feels like so much more. With a sense of character and charm you just can't find in those cookie-cutter houses, this home offers something for everyone.
But remember, no matter where you hang your hat, the best part about a house is turning it into a home. This modern farmhouse just makes it that much easier. So what are you waiting for? Let's make this house your home.
Plan 911028JVD