Specifications:
2,146 Sq Ft
2 – 5 Beds
2.5 – 4.5 Baths
1 Stories
2 Cars
Ah, home sweet home—or should I say, lake house sweet lake house?
Imagine this: you've finally escaped the clutches of the concrete jungle and are ready to embrace the serene whispers of nature in a cozy, yet spacious, 2,146 square foot haven.
Not just any haven, mind you, but a picturesque abode where you can kick back on a wraparound deck as you sip your morning coffee (or evening wine, no judgment here).
Stay Tuned: Detailed Plan Video Awaits at the End of This Content!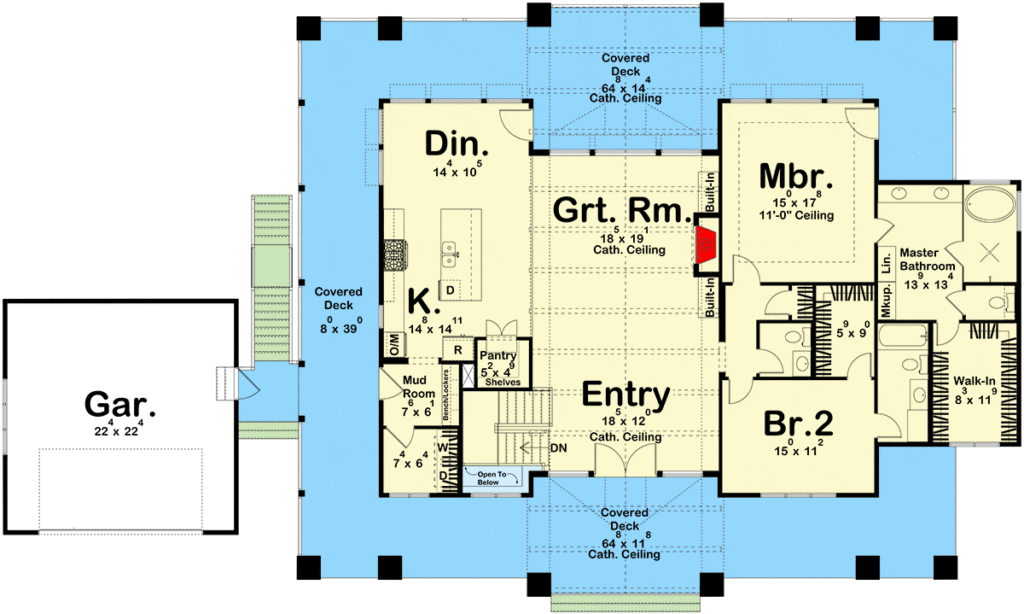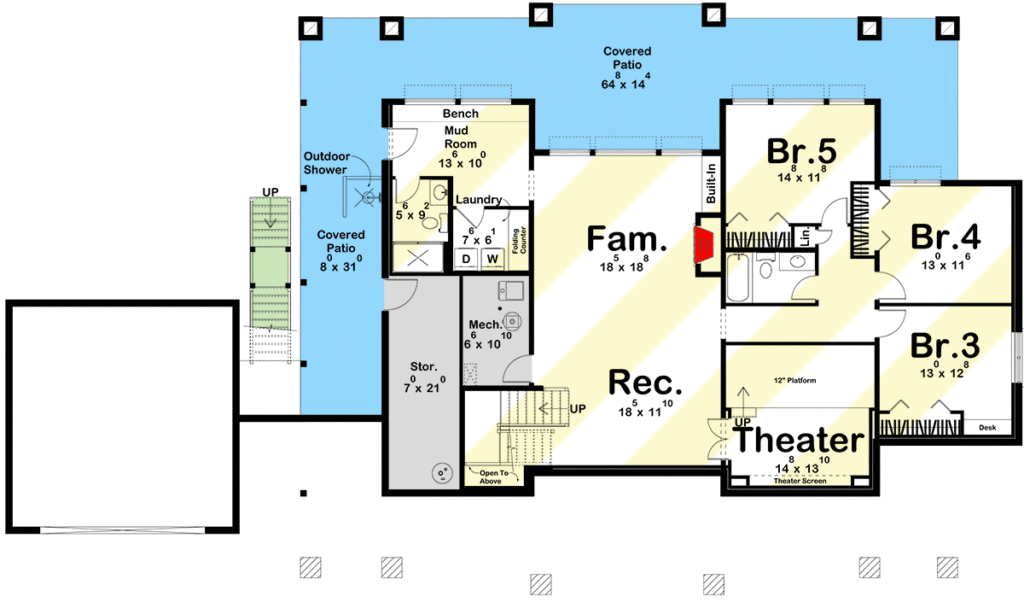 Now, let's waltz through this architectural marvel together. Picture the sun gently rising over a tranquil lake or nestling behind rugged mountain peaks.
You amble towards your abode, and the first thing that strikes you is the striking exterior—shingles that scream "rustic charm" and wood columns standing stoically on stone bases like guards to your peace palace.
And the roof? It's not just a shelter; it's an aesthetic statement that arches over the outdoor space, daring the heavens to upstage its beauty.
Swing open the French doors, and prepare for your jaw to drop faster than my self-control at a cake shop.
You're not just entering a house; you're stepping into a world where ceilings vault towards the sky with such grace, you half expect acrobats to be swinging from the exposed, curved trusses.
The openness of this space is like a breath of fresh air—literally—extending from front to back, giving you an unobstructed path to nature's doorstep, aka your incredible back deck.
Hungry for more than views? Well, brace yourself for a kitchen that's not just a kitchen. It's the heart, the hub, the uncontested epicenter of the home, where you can channel your inner gourmet chef.
The island doesn't just sit there; it multitasks as a breakfast bar, perfect for those meals you Instagram and caption "woke up like this."
And the dining area? It's not trapped in the 19th century, no sir; it flows seamlessly into the great room, ready to host everything from quiet dinners to uproarious game nights.
Plus, with direct outdoor access, your home is always just a hop, skip, and a jump from Mother Nature.
Now, let's tiptoe into the master bedroom. Prepare to be greeted by views that make your heart skip a beat, with direct access to the outdoors that's just a French door away—romantic escapades or solitary star gazing, anyone?
The ensuite bath is where luxury meets comfort; we're talking dual vanities for no-more-elbowing space, a spa-like tub begging you to soak away your troubles (add more bubbles, please!), a walk-in shower that respects your karaoke sessions, and a private toilet that…well, values your privacy.
And the walk-in closet? Let's just say you won't need to Narnia-ize your wardrobe anymore.
"But what about the second bedroom?" you ask. Oh, it's not just a spare room—it's an oasis for guests, kids, or that cousin who decides to "crash for a few days" (we've all been there).
They won't just have a room; they'll have an experience, complete with their own bath and a walk-in closet, so they can spread out their stuff and still have space for impromptu dance-offs.
And just when you thought it couldn't get any better, let me introduce you to the semi-attached garage, clocking in at a roomy 529 square feet.
This bad boy fits two cars and is adjoined to the house by a covered breezeway, ensuring you stay dry during those pesky, unannounced rain showers.
Because why should a little rain dampen your spirits when you're living in paradise?
So, what's the verdict? This isn't just a house; it's a lifestyle. It's where rustic meets elegance, coziness meets spaciousness, and nature meets nurture. It's your retreat from the world, a sanctuary where every corner is a conversation starter (and a jaw-dropper!).
It's where memories await to be made and where every sunset and sunrise are just a glance away. So, here's my advice: don't walk, run to this 2,146 square foot slice of heaven. Because homes like this don't just hold stories—they hold legacies. Now, who's ready to make some history?