Specifications:
2,085 Sq Ft
3 Beds
2.5 Baths
1-2 Stories
2 Cars
Let me tell you about the farmhouse dream I had last night.
Oh wait, that wasn't a dream – it's a real-life 2,085 Sq Ft beauty!
Wrapped in porch loveliness and the perfect blend of function and flair, this house screams 'Put a rocking chair on me and sip sweet tea!'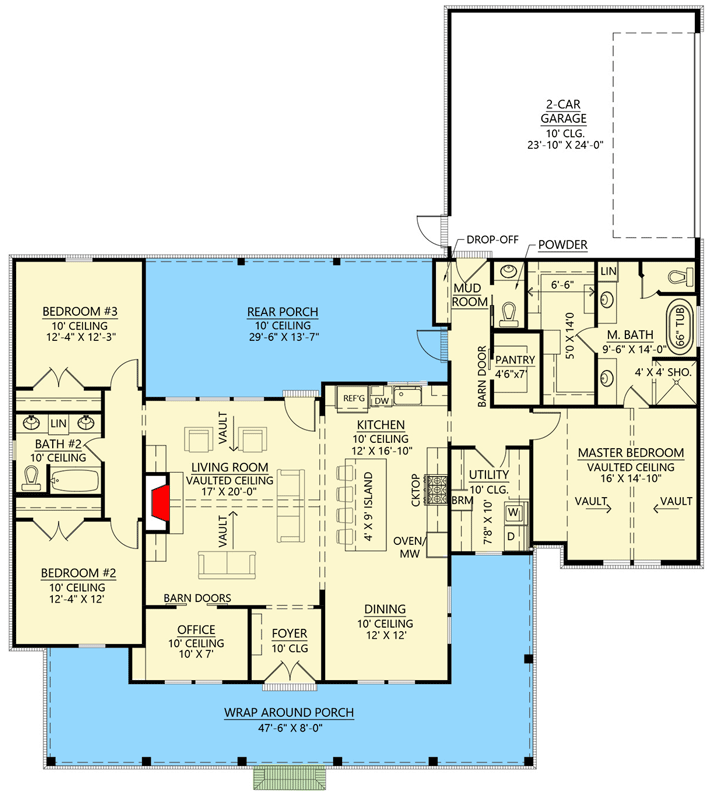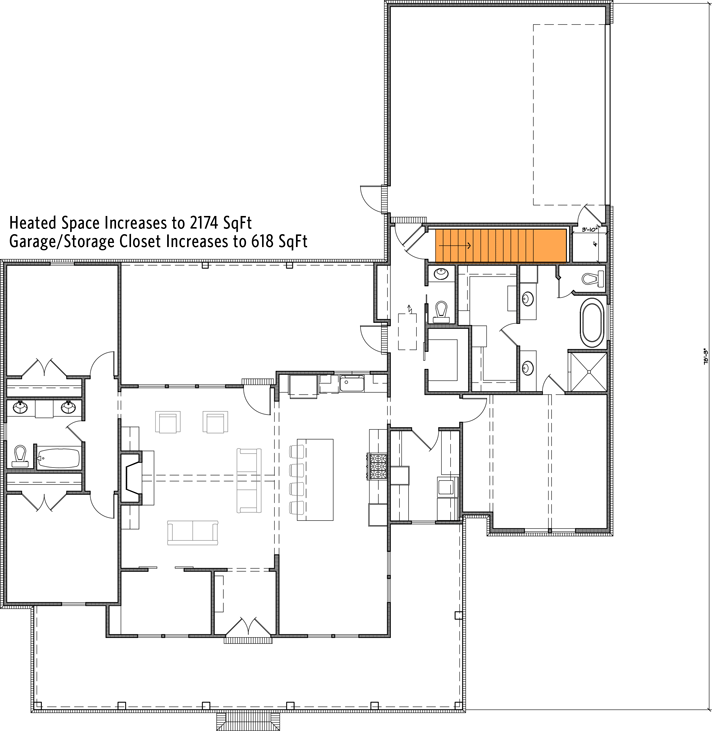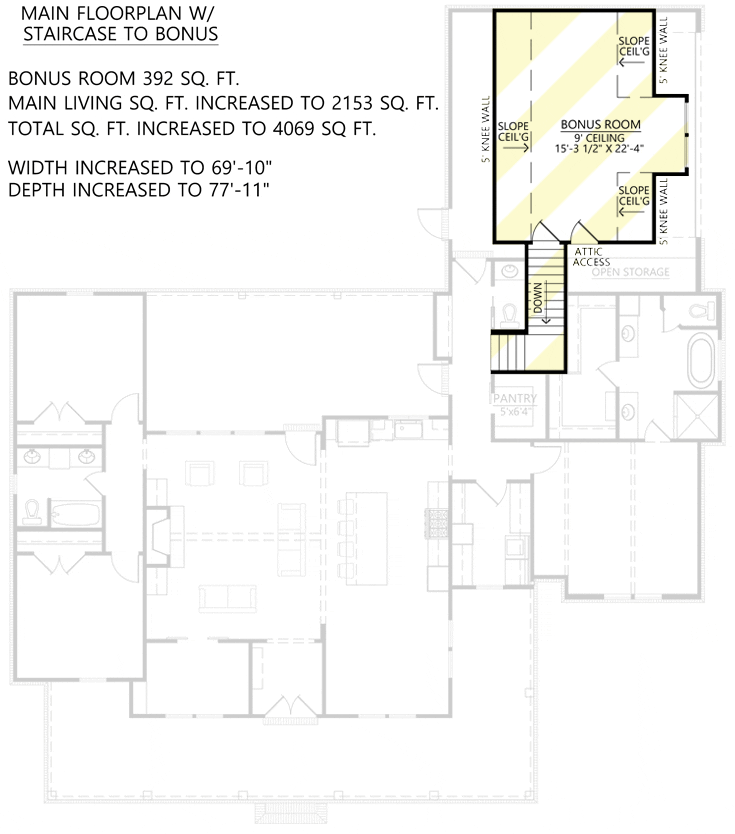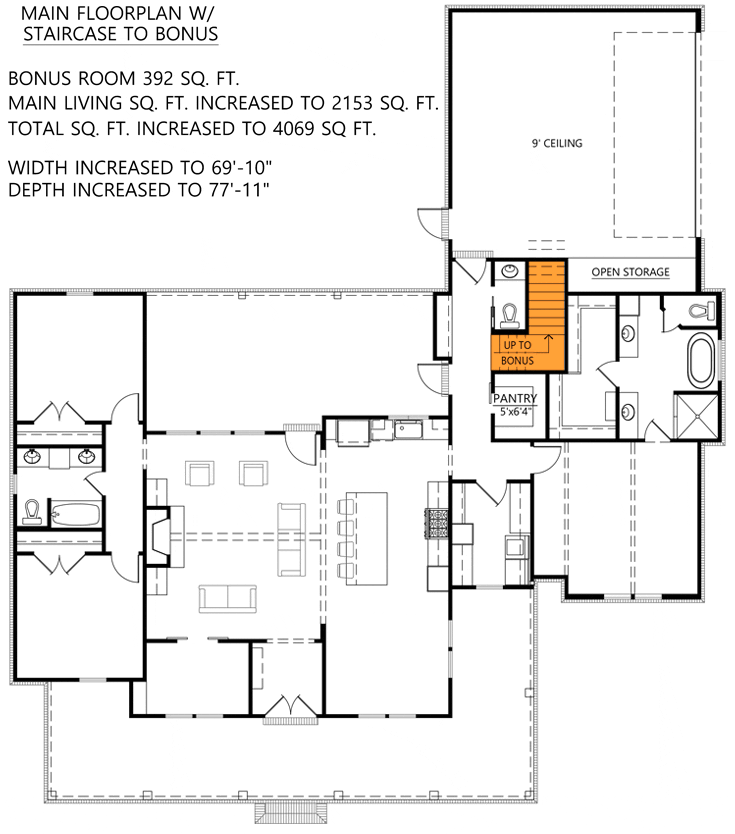 So, you approach the house and what do you notice first? The ribbed metal roof. Oh, and the board and batten siding! It's like the house is wearing its finest suit, and it's ready for the party.
And just to make sure you're utterly infatuated before you even step inside, there's that wraparound porch. For those days when you need to feel the breeze on all sides or chase the sun (or shade!) as the day goes by.
Now, brace yourself because when you step through those double doors, you're not just entering a house. You're stepping into an atmosphere. Past the foyer, you're greeted by a living room that doesn't just live – it thrives.
With a vaulted ceiling and fireplace, it's like being inside a sophisticated cathedral where the hymns are conversations, laughter, and the occasional pop of a champagne cork.
Adjacent to this exquisite living room is our delightful kitchen, a chef's daydream. With an open-concept layout and a prep island that's basically a stage for your culinary performances, it's ideal for both: whipping up weekday dinners or hosting those epic weekend brunches.
"But where's the dining room?", you ask. Oh, it's everywhere! The beauty of open-concept is that every meal is a movable feast.
Alright, hold onto your house slippers because next up are the barn doors. Slide them open and boom – home office.
Whether you're the next best-selling author or just need a quiet spot to answer emails, this space just off the living room is where the magic happens. It's where you can shut the world out… or keep an eye on the kids, whatever floats your boat.
While the farmhouse has its work side, it also knows how to party! At the rear is a porch that's simply begging for BBQs, cocktails, or star-gazing sessions. It whispers (or maybe yells), "Let's entertain!"
On the right, we've got a dynamic trio – a double garage, laundry room, and walk-in pantry. You know, for those "Where did I leave my keys…and my socks…and the pasta?" moments.
Sharing this side's limelight is the master suite. Your personal sanctuary. Because after a hard day's work (or Netflix binge-watching), you deserve nothing but the best.
Bedrooms 2 and 3 aren't just rooms; they're like cozy, identical twins. Separating these two is a bathroom, which, if it could talk, would probably boast about its 4 fixtures and linen tower. I mean, who doesn't love a good tower of linen?
This isn't just a farmhouse; it's a dream tailored for those who want it all. A bit of work, a bit of play, and a whole lot of comfort. With its 3 beds, 2.5 baths, 1-2 stories, and room for 2 cars, it's spacious yet intimate, modern yet classic. It's not just where you live, it's where you thrive.
So, if you ever feel the urge to wrap yourself in the embrace of a house (literally, thanks to that porch!), you know where to find one. And if anyone asks, just tell them it was all in a dream.
Plan 56510SM