Specifications:
2,765 Sq Ft
3 Beds
2.5+ Baths
2 Stories
4 Cars
Hello there, fellow home enthusiasts! Let's dive into the world of barndominiums – a trend that's reshaping the rural skyline, one charming structure at a time.
Today, I'm excited to chat about a particular barndominium plan that's as spacious as it is stylish. Imagine a 2,765 square foot haven, tucked away in the countryside. Sounds dreamy, right? Well, buckle up, because we're about to explore every nook and cranny of this modern marvel.
Our journey starts with a wraparound porch that's not just a porch; it's a lifestyle statement. Picture yourself sipping a morning coffee while the sun rises, or enjoying a cool evening breeze.
This porch isn't just an extension of the indoors; it's an invitation to embrace the great outdoors with the comfort of home just a step away.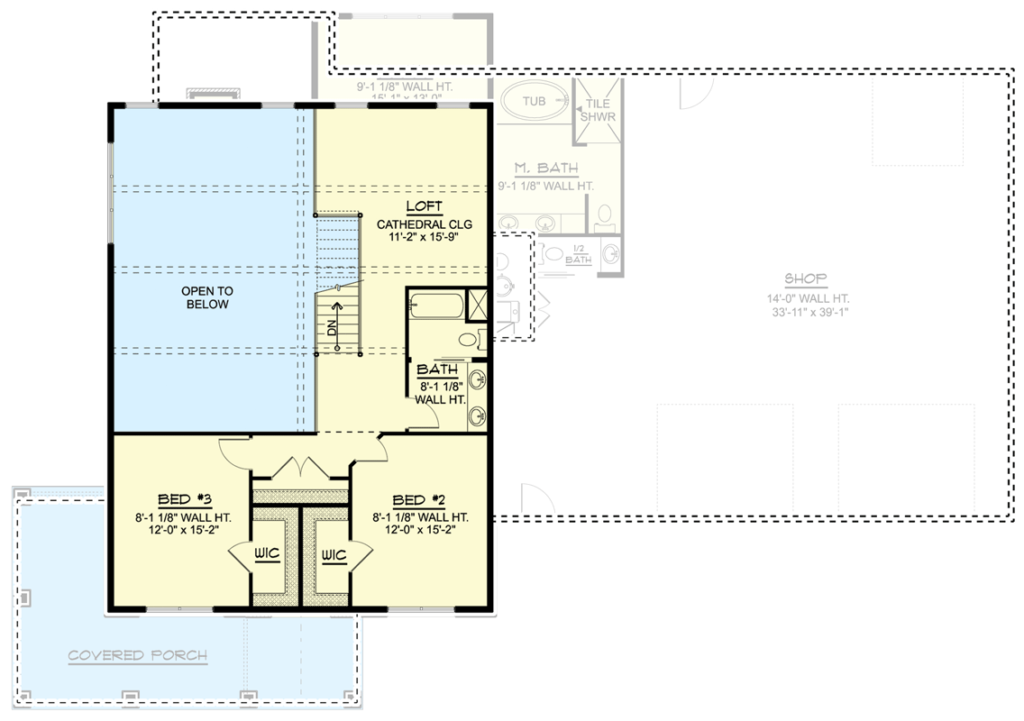 Stepping inside, you're greeted by an open-plan living and dining area, crowned with a majestic 2-story ceiling. This isn't just a room; it's the heart of the home where memories are made.
Whether you're hosting a grand dinner party or having a cozy family night, this space adapts to every mood and occasion.
Adjacent to this grand room is a kitchen that would make any chef green with envy. It's spacious, functional, and perfect for entertaining. Imagine whipping up a feast while chatting with guests lounging in the living room.
And for those quieter moments, there's a den nearby – a secluded sanctuary for when you need a break from the world.
The main level also houses the master suite, a true retreat for the senses. It features a luxurious 5-fixture bathroom and a walk-in closet that conveniently connects to the laundry room. Trust me, doing laundry will feel less of a chore when it's this convenient.
Upstairs, we find two mirror-image bedrooms – perfect symmetry in design. And then there's the loft, a versatile space that can be anything from a kids' play area to a teen hangout or a cozy reading nook.
Let's not forget the garage. With 1,685 square feet of space, it's a car lover's dream.
Park four cars in tandem or use the extra space for a workshop, gym, or storage. The rear door is a thoughtful touch for accessing smaller equipment.
Now, let's talk about the exterior. Corrugated metal siding gives this barndominium a sleek, modern look while keeping that rustic charm we all love. It's durable, low-maintenance, and perfectly complements the countryside vibe.
So there you have it, a barndominium that's more than just a house; it's a lifestyle. It combines the serenity of country living with modern conveniences and style.
Whether you're a growing family, a couple looking for a peaceful retreat, or anyone in between, this plan offers something for everyone. It's a place where every day feels like a getaway, and every corner holds a promise of comfort and joy.
As we wrap up this tour, I can't help but imagine the countless stories and memories that will unfold within these walls.
If the idea of a barndominium has tickled your fancy, why not make it your reality? After all, home is not just where you live; it's where your life happens. And in a home like this, life is bound to be beautiful.