Specifications:
3,156 Sq Ft
3-4 Beds
4.5 Baths
2 Stories
3 Cars
Picture this: A sunny Saturday morning. You, sipping on your freshly brewed coffee, gazing out of the French doors of your modern farmhouse. Birds are chirping.
Maybe there's even a cow mooing somewhere in the distance (or is that just the neighbor's odd ringtone?).
Ah, this is the life.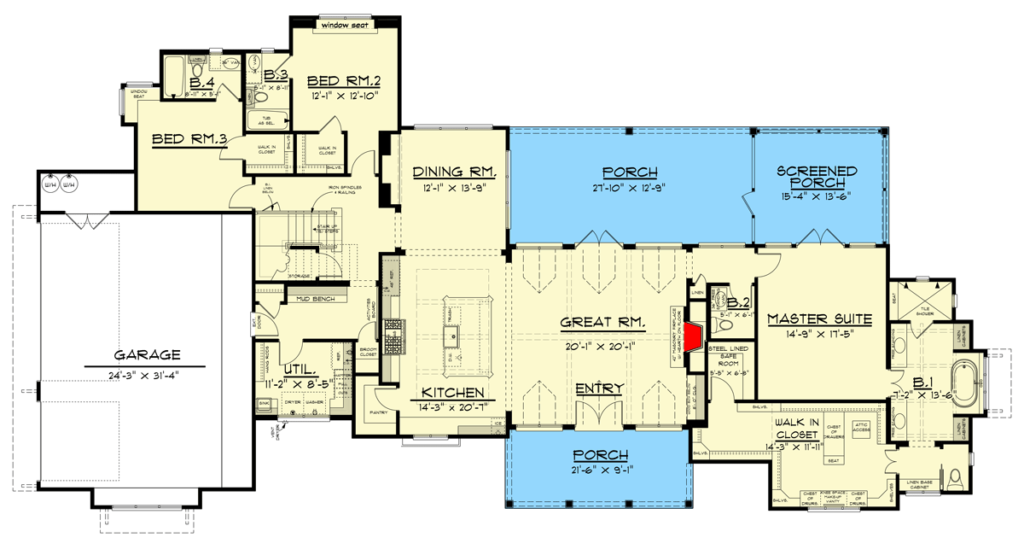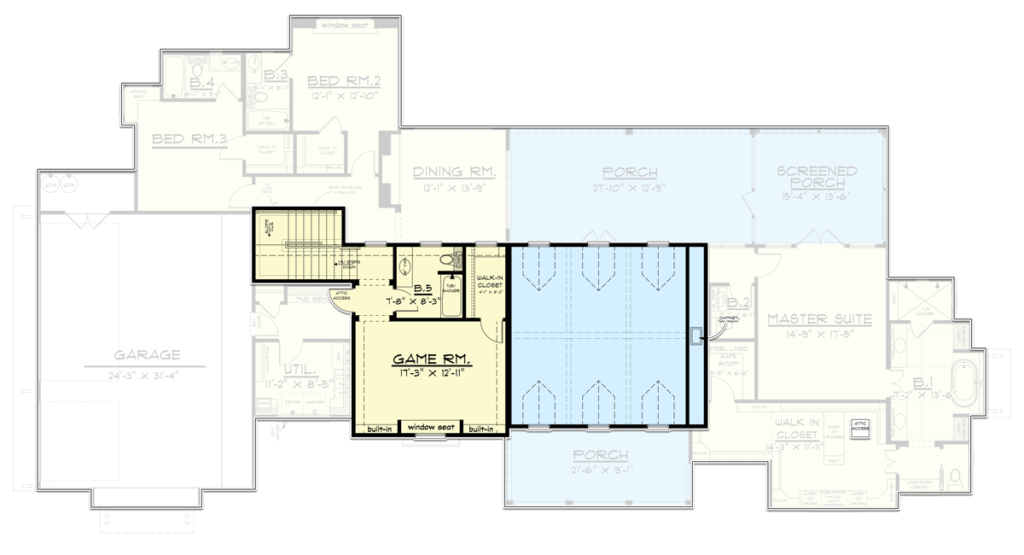 The essence of any home lies in its design. And boy, does this 3-bedroom modern farmhouse pack a punch!
Doused with the kind of curb appeal that has the neighbors secretly taking pictures for their "Dream Home" Pinterest board, this design boasts board and batten siding that screams, "Look at me, I'm classy."
Welcoming you are centered French doors, a bit like the arms of a long-lost friend. As you step in, vaulted ceilings in the great room grab your attention, reminding you subtly of the Sistine Chapel.
Only, instead of frescoes, you have a grand fireplace that beckons: "Come, sit by me." And trust me, on a chilly evening, you'll be best friends.
The built-ins on either side of this fireplace? They're like the wingmen, ensuring the fireplace remains the star, yet offering functional space for those ceramic roosters you've been collecting or maybe the series of romantic novels you secretly love.
One of the pièces de résistance of this house is its kitchen. Complete with a walk-in pantry that can house enough snacks to survive a zombie apocalypse and a large island that's perfect for the kids to do homework (or more realistically, where you hastily eat breakfast on weekdays).
The adjacent formal dining room is just waiting for those Thanksgiving feasts or random Tuesday taco nights.
The master bedroom, located strategically on the right (because right is always right, right?), is the stuff of dreams. We're talking lavish bathroom and a walk-in closet that has its own safe room.
Because let's face it, in this day and age, where we're paranoid about keeping that collection of limited-edition sneakers safe, this steel-lined section is a godsend.
Also, it opens up to a screened back porch, where you can sip your wine and contemplate life's profound mysteries, like why socks disappear in the wash.
On the left (which is also right in its own way), you have two secondary bedrooms. Both of these have private bathrooms attached that seem to have swapped blueprints (seriously, 5'1″ by 8'11" and 8'11" by 5'1″?), making you wonder if the architect had a quirky sense of humor.
The window seats here are perfect for daydreaming or plotting world domination, whichever you prefer.
An upstairs game room is a cherry on the cake. It's spacious enough for a pool table, your retro video game consoles, or an impromptu dance-off. Plus, with its walk-in closet and full bath, it can moonlight as a fourth bedroom. Guest room or game room? Why not both!
Let's talk garage. A 3-car garage ensures your precious vehicles are shielded from the elements. The dual opening setup – one for two cars and another for one – is perfect for the family SUV, the convertible you got on your 40th birthday, and your teenager's "it's-older-than-me-but-it-works" car.
This modern farmhouse is more than just a house. It's a statement. A blend of modern amenities with a touch of rustic charm, ensuring you always have the perfect backdrop for Instagram, and more importantly, a warm and welcoming home to make countless memories.
So, are you ready to move in or shall I go over the walk-in closet dimensions one more time for effect?
Plan 915050CHP