Specifications:
1,959 Sq Ft
2 Beds
2 Baths
1 Stories
3 Cars
Step into the charming world of Spanish-style architecture with this delightful 2-bedroom house plan that combines the warmth of the Mediterranean with modern practicality.
Whether you're a small family or simply looking for a cozy retreat, this house plan has all the features to make you feel right at home.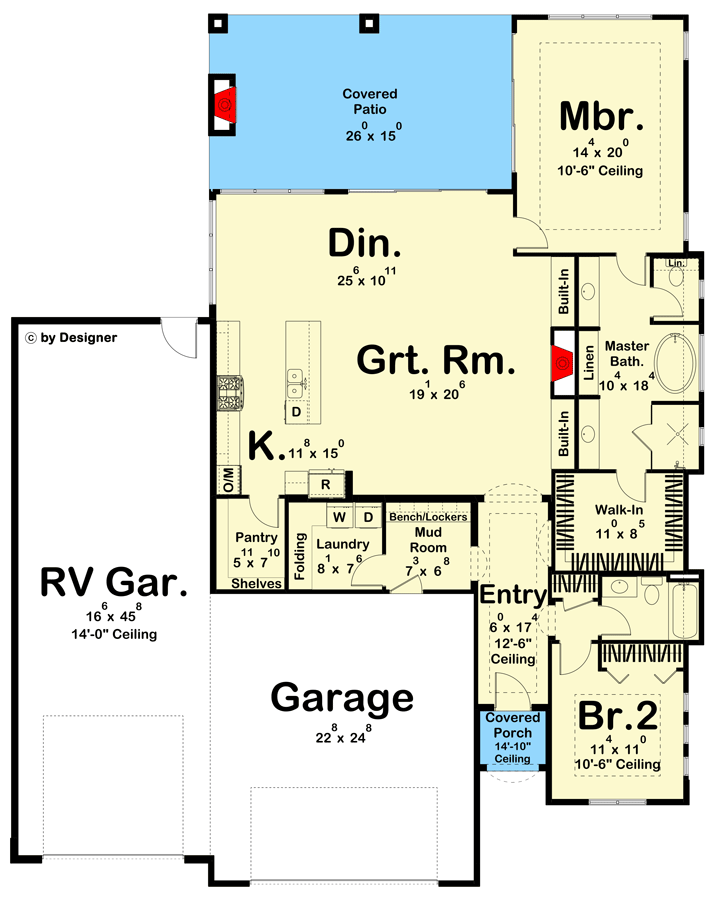 At 1,959 square feet, this house plan offers just the right amount of space for comfortable living without overwhelming you with unnecessary square footage. With 2 bedrooms and 2 bathrooms, it provides ample room for privacy and relaxation.
As you enter the house, you'll be greeted by a spacious open great room, perfect for entertaining guests or simply spending quality time with your loved ones.
And what's a cozy evening without a fireplace? This great room comes complete with a built-in fireplace, adding warmth and charm to your gatherings.
The master bedroom in this Spanish-style house plan is a luxurious oasis that will make you feel like you're on a permanent vacation.
The spa-like bathroom offers a tranquil escape where you can unwind and rejuvenate after a long day. And with a walk-in closet, you'll have plenty of space to organize your belongings and keep everything in order.
One of the highlights of this house plan is its practicality. The walk-in pantry in the kitchen provides ample storage for your groceries and kitchen essentials, making meal prep a breeze.
No more digging through cluttered cabinets to find that elusive spice!
And let's not forget the mudroom with a bench and lockers, perfect for keeping your outdoor gear organized and out of sight.
For those with a love for adventure and the open road, this house plan offers an exciting feature—a two-car garage with an oversized RV-garage door.
Now you can easily store your recreational vehicles, such as an RV or a boat, without sacrificing valuable garage space. It's the perfect solution for the modern explorer who wants to keep their toys safe and secure.
If you enjoy spending time outdoors, you'll fall in love with the large covered patio at the rear of the house.
It's an inviting space where you can relax, enjoy a cup of coffee in the morning, or host a barbecue with friends and family.
Whether you prefer lounging in the shade or soaking up the sun, this patio is a versatile outdoor retreat.
In conclusion, this 2-bedroom Spanish-style house plan with a 2-car garage and RV bay offers a harmonious blend of comfort, style, and practicality. It embraces the timeless elegance of Mediterranean architecture while providing all the modern amenities you need for convenient living.
Whether you're looking for a cozy family home or a peaceful retreat, this house plan has it all. So why not make your dream home a reality and embark on a journey filled with warmth, charm, and endless possibilities?
Plan 623238DJ