Specifications:
2,247 Sq Ft
3 Beds
2.5 Baths
1 Stories
2 Cars
Ahoy, future homeowners and design enthusiasts!
Let's embark on a whimsical journey into a house plan that's not only the stuff dreams are made of but also a perfect blend of modern sophistication and rustic charm.
Say hello to a 3-bedroom modern farmhouse that perfectly marries functionality with style. And hey, it comes with bonus areas that are so amazing, they deserve a standing ovation!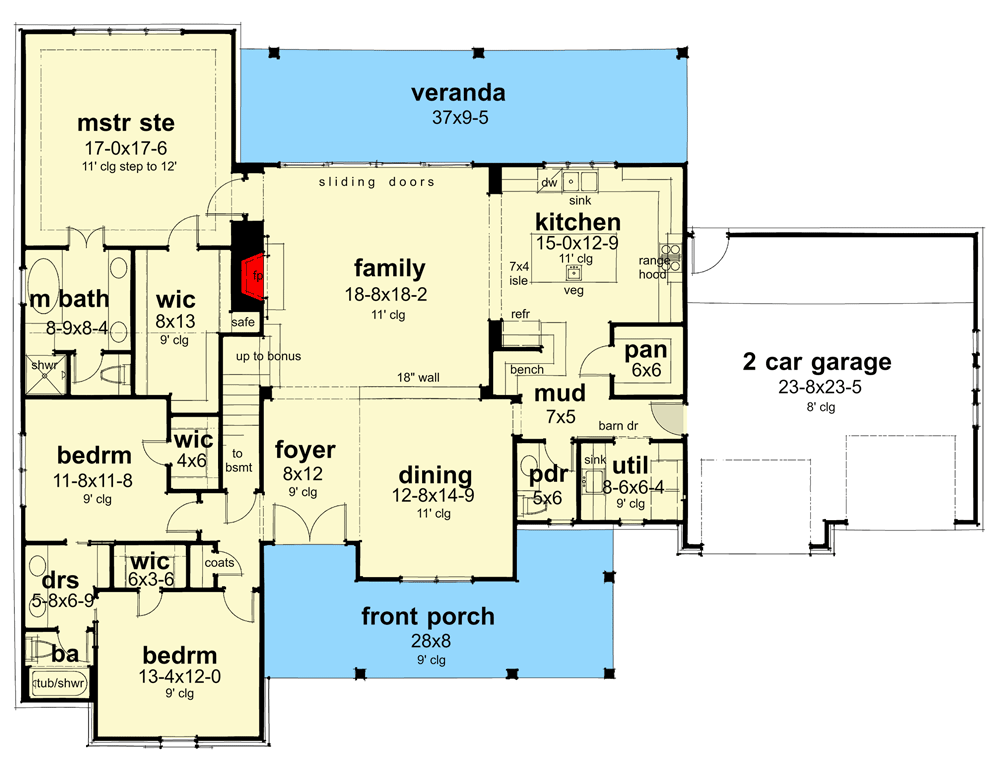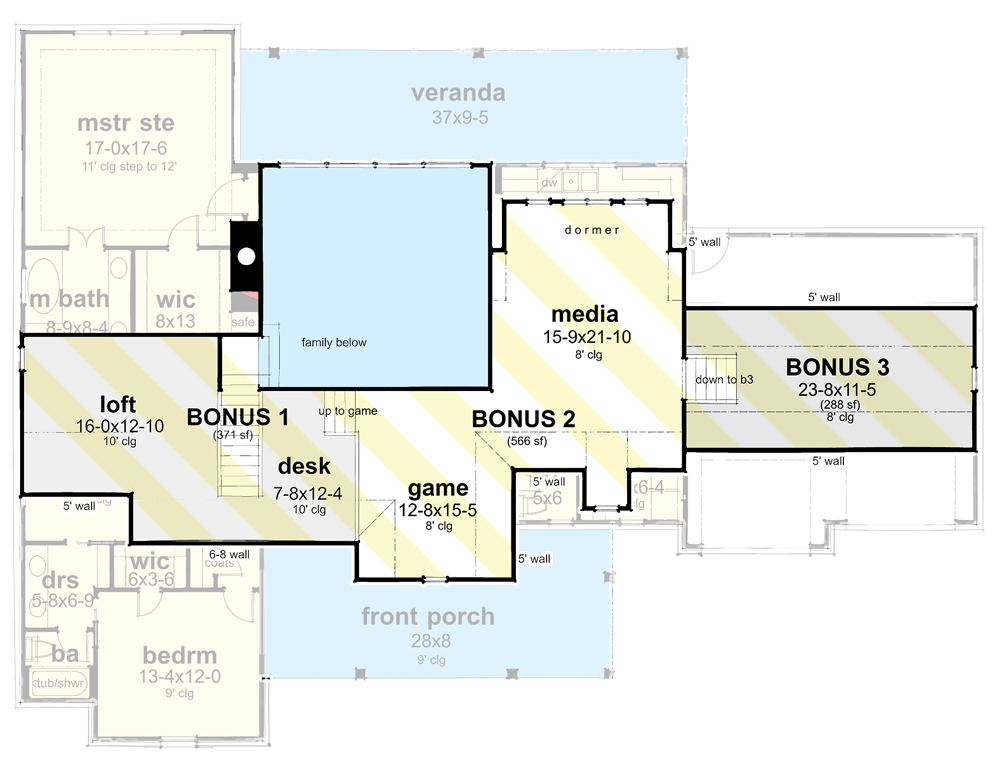 Nothing says, "Welcome home!" quite like a 28′ by 8′ front porch. This isn't just any porch; it's practically a catwalk for you and your guests.
Swirl, twirl, strut, or simply sit and sip on a warm cup of cocoa — this porch sets the tone for what's inside. And believe me, what's inside is pure magic.
Walking in, you're greeted with a dining room to your right. Remember the awkward times when the dining table was crammed into the corner of the living room? None of that nonsense here!
This one has an unobstructed view into the family room and a straight visual path through to the back veranda. It's open-concept without being overly showy, like the perfect little black dress that's classic and chic.
Oh, the living room! With a fireplace anchoring the left wall, this space screams cozy winter nights, popcorn, and perhaps binge-watching your favorite series. ("Is it too cold to get another snack? Nah, the kitchen's right there!") And speaking of the kitchen…
If cooking is an art, then this kitchen is the Louvre. Positioned directly across from the living room, the kitchen island isn't just an island; it's a continent.
And guess what? It comes with a veggie sink. That's right; the onions get their own personal pool! With a walk-in pantry to boot, even a midnight snack feels gourmet. Bon appétit!
What's the one thing better than having a great day? Having an amazing night's sleep to top it off! The master suite of this farmhouse makes that an everyday reality.
Rear-facing windows give you a pristine view of those backyard sunrises or sunsets, depending on whether you're an early bird or a night owl.
Add to that a tray ceiling, and you might just feel like you're sleeping under the Sistine Chapel.
Now, let's talk storage. With a walk-in closet, you no longer have to decide which pair of shoes to give away. Keep 'em all! To wash away the day (or to prep for a night out), there's a 5-fixture bath that's sure to become your personal sanctuary.
No, I'm not talking about the '90s sitcom. The two additional family bedrooms share a bath, but it's not just any bath; it's a Jack-and-Jill. So, it's like each room has its own ensuite, minus the fights over who left the cap off the toothpaste.
Tired of stepping over muddy boots and soggy umbrellas? The 2-car garage attaches to a mud hall, ensuring everything messy stays out of your pristine living space.
But that's not all; this house is full of strategic planning. There's also a conveniently placed powder bath and laundry room. And guess where they lead? Straight back to the kitchen. Someone's been reading our dream diary!
To sum up, this 3-bedroom modern farmhouse is the ideal blend of rustic touches and contemporary elegance.
With its clever layout, bonus areas, and the undeniable charm, it isn't just a house, it's a home waiting to be filled with memories, laughter, and maybe a dance-off or two on that fabulous front porch. Ready to move in? I know I am!
Plan 16924WG