Specifications:
2,983 Sq Ft
4 – 5 Beds
3.5 – 4.5 Baths
2 Stories
2 Cars
Hey there, house hunters and dream-home planners! Buckle up, because I've got a real treat for you today. We're diving deep into a stunning 4-bed New American house plan that's just brimming with charm, style, and thoughtful design.
With its sprawling 2,983 sq ft of pure architectural bliss, this home is an absolute gem that ticks all the right boxes for families, entertainers, and anyone with a keen eye for design.
So grab a cozy blanket and a hot cup of cocoa (or a cold beverage if that's more your style), and let's explore this house together!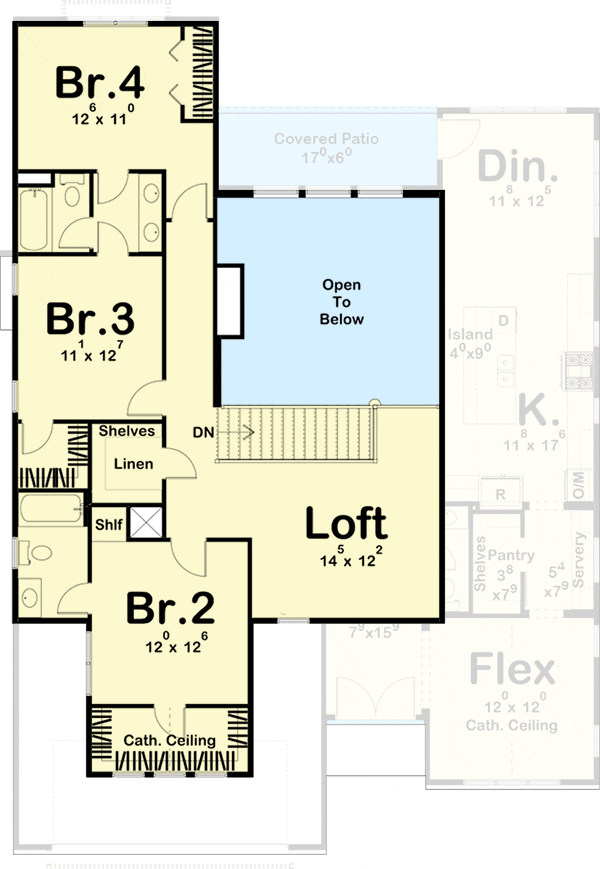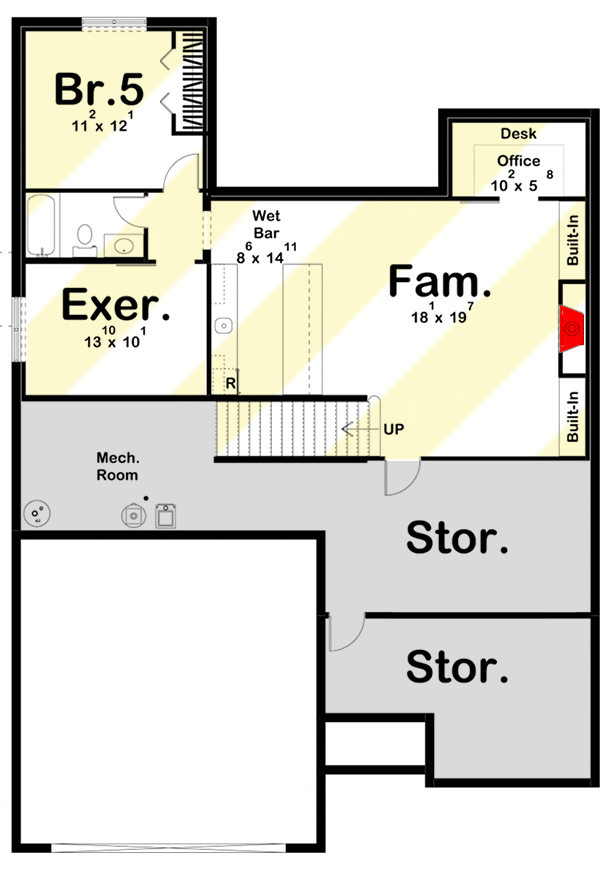 Now, when you first lay eyes on this house, you'll immediately notice it's not your average cookie-cutter home. No sir!
This beauty seamlessly combines the timeless appeal of a farmhouse with dashes of Craftsman and contemporary styles, creating a visual feast that's hard to look away from.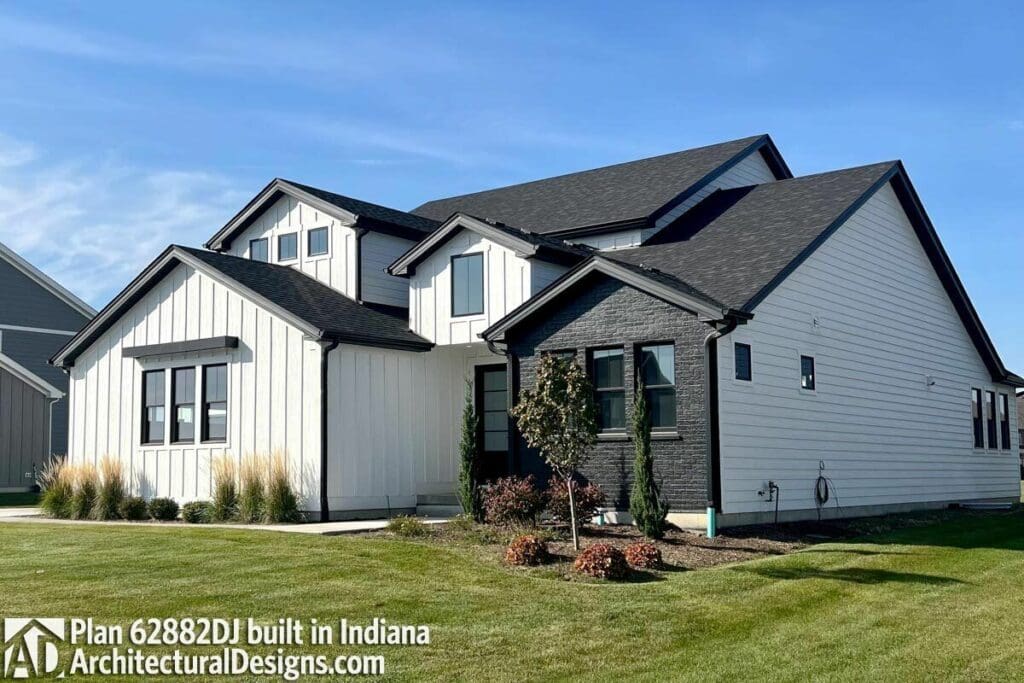 The contrasting siding adds an extra layer of allure, and can we talk about that large glass garage door? It's like this house is saying, "Yeah, I've got style, and I'm not afraid to show it!"
Stepping inside, you're greeted by a fantastic flex room. Oh, the possibilities here! Need a home office to conquer the world from? Done.
Dreaming of a formal dining room for those fancy dinner parties? You got it. This space is ready to become whatever your heart desires.
And let's not forget about the journey to the kitchen. You'll pass through a hallway that's not just a hallway—it's a passage of potential, boasting a large walk-in pantry and a server. Yep, this house has thought of everything.
Now, the kitchen. Oh, the kitchen! It's spacious, it's chic, and it's got an island that's just begging for some bar stools and good conversation. Plus, it's wide open to the great room, so you can cook up a storm while still being part of the action.
And the great room? With its soaring fireplace and 2-story ceiling, it's basically the heart of the home on steroids. It's the perfect place to gather, relax, and make memories.
Adjacent to the great room is the dining room, complete with access to the rear patio. Hello, outdoor entertaining! Whether you're hosting a BBQ, enjoying a quiet cup of coffee, or just soaking up some sun, this space is a delightful extension of the home.
Now, let's talk about the master suite because, well, it's pretty much a masterpiece. Located on the main floor for optimal convenience, this sanctuary features a tray ceiling, adding an extra touch of elegance.
The en-suite is a dream come true with a soaking tub (bubble bath, anyone?), his/her vanities, an enclosed toilet area, and a walk-in closet that—wait for it—conveniently accesses the laundry room. I mean, come on, does it get any better than this?
As we venture to the second floor, the awesomeness continues with three additional bedrooms.
Bedrooms 3 and 4 are like the ultimate BFFs, sharing a Jack and Jill bathroom, while bedroom 2 enjoys a little extra privacy with access to its own bathroom.
And for the kiddos or the kiddos at heart, there's a fantastic loft area that's just perfect for playtime.
But wait, there's more! Opt for the finished lower level and you'll unlock even more potential with a fifth bedroom, a family room, storage space, and more. It's like this house has a bonus level, and who doesn't love a bonus?
So, there you have it, folks—a 2-story, 4 to 5 bedroom, 3.5 to 4.5 bathroom, 2-car garage slice of heaven. Whether you've got a big family, love to entertain, or just appreciate thoughtful design and a touch of luxury, this New American house plan has something for everyone.
It's a place where memories are waiting to be made, laughter is ready to echo through the halls, and every room is filled with potential. Welcome home!