Specifications:
1,000 Sq Ft
1 – 2 Beds
1.5 Baths
2 Stories
Ah, the tiny barndominium – a phrase that sounds like it was cooked up in a whimsical architect's daydream. And yet, here we are, exploring a dwelling that's as intriguing as its name.
This isn't just a house; it's a testament to how we can live large in small spaces. So, grab your miniature magnifying glass, and let's delve into this 1,000 square foot marvel, shall we?
First impressions matter, and the tiny barndominium doesn't disappoint. With its vertical siding, it's like the house put on its best pinstripe suit to impress. It's rustic without looking like it's trying too hard – think of it as the 'cool uncle' of house designs.
And those barn doors? They're not just doors; they're time portals that whisper tales of the countryside. They give the house a retro barn-like vibe that's sure to make your hipster friends nod in approval.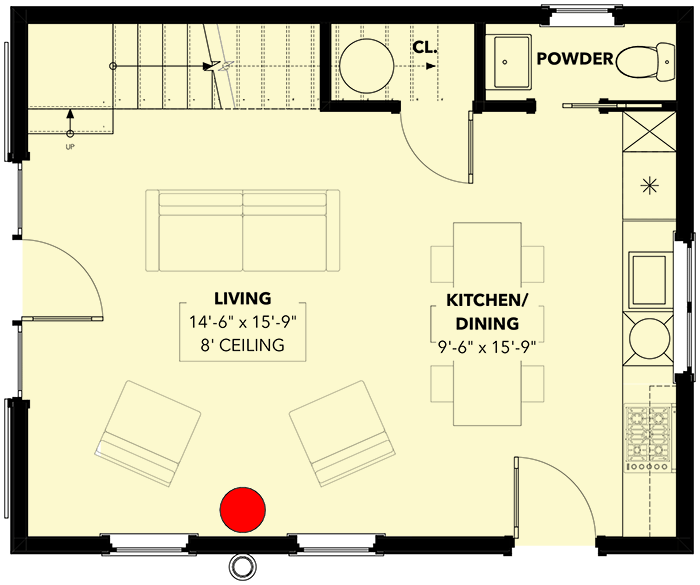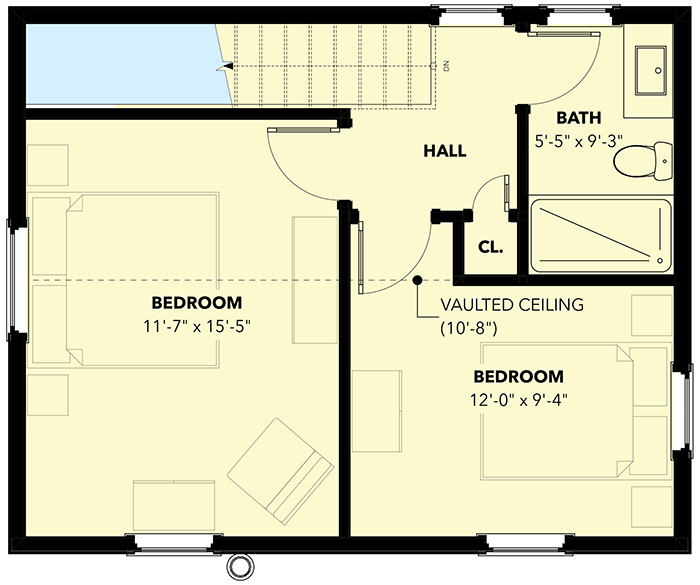 Step inside, and you're greeted by a space that's astonishingly open. The main floor, devoid of interior walls, is like a dance floor for your furniture.
The living room and kitchen/dining area merge into a functional jamboree of living space.
Imagine cooking your favorite pasta while not missing out on the latest episode of your guilty-pleasure TV show.
There's even a window over the sink – because who doesn't like daydreaming while doing the dishes?
In the back-left corner, hidden behind a pocket door (because regular doors are so last century), is the powder room. It's discreet, like a secret agent of convenience.
Now, let's tiptoe upstairs, where the magic of compact living continues. Here lie two bedrooms, both sporting vaulted ceilings.
These aren't just bedrooms; they're your personal havens with ceilings that stretch upwards, making you feel like you're living in a Gothic novel – minus the drama.
Nestled among these cozy retreats is a full bath. It's the kind of bathroom that makes you want to sing in the shower, even if you can't carry a tune.
What the tiny barndominium teaches us is a valuable lesson in space economy. In just 1,000 square feet, it packs in all the essentials, and then some.
It's like a Swiss Army knife of homes – compact, efficient, and surprisingly versatile. It challenges the notion that bigger is better, and does so with a rustic charm that's hard to resist.
As we wrap up this tour of the tiny barndominium, it's clear that this isn't just a house plan; it's a lifestyle choice. It's for those who want to tread lightly on the earth while living in a space that's both functional and charming.
So, if you're looking to downsize your living space but upscale your life, this little architectural wonder might just be what you're looking for. Remember, good things come in small packages – and this tiny barndominium is one heck of a good thing.