Specifications:
4,957 Sq Ft
4 Beds
4.5 Baths
1 Stories
3 Cars
Alright, pull up a comfy chair, grab a cup of hot cocoa (or wine if it's that kind of day), and let me take you on a guided tour of this absolutely stunning Tudor home.
With just a tad under 5,000 square feet, four bedrooms, 4.5 baths, and a three-car garage, this home isn't just a house, it's an experience.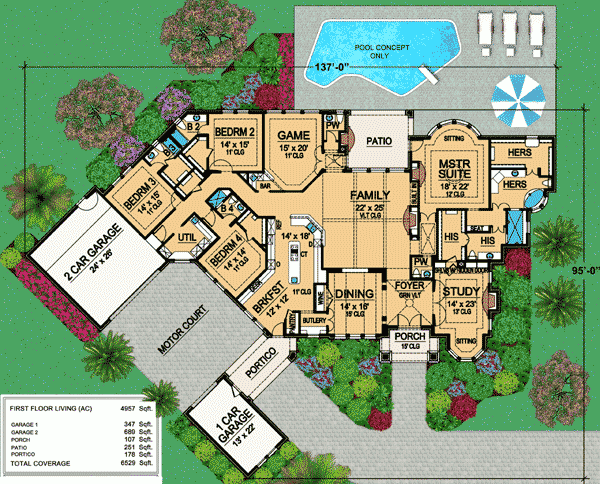 First thing's first. The exterior of this jaw-dropping beauty screams, "Hey there, I'm a Tudor!" The decorative wooden brackets on the front gable aren't just there for the aesthetic.
They whisper sweet nothings of days gone by, when Henry VIII was making questionable marital decisions, and the European architecture was trending worldwide.
Don't worry though; unlike Henry, this home doesn't have a volatile temperament.
Okay, follow me around to the study. Wait for it…BOOM! The sitting area of the study forms a turret. Yes, you heard that right, a turret. It's like living in a castle but without the medieval inconveniences.
There's no drawbridge, moat, or dragon (unless you count your mother-in-law), just pure visual appeal. It's the perfect spot for reading, thinking, or pretending you're in a tower awaiting your princely rescue. Just make sure they don't use your favorite vine for climbing up!
Now, keep up, we're moving inside, and boy, is it impressive. This isn't your everyday ceiling; we're talking vaulted and tray ceilings throughout the home.
Because let's be honest, who wants a regular ceiling when you can have a masterpiece above your head? It's like living inside a Fabergé egg.
But, ya know, without the egg part. Trust me, even Michelangelo would give a thumbs up to these works of art.
One of the best features in this home has to be the split bedrooms. Imagine a world where you can't hear the kids' late-night giggle fests, the teen's music that sounds suspiciously like a broken washing machine, or the nocturnal pet that thinks 3 a.m. is a great time for a jamboree.
Sounds heavenly, right? That's because it is! The master bedroom is placed away from the other bedrooms, providing a quiet haven for your sanity and your beauty sleep.
But wait, there's more! If you thought walk-in closets were the pinnacle of luxury, brace yourself. This design offers "his and her" closets AND "his and her" baths.
That's right, your personal sanctuary can be free of beard trimmings, and his can be free of a thousand bottles that all apparently do different things.
Our tour wraps up with a peek into the secondary bedrooms. Each of these comes with their own walk-in closets and bathrooms.
Yes, your teenager won't have to share a bathroom with their younger sibling, and that, dear friends, is worth its weight in gold. Or at least in peaceful mornings.
In the end, this Tudor home isn't just a nod to the architectural grandeur of the past. It's a blend of comfort, luxury, and clever design that meets the demands of modern living while reminding us of our history.
You're not just buying a house; you're buying a lifestyle, a statement, a castle. No monarchy required. Now, where did I leave my crown?