Specifications:
4,356 Sq Ft
4 Beds
4.5 Baths
2 Stories
3 Cars
Sometimes, in the serenity of the mountain landscape, a home emerges that steals your breath just a little more than the natural vista it's enveloped by.
Envision a dwelling where splendor and utility tango in a seamless dance, introducing you to a magnificent 4,356-square-foot Mountain Contemporary home plan that is every bit a spectacular wonder as it is a cozy abode.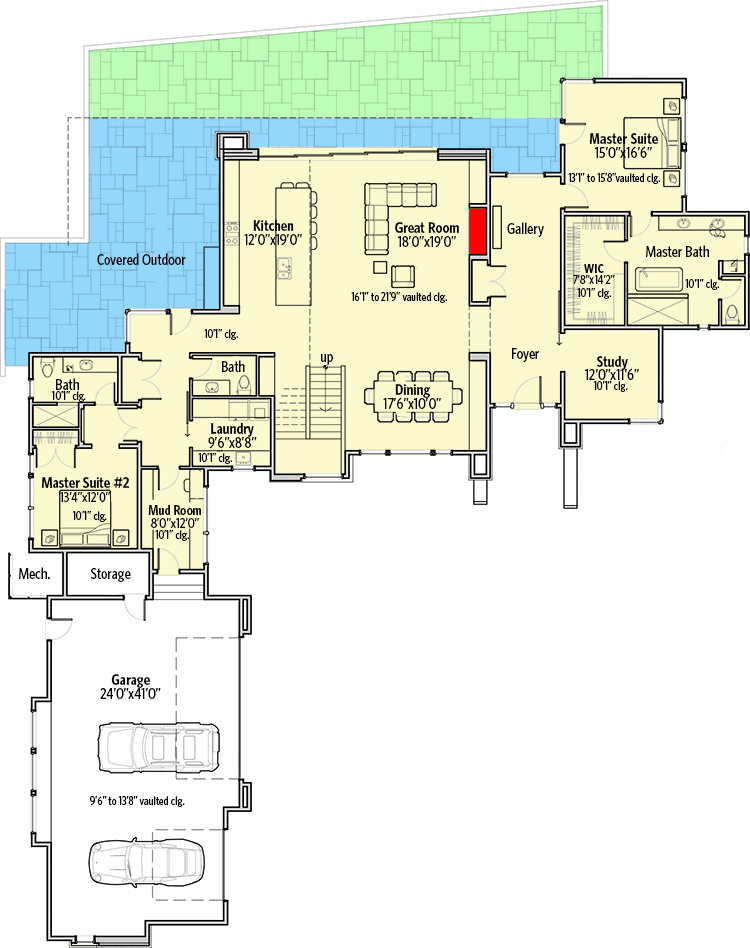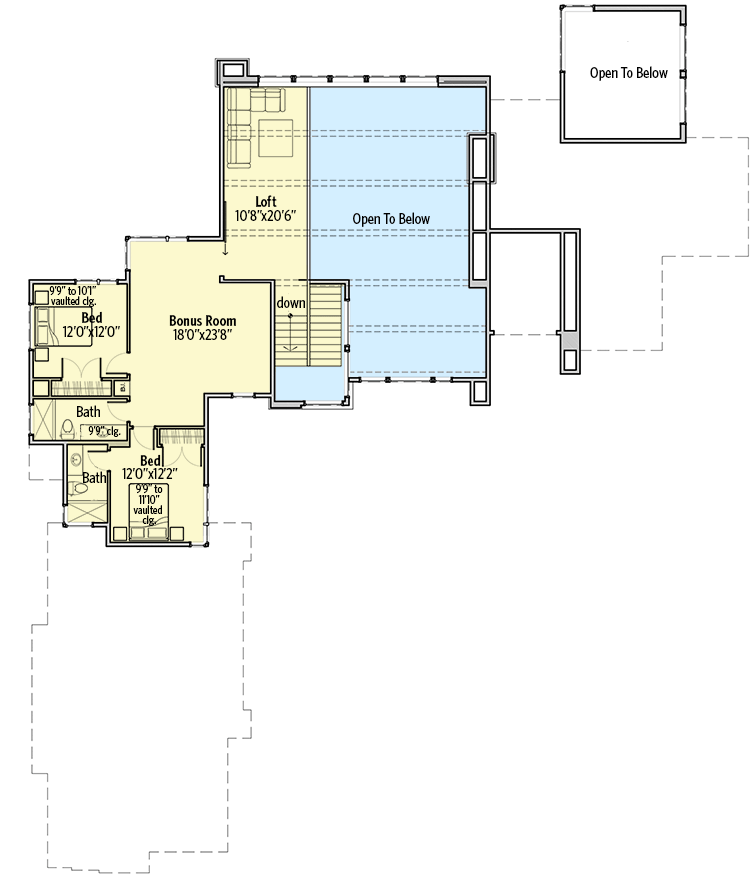 Imagine, if you will, standing at the edge of your ultra-spacious living room, a gentle mountain breeze brushing through your hair as the entire rear glass wall, yes – you heard that right, retracts to invite the awe-inspiring outdoors in.
You stand there, half in your divine domain, half in the crisp exterior of nature, holding a glass of your preferred vintage, contemplating where the indoor ends and the outdoors begin.
It's dramatic, it's mesmerizing, and it's yours.
You shuffle, still contemplating, towards the heart of the home – a kitchen, where the island isn't just an island, but a continent!
Seating for six? Check! Storage that could make a hoarder weep with joy? Double-check!
This isn't just a space to cook; it's a realm where culinary dreams frolic freely amidst the pots and pans, where stories are shared over hastily prepared sandwiches or painstakingly perfected Thanksgiving dinners.
To the right, a quiet study patiently awaits your musings and ponderings.
Whether it's the next great American novel or simply today's grocery list, this nook offers peace and isolation to let your thoughts cascade freely onto paper or screen.
And then, oh, the master suite! Imagine a space so devoted to your relaxation that it comes equipped with a spa-like ensuite – we're talking a separate tub and shower, a room purely for the toilet (because luxury is in the details), and a walk-in closet that lovingly cradles your every attire.
It's a sanctuary where the stress of the day dissolves into the bubbles of your bath.
Now, dear friend, it's time to address that while this house might be a paradigm of contemporary opulence, it does not forget the ancient proverb: "Guests bring blessings."
An additional master suite near the garage ensures your visitors aren't just accommodated but enveloped in luxury with a full bath, letting them savor a sliver of your everyday decadence.
Ah, but the adventure doesn't halt here! A floating stairwell, defying both gravity and expectations, draws your gaze and feet upwards.
Ascending, you're greeted by a loft that whispers connections – of the floors within the home and the souls within its walls.
It's a midpoint, a space where transition becomes momentarily beautiful.
Onwards, to a spacious bonus room that serves your whims. Yoga studio, home theatre, or perhaps a secluded library?
The possibilities pirouette through the expansive space, waiting for your cue to settle into reality.
Adjacent, bedrooms 2 and 3 beckon.
One generously includes a full bath, because who said guests (or even co-habitants) should vie for shower schedules?
Back downstairs, let's amble together towards the garage – a structure designed not only to shield your trio of vehicles but also to disdain clutter with a dedicated storage room.
And oh, the mudroom!
A subtle guardian at the threshold of your domain, ensuring the chaos of the external world finds no passage into your ordered haven.
In essence, this isn't merely a house; it's a narrative, woven with threads of architectural genius, aesthetic splendor, and a hearty dose of practicality.
It acknowledges that while we may climb the peaks and valleys of our everyday ventures, at dusk, we seek the warm embrace of a place that doesn't just stand on the earth but converses with the nature surrounding it.
This home, with its soul-stirring open floor plan and double master suites, isn't just built. It's crafted – caressed into existence by considering not only the tangible bricks and beams but also the intangible moments and memories that will permeate its walls.
So, here's a toast to the Mountain Contemporary home plan – may it cradle your dreams and echo with hearty laughter, forever intertwining the elegance of refined living with the raw beauty of the mountainous tapestry it resides in.
Plan 54225HU