Specifications:
2,290 Sq Ft
3-4 Beds
2.5 – 3.5 Baths
1 Stories
2 Cars
Ahoy, house hunters!
Ever dreamt of a place that perfectly blends the nostalgia of a countryside barn with the chic feel of a modern loft?
Dive into this New American farmhouse plan that's everything but ordinary!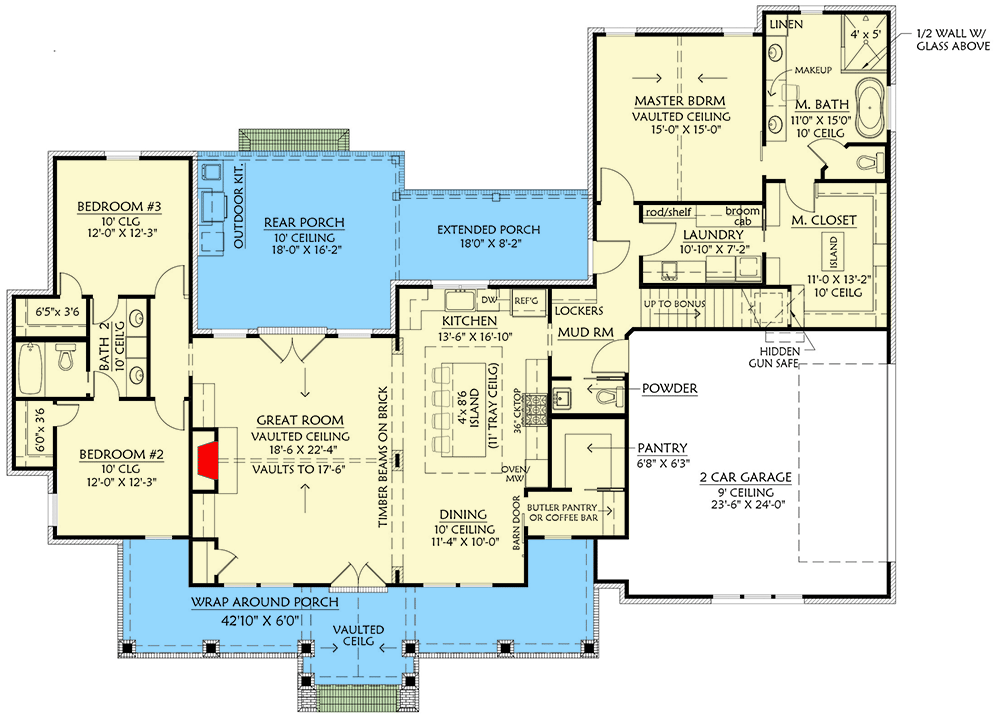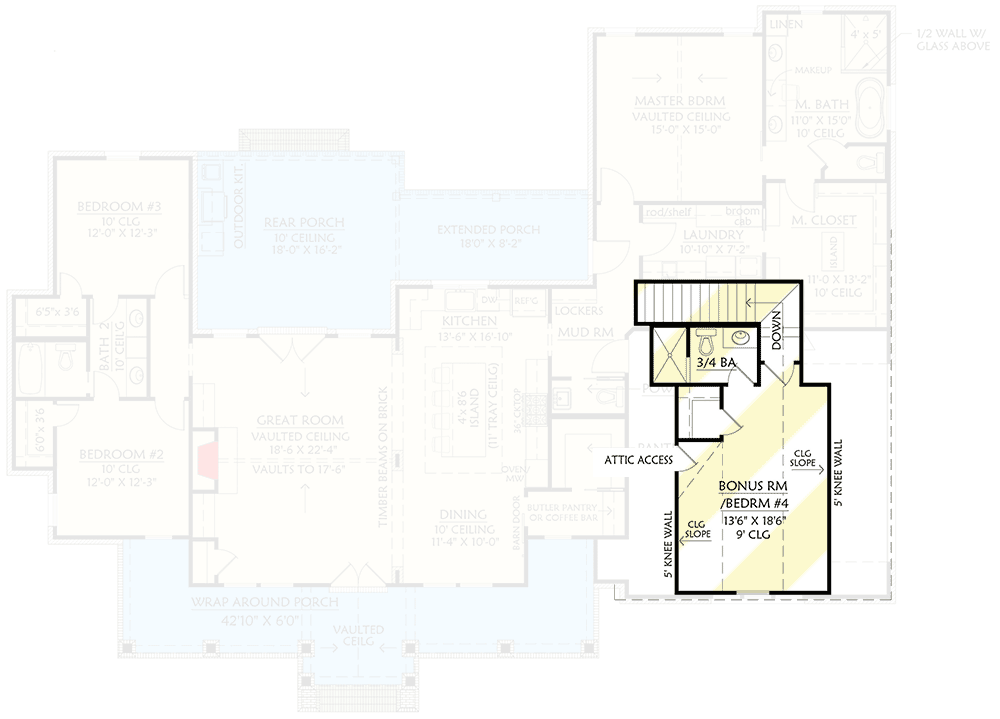 First things first, let's talk about the drop-dead gorgeous exterior. You know, the kind of facade that makes your neighbors crane their necks every time they drive by? This farmhouse boasts a charismatic blend of brick and board and batten exterior sidings, offering a visual feast that'll leave onlookers drooling.
And while we're on the subject of "visual feasts," you'll love the wrap-around porch. Picture yourself sipping on some iced tea, enjoying a good book, or simply watching the world go by on a lazy Sunday.
Once you make your way past the envy-inducing exterior, double doors (because why settle for one, right?) graciously usher you into the pulsating heart of the home.
And trust me, it's a sight to behold! The great room, dining area, and kitchen are so beautifully interconnected, you'd think they share the same heartbeat. It's the perfect setting for a roaring dinner party, or perhaps an epic charades game night with friends and family.
Speaking of the great room, it's got a vaulted ceiling that will make you feel like you're living inside a glorious cathedral. And to add a cherry on top? A perfectly placed fireplace for those cozy winter nights. Oh, and did I mention the French doors?
They're not just any doors, folks. These bad boys lead you straight out to the rear porch, which comes equipped with its very own outdoor kitchen! Barbecue enthusiasts, eat your heart out. Or rather, grill it!
Hidden behind the double garage, in a corner where no random pizza delivery guy could ever mistakenly wander, lies the crown jewel of this house – the master bedroom. This isn't just a room; it's a sanctuary. And what's a royal chamber without a little luxury?
The en-suite bathroom is so lavish, it might just inspire you to take a bath twice a day (or thrice, who's counting?). And it doesn't stop there.
You also get a walk-in closet that's so spacious, it has its own zip code. Here's the kicker: it directly connects to the laundry room. So, say goodbye to dragging your clothes across the house!
On the flip side, away from your master haven, bedrooms 2 and 3 are engaged in a harmonious share-sies situation with a Jack-and-Jill bath. Perfect for siblings who love to bicker about who takes longer showers!
Above the garage, there's a little bonus: a room so versatile it should have its own Swiss Army knife. Need a fourth bedroom? Voila, it's ready!
Or maybe an art studio, a man cave, a woman cave, or a meditation room? It's got you covered. Plus, it boasts a full bath, ensuring that whoever occupies this space feels entirely at home.
To sum it all up, this 2,290 Sq Ft, 1-story marvel has got it all: charm, functionality, and a hint of cheekiness. Whether you have a family of four or are just a couple with a penchant for space, this New American farmhouse is where dreams collide with reality.
And if you ever need to escape for a bit, there's room for 2 cars in the garage, so spontaneous road trips are always on the menu!
In the words of a wise philosopher (or was it my next-door neighbor?), "This isn't just a house, it's THE house." Go ahead, make those memories, throw those parties, and live your best life in this stunning New American farmhouse!
Plan 56473SM