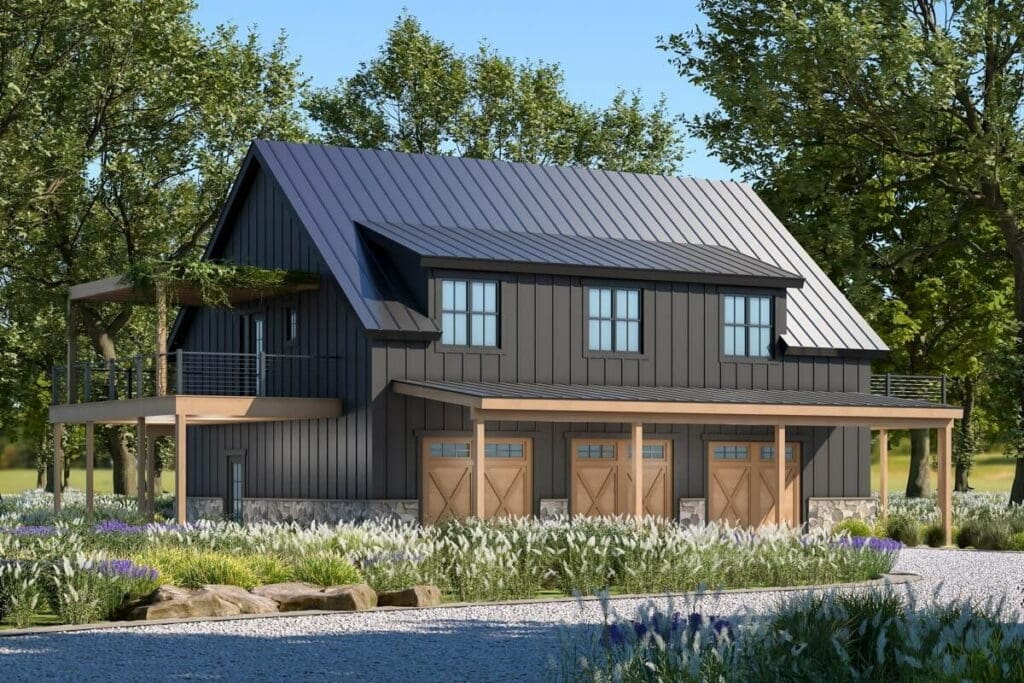 Specifications:
1,565 Sq Ft
1 Beds
1.5 Baths
2 Stories
3 – 4 Cars
Oh, the mountain life – crisp air, majestic views, and the dream of a cozy retreat that whispers (or maybe hums a baritone tune), "I'm one with nature."
That's exactly what flits through my mind as I ponder over the blueprints of the latest Mountain Carriage House Plan.
With a modest 1,565 square feet of living space, this abode is not just a house; it's the perfect backdrop for a modern-day Thoreau, albeit with a taste for car collections and a penchant for ample outdoor lounging.
So, let's saddle up and trot through this architectural wonder, shall we?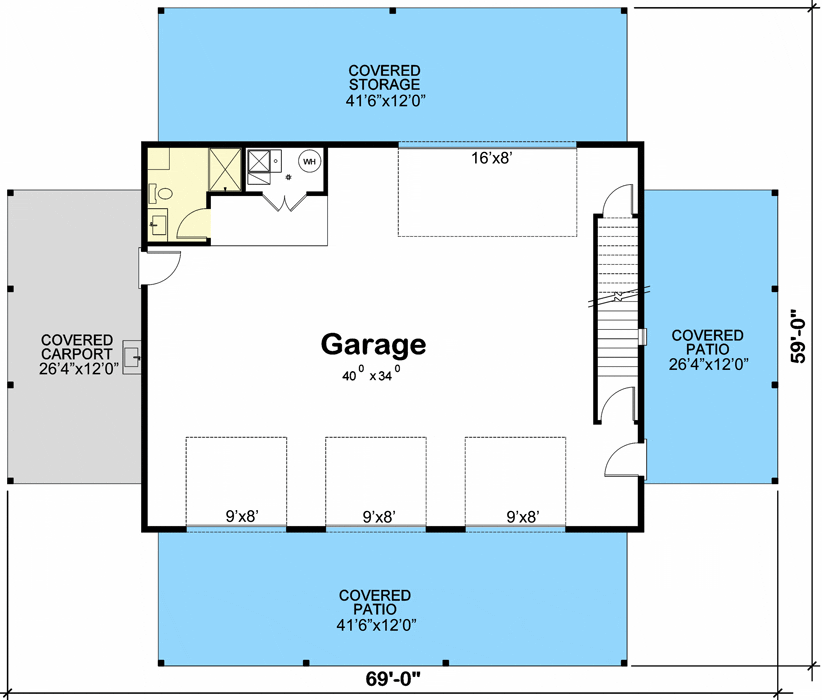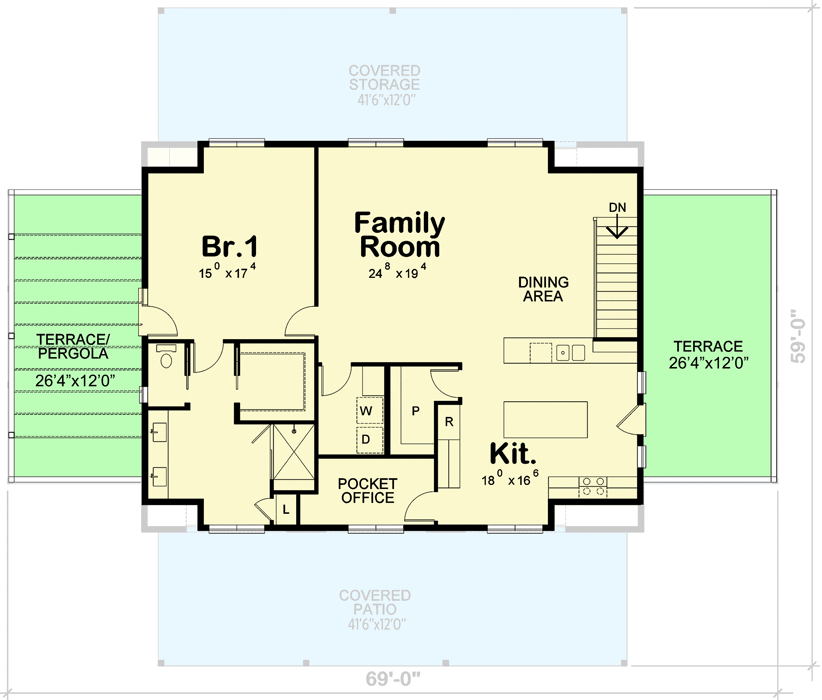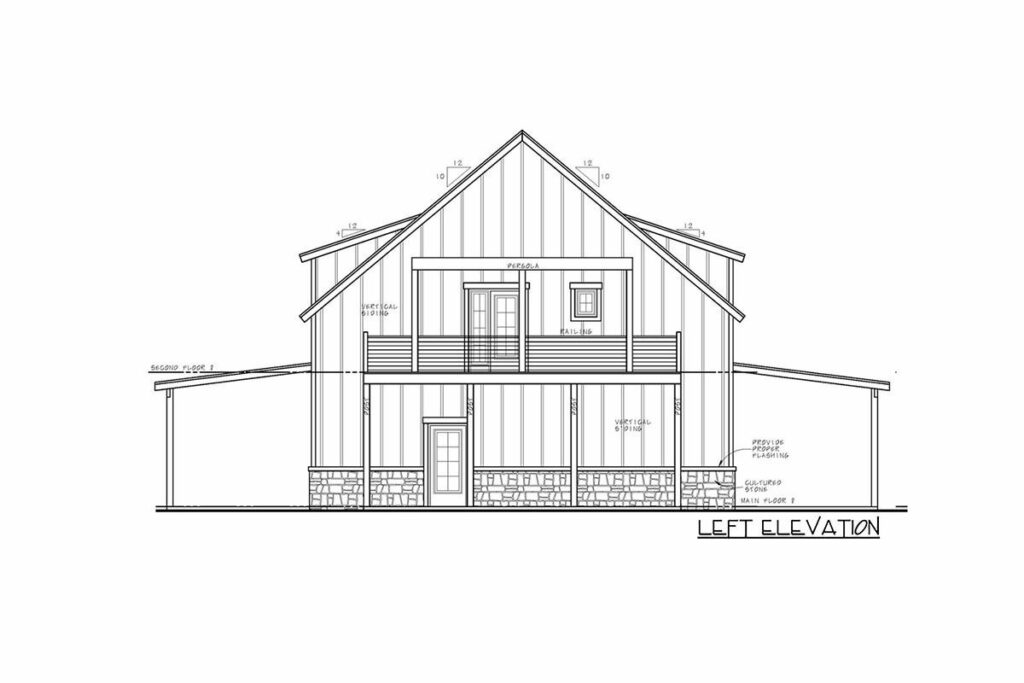 For starters, we have a garage that's akin to a royal stable for your steel steeds. With room for 3-4 cars, this is where your beloved rides will hibernate through the winter snows.
Three front-facing garage doors stand at a noble 9′ by 8′ – the perfect size for a standard chariot, or even those with a few extra inches of chrome.
But, my fellow carriage enthusiasts, the pièce de résistance is the stately 16′ by 8′ overhead door at the rear. Imagine the ease of sliding in an RV, a boat, or if you're feeling particularly opulent, your personal fleet of snowmobiles.
Now, what's a mountain home without a space to soak in the vistas? The covered patio space is a wrap-around marvel, perfect for pondering life's mysteries, hosting a soiree, or simply storing more of your outdoor paraphernalia.
It's the type of space where you could unwind for hours, contemplating whether Bigfoot prefers the local berries or just enjoys photobombing hikers.
Ascending to the living quarters, the vibes shift from gearhead paradise to a warm embrace. The kitchen, ah, the kitchen – it's not just a place to whip up your legendary triple-berry pie; it's a culinary stage surrounded by cabinetry that hugs a prep island like a bear with a newfound honey pot.
This opens up to a family and dining room spacious enough to twirl around with joy or indulge in a dining table large enough to serve a feast that would make a hobbit blush.
And because your mountain escapades aren't confined to the indoors, terraces adorn each side of this level.
This means you can greet the dawn with your morning cup of joe on one side and bid the day adieu with a sunset glass of cabernet on the other, all while never leaving the comfort of your home.
Let's tiptoe into the bedroom – it's a sanctuary where the only tweets are from the birds outside. The accompanying 4-fixture bathroom could host a ballroom dance, with pocket doors that glide open to reveal a walk-in closet and a toilet room that promises solitude for your most reflective moments.
Every inch of this mountain carriage house screams (or, more appropriately, states in a firm, inside voice) that storage is queen.
But it's not the cold, sterile type of storage that makes you feel like you're retrieving a file from the archives. No, this is the warm, inviting kind where every holiday decoration, ski suit, and piece of sentimental clutter will find its throne.
The whole charm of this house plan isn't just the sum of its parts – it's the dialogue it initiates with the surrounding environment.
This home doesn't just sit on the landscape; it waltzes with it. The board and batten siding paired with the metal roof is like a visual echo of the mountains, reflecting the rugged beauty while standing resilient against the elements.
Let's face it, you're not just buying into a floor plan; you're signing up for a lifestyle. A lifestyle where the eagles are your nosy neighbors, the mountains your ever-changing wallpaper, and the stars just a rooftop terrace away.
In conclusion, if you've ever wanted a fortress of solitude with a side of gearhead glam, this Mountain Carriage House Plan is your ticket to elevated living – quite literally.
Whether you're a solitary soul looking to pen your memoirs or a social butterfly with a passion for alfresco dinner parties, this plan has you covered, like a well-positioned ski cap.
Let's not forget, this place has the potential to be your legacy – a fortress, a haven, a family heirloom, or simply that cool topic that gets brought up at parties.
So, if you're ready to trade the sound of traffic for the symphony of the wilderness and the glow of streetlights for the soft luminescence of fireflies, then saddle up, my friend – your mountain carriage awaits!