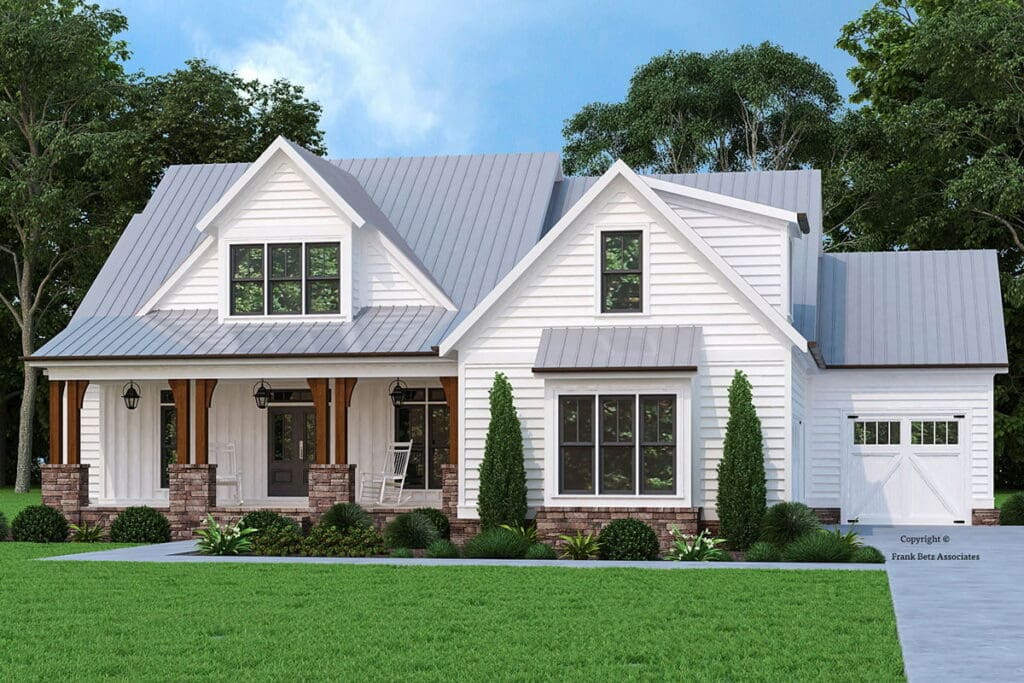 Specifications:
2,732 Sq Ft
4 Beds
3.5 Baths
2 Stories
3 Cars
Oh, the joy of discovering a haven that beckons warmly, wrapping you in a cocoon of both modern finesse and a rustic hug!
Allow me to take you on a leisurely jaunt through this 2,732 sq ft of architectural sweetness, with its promising blend of snug and spacious, firmly nestled in the comforting arms of a modern farmhouse plan.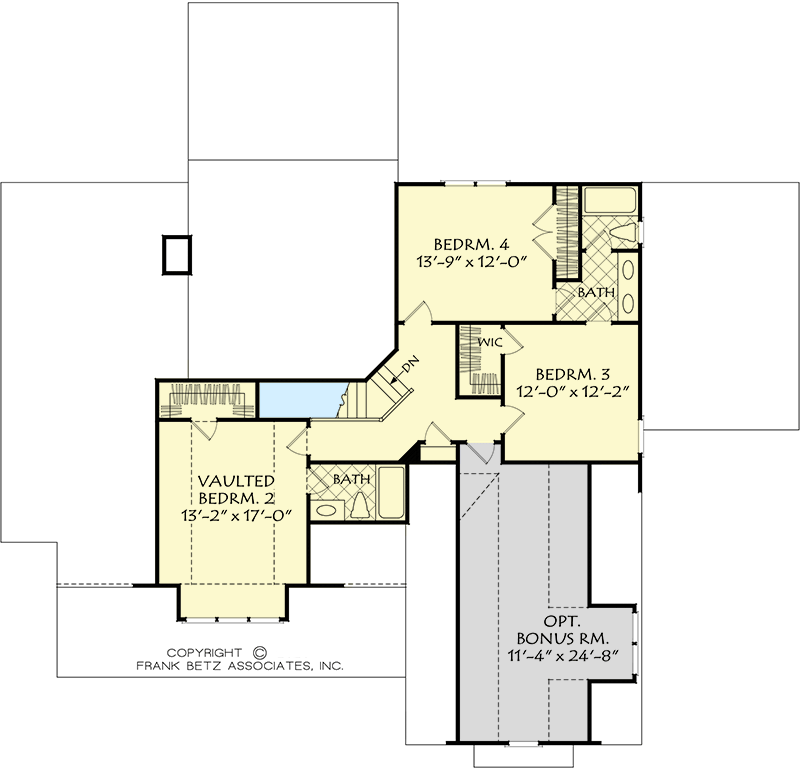 Now, picture this: a front porch that doesn't just "welcome", but practically extends its wooden arms, pulling you into an embrace (a socially acceptable one, of course).
The initial encounter with this home isn't merely a "hello", but a jovial "howdy" from an old friend, complemented by a steep gabled roof crowned with sturdy, weather-kissing metal, and walls adorned in classic clapboard siding.
Ah, windows! Not just holes in the wall but generous groupings of them, allowing the sun to generously spill its golden treasure throughout the abode. Now, I know we're still on the outside, but I'm tantalized by what's beyond those welcoming windows, aren't you? Let's sashay inside, shall we?
Stepping through the threshold, we're not merely entering a house. Oh no, we're being enfolded into a living, breathing entity where every nook and cranny tells a story.
The central family room, for instance, isn't just a space. It's THE space; an epicenter of memories in the making, where tales of school triumphs and soft, comforting shoulders to lean on during tougher times come together, under a cozy blanket of ambient light and familiar scents.
Adjacent, the kitchen doesn't just speak, it sings in harmonies of culinary adventures waiting to be embarked upon.
A massive island, not just a landmass in a sea of culinary space, but a meeting spot, where breakfasts are hastily eaten, cookies are decorated, and where late-night confessions over sneaky snacks create the tales of tomorrow.
Ah, and let's not forget, the space is armed with all the gizmos and gadgets a chef—be it amateur or seasoned—might desire!
The journey doesn't end here, oh no, it subtly meanders into a realm of serenity: the master suite on the main floor.
A thoughtful gift for those desiring an escape from the delightful chaos that family life occasionally bestows. A sanctuary where the head of the household (or whoever claims it first) can retreat, perhaps with a glass of red and a good book, melting away the tribulations of a bustling day.
But hark! What do we have above? A second story beckoning with the soft whisper of promises for more. Three commodious bedrooms, each not just a sleeping quarter but a canvas for dreams, ambitions, and perhaps, the occasional midnight giggle under the fortress of blankets.
With ample closet space and easy bathroom access, every detail is meticulously thought out, ensuring comfort and convenience are not mere visitors, but permanent residents.
And then, there's that bonus room! Ah, an enigma wrapped in four walls.
A space that offers a blank slate, ready to morph into whatever your heart desires: a lively recreation room, a serene yoga studio, or maybe a secluded spot to binge-watch that guilty pleasure TV show, unbeknownst to the judgmental eyes of cultured society.
The beauty of this farmhouse isn't merely in its walls, fixtures, or the spaces it holds. It's in the unwritten stories, the yet-to-be shared laughs, and the tears that will find comfort within.
It's the future holidays, the kids' graduations, and the quiet, peaceful mornings with nothing but the chirping of birds and the rustle of wind through the trees.
Crafted with love, detailed with thoughtfulness and bursting with character, this compact 4-bed modern farmhouse isn't just a plan.
It's a canvas, awaiting the colorful strokes of the lives that will fill it, turning a beautiful blueprint into a vibrant, living masterpiece.
In a nutshell, my dear reader, we've meandered through a realm of wooden embraces, culinary concertos, and soft, comforting retreats. A house is not just walls and roofs, it's where life unfolds in all its messy, beautiful, utterly enchanting forms.
A modern farmhouse plan, compact yet brimming with opportunities for memories to be crafted, stories to be written and lives to be beautifully lived.
Every creak of the floorboards, every soft murmur of the wind against the windows, brings forth the melody of home, a song that is uniquely yours, in a cozy, 4-bed, heartwarming modern farmhouse. Now, who's ready to start composing?
Plan 710379BTZ