Specifications:
3,366 Sq Ft
4 Beds
3.5 Baths
1 Stories
3 Cars
Alright, all you home enthusiasts out there!
Have you ever dreamt of a place that oozes rustic charm but doesn't compromise on modern-day bling?
Hold onto your hammer and nails, because this might just be the home plan you've been sketching in your dreams.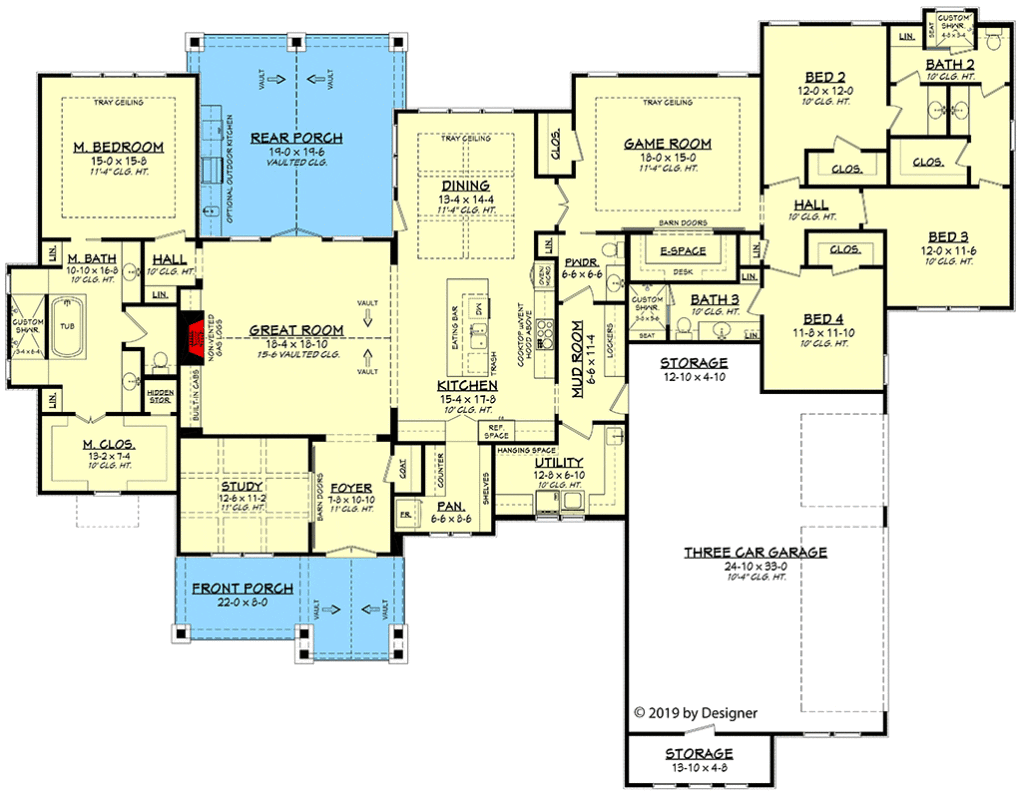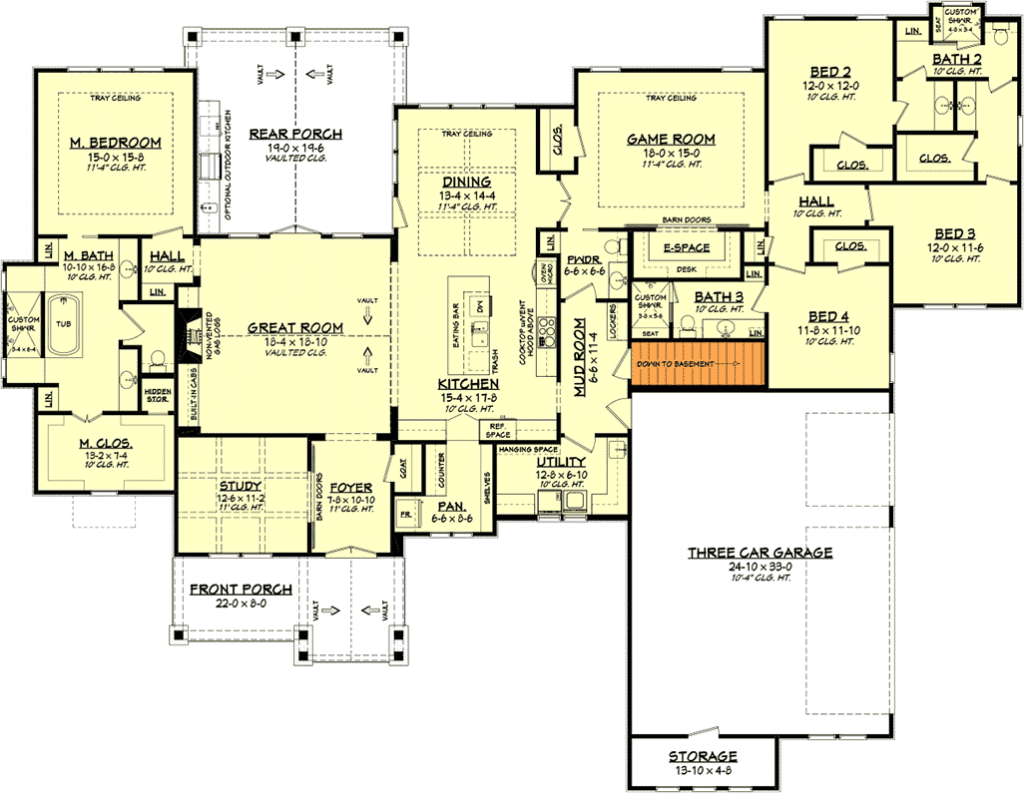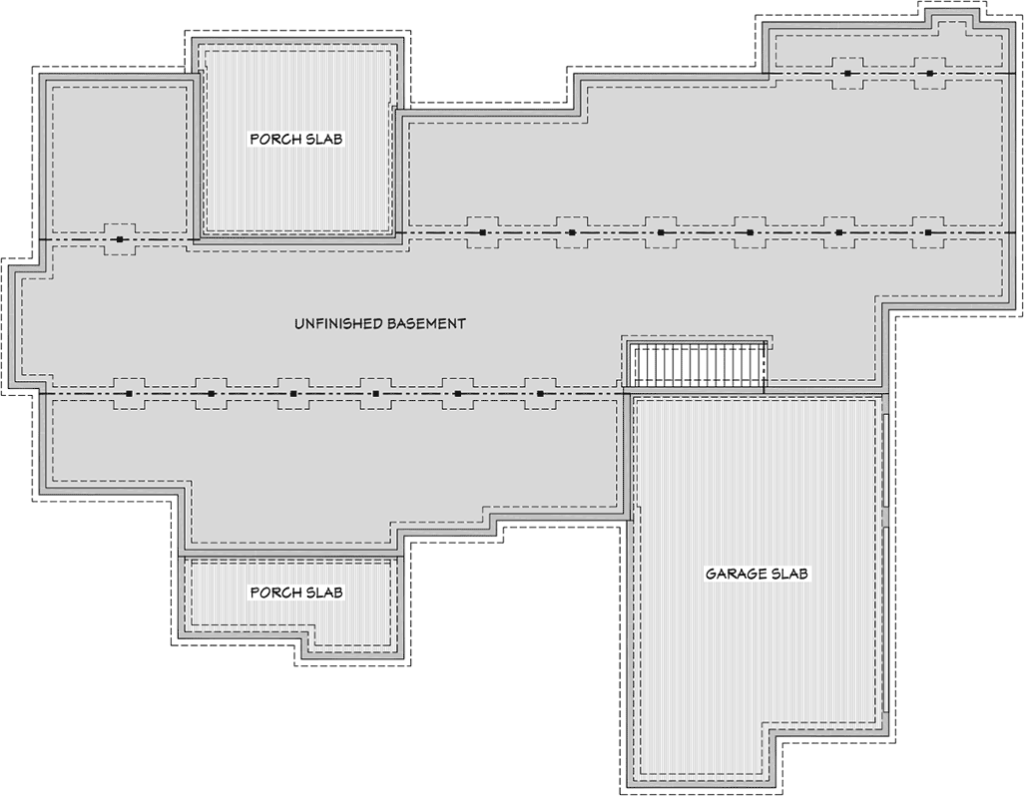 From the very moment you cast your eyes on this hill country ranch home, you're greeted with a grandeur that screams, "Look at me!" But in a classy, not overly attention-seeking way.
With stone trim (a nod to the Flintstones, maybe?) and a timber-frame gabled porch, it boasts an entrance that sets the stage for the wonder that lies within.
And the dark window sashes and a sleek metal roof? Oh, honey! They whisper modern edge into the traditional façade so seamlessly, it's like mixing chocolate with chili – unexpected but oh-so-delightful.
This isn't just any ordinary home. With spacious service areas, this domicile is begging you to invite your entire extended family over for Thanksgiving.
Seriously, this home's ready to take on the chaos of your niece's painting 'adventures' and your uncle's penchant for juggling gravy boats.
The open floor plan, meanwhile, ensures that you're never too far from the action. Cooking in the kitchen but want to weigh in on the great "Is Die Hard a Christmas movie?" debate in the living room? No walls to stop you here!
The pièce de résistance? The vaulted ceiling in the great room! If ceilings could talk, this one would probably say, "I got an extra shot of espresso." Towering over a cozy fireplace, it's surrounded by built-ins that would make any bibliophile swoon.
And if you've ever lamented the lack of workspace while prepping those Sunday roasts, the kitchen's sizable island has got your back.
Attached to it, the dining room isn't just for eating; it offers breathtaking rearward views, ensuring your morning coffee comes with a side of scenic splendor.
If you're one of those who've dreamed of a master bedroom that doubles as a retreat, then pinching might be in order.
Nestled privately on the left, its seclusion makes it the perfect hideaway from the world.
And just when you thought things couldn't get any better, a pocket door (because who needs regular doors?) reveals an ensuite with a standalone tub ideal for those bubble-bath-with-a-book nights.
A custom double-headed shower ensures that morning routines feel more spa day than sprint, while the walk-in closet is basically Narnia for clothes.
Ever heard of a game room with barn doors? If not, prepare to be dazzled!
Open those barnyard beauties and voilà – a nook tailored for your electronics and built-in desks that'll make even the most ardent procrastinator consider working.
And just when you thought we were done, behind the spacious 3-car garage, we have three more bedrooms. Picture it: one with its own bathroom (every teenager's dream) and two sharing a Jack-and-Jill bath. It's like the Brady Bunch, but with way more style.
To sum it up, this hill country ranch home isn't just a house; it's a statement. It's where traditional strokes meet contemporary sparks, creating a masterpiece you'd be proud to call home. So, are you packing yet?
Plan 51800HZ