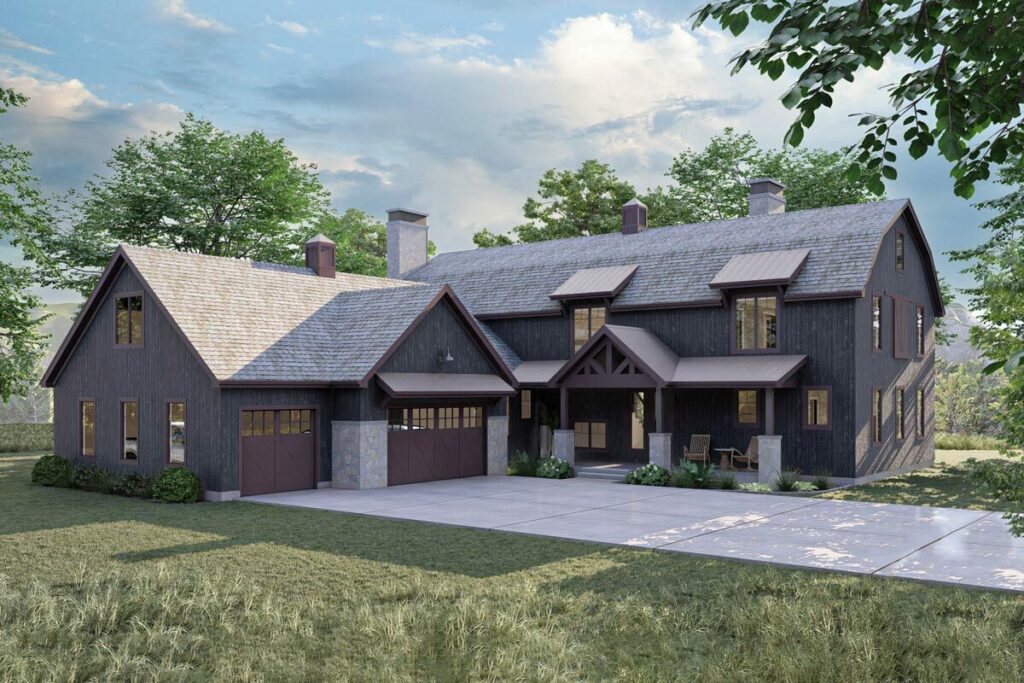 Specifications:
4,450 Sq Ft
5 Beds
3.5 Baths
2 Stories
3 Cars
Hey there! Ever fantasized about living in a home that feels like a warm, welcoming embrace? Let me walk you through a house plan that's like no other – a handsome barndominium-style abode, where rustic charm cozies up with modern living.
You'll find that I'm a huge fan of spaces that feel like a hug, and this house? It's like a bear hug from your favorite grandpa. Let's dive in!
The moment you set your eyes on this beauty, the curb appeal will sweep you off your feet. Picture this: a rustic gambrel roof, charming wood siding, and a 3-car garage that screams "I've got space, and I know how to use it!" But wait, there's more.
Stay Tuned: Detailed Plan Video Awaits at the End of This Content!
The large front porch, with its vaulted grandeur, is the perfect spot for sipping lemonade and watching the world go by. Stepping inside, you're greeted by an entryway with a ceiling that stretches for two stories. It's like walking into an embrace that says, "Welcome home, weary traveler."
As you move further in, the layout unfolds like a storybook, with the great room, dining room, and kitchen seamlessly connected in an open layout that's just begging for family gatherings and endless laughter.
The great room, with its two-story ceiling, is where comfort meets elegance. The fireplace, flanked by built-ins, isn't just a fireplace – it's the heart of the home, where stories are shared and memories are made.
The dining room, a gateway to the rear covered patio through a large sliding door, blurs the line between indoors and out. It's like nature decided to join you for dinner!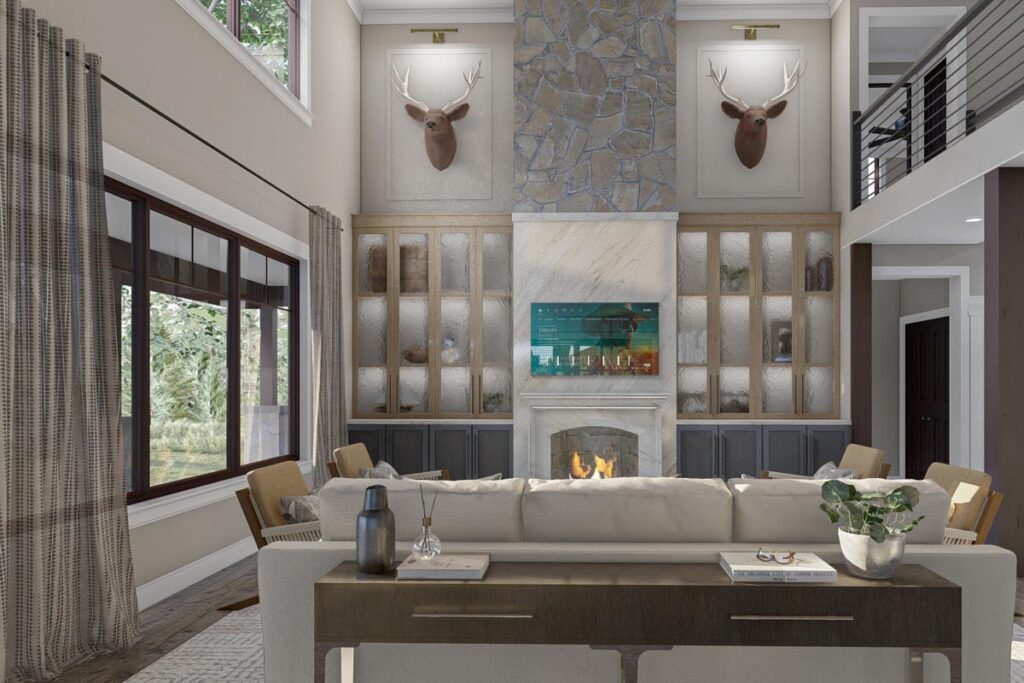 Now, let's talk about the kitchen. This isn't just a place to cook; it's a place to create. The island with a snack bar is where culinary dreams are born, and the walk-in pantry?
It's so big, you might need a map to navigate it. The hearth room, just off the kitchen, is your cozy nook for those chilly evenings by the fire. Tucked away, for that much-needed privacy, is the elegant master suite. It's more than a bedroom; it's a retreat.
The soaking tub in the master bathroom whispers relaxation, and the his/her vanities mean no more elbow fights in the morning. The walk-in shower? It's like your personal spa. And the walk-in closet is so spacious, it might as well have its own zip code.
Venture upstairs, and you're in for a treat. Four bedrooms, each a cozy haven, share two Jack and Jill bathrooms – because who likes waiting in line?
And each bedroom boasts its own walk-in closet, because let's be honest, you can never have too much closet space. The family room up here is the cherry on top, perfect for movie nights or a quiet reading nook.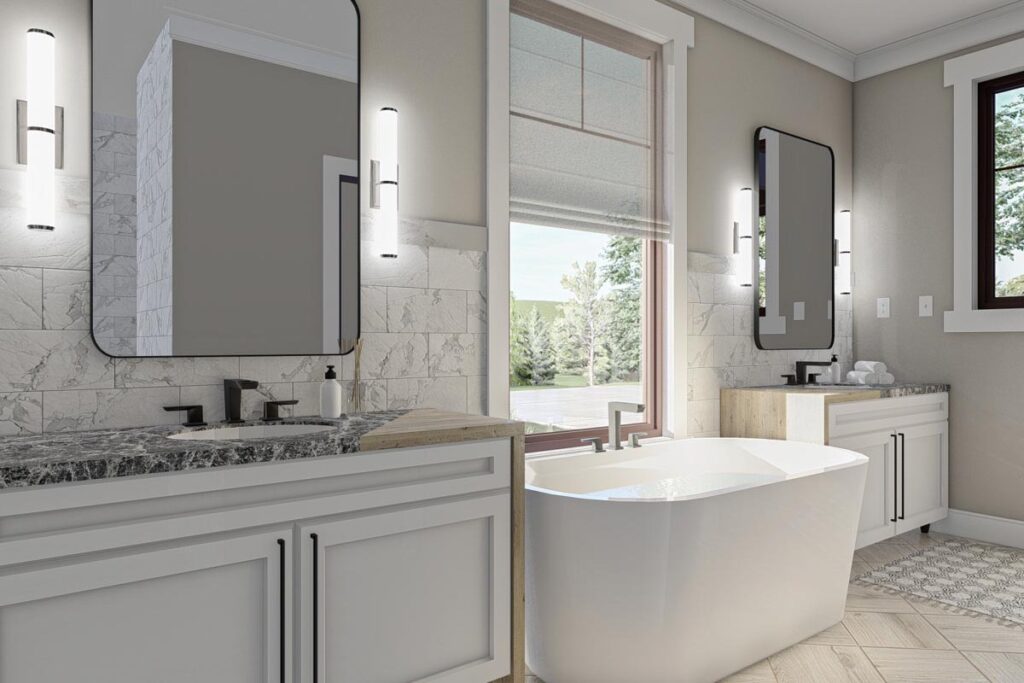 Let's not forget the practical magic of this home. The large mudroom, with its bench and lockers, is like a hug for your muddy boots. And the storage space above the garage? It's like Mary Poppins' bag – practically endless.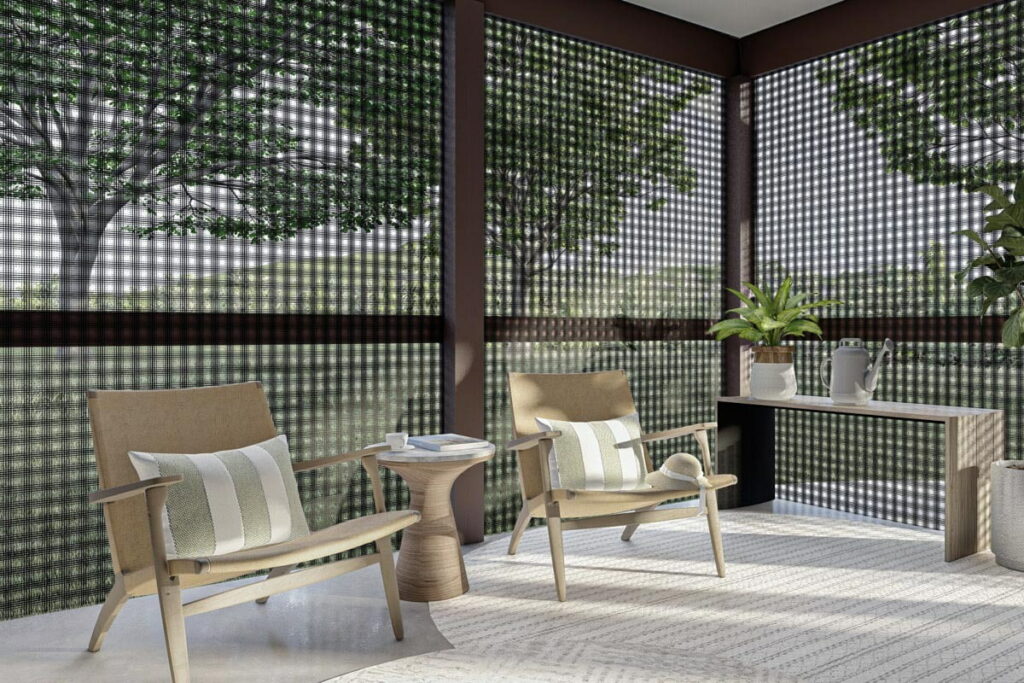 So, there you have it – a barndominium-style house that's not just a structure of wood and stone, but a living, breathing space that hugs you back.
Every corner of this 4,450 sq ft wonder, with its 5 beds, 3.5 baths, and 3-car garage, is crafted with love and care, making it more than just a house – it's a home.
Whether you're cozied up by the fireplace or enjoying a serene moment on the screened patio, this house is where dreams come home to roost. Now, who's ready to move in?