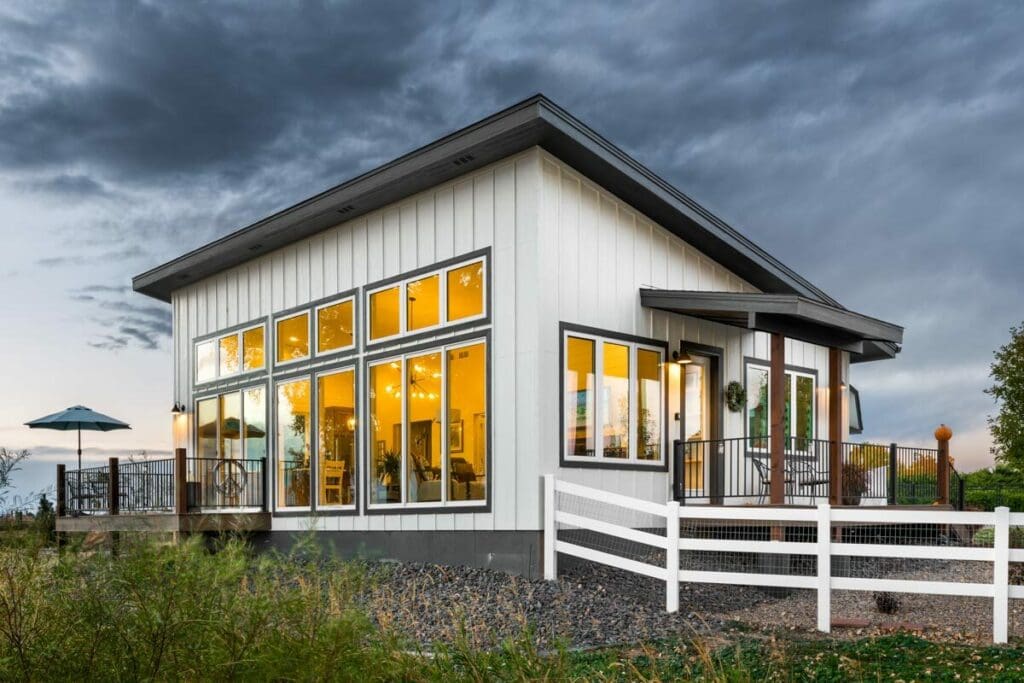 Specifications:
952 Sq Ft
1 Beds
1 Baths
1 Stories
Are you tired of sprawling spaces that take eons to clean? Do you want to embrace the minimalist lifestyle without giving up on luxury?
Let's dive into a house plan that redefines compact living—introducing the Modern 1-Bed Cottage ADU with a home office, a gem in the realm of tiny, yet utterly chic, dwellings!
Now, I know what you're thinking: "A single-bedroom house? Where am I going to cram all my stuff?" But hear me out.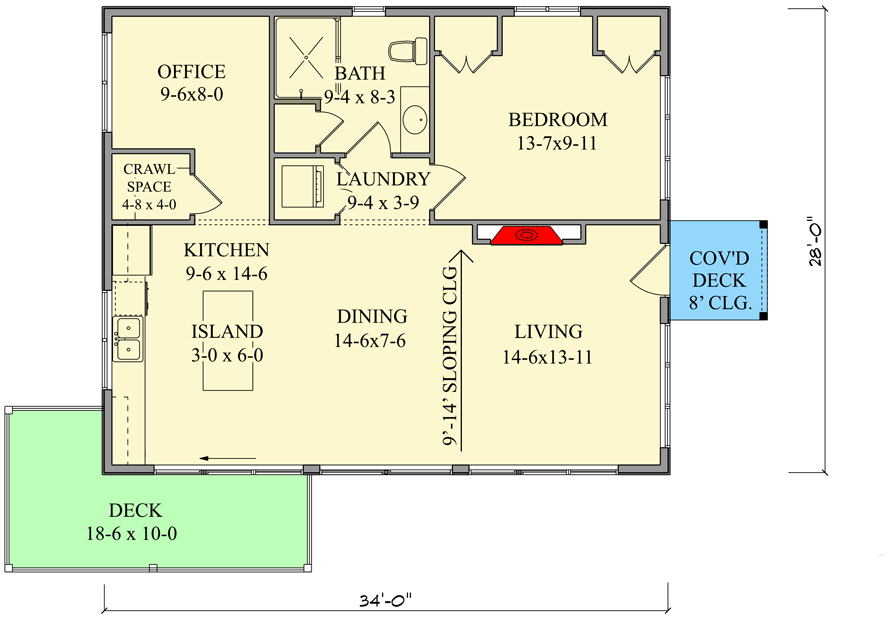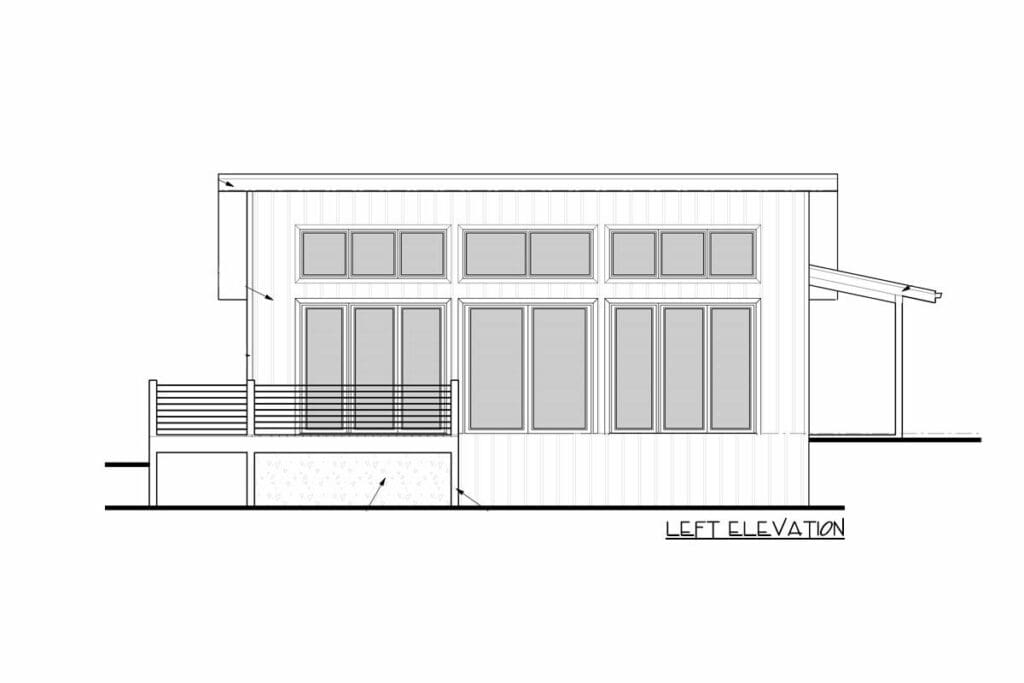 This isn't just any one-bedroom relic from your broke college days. Oh no, this is a 952 square-foot masterclass in design, squeezing every ounce of functionality out of every corner while still giving you room to breathe. And not to forget, it's got an office.
Yep, for all the 'Work-From-Home' warriors out there, this plan has answered your prayers with a cozy nook to create, hustle, and—let's be honest—binge-watch your favorite series when you're on a break.
Step in, and you're greeted by a living space that's so open, you'll want to twirl around and appreciate the echo of your laughter bounce off the walls. Thanks to the genius shed-style roof, you're not just getting high ceilings but transom windows above the sliding doors.
These are not your run-of-the-mill windows; they're your personal slices of sky that flood your living area with natural light, keeping it as fresh as daisies in a spring meadow.
Now, onto the kitchen, the heart of the home, and in this case, also the brains.
With a prep island that doubles as a breakfast bar, you can whip up your avocado toast (because, of course, we're fancy like that) while discussing existential crises with your cat sitting on the stool opposite you.
And a walk-in pantry? Yes, please! You'll have enough space to hoard all the snacks you need for those midnight cravings or apocalypse prepping—you decide.
What's life without a little outdoor fun, right? The rear deck is screaming for a grill and maybe one of those quirky aprons that say "Grill Master" or "King of the BBQ."
It's the perfect spot for summer cookouts, intimate guitar sessions, or simply contemplating life as you gaze at the stars—practical and poetic!
But the real MVP here is the cozy home office. In a world where our homes became our workplaces, finding a designated space to focus can be a game-changer. It's not just about the physical boundary between work and relaxation; it's a mental one too.
This office, with its generous window, doesn't just offer a change of scenery from your bedspread; it promises inspiration. Whether you're a 9-to-5 professional, freelancer, artist, or even a serial hobbyist, this spot has you covered.
Wandering to the bedroom, storage woes are a thing of the past. Say goodbye to the days of shoving everything under the bed or into the back of your car because you're out of closet space.
With not one, but two closets framing another gorgeous window, Marie Kondo would shed a tear of joy at the sight of all the organization possibilities. "Does this spark joy?" Yes, yes, it does.
The neighboring bathroom isn't just a bathroom; it's a sanctuary. It's a full bath with a linen closet, meaning not only do you have space for your towels and toiletries, but you can also indulge in a bubble bath with enough room to keep your rubber ducky collection on display.
This 1-Bed Cottage ADU isn't just a house; it's a lifestyle. It's for those brave souls who dare to step off the hamster wheel of endless clutter and unnecessary vastness.
It's about efficiency, coziness, and, dare I say, sustainability. Remember, a smaller space means a smaller carbon footprint. So, you're not just being trendy; you're being a responsible citizen of the earth. Go you!
In all seriousness, this house plan is a testament to modern architectural ingenuity, seamlessly blending the necessities of today's fast-paced life with the charm and simplicity often reserved for country living.
It's a haven for creatives, a paradise for minimalists, and a castle for those who understand that the size of your space doesn't define its value.
So, if you're looking to downsize but not downgrade, if you're seeking a corner of the world where every nook and cranny serves a purpose, this Modern 1-Bed Cottage ADU waits for you.
It's more than a dwelling—it's an experience, a statement, and a step toward a life uncluttered. And who knows?
This tiny titan might just be the backdrop for the biggest adventures of your life. Because, in the end, the best things really do come in small packages!
Plan 95133RW