Specifications:
1,706 Sq Ft
3 Beds
2 Baths
1 Stories
2 Cars
Hey, all you home enthusiasts out there!
If you've ever dreamed of owning a charming farmhouse but with a contemporary twist, I've got the perfect plan for you.
Ready to embark on this architectural journey with me? Strap in; it's going to be an enchanting ride!
Stay Tuned: Detailed Plan Video Awaits at the End of This Content!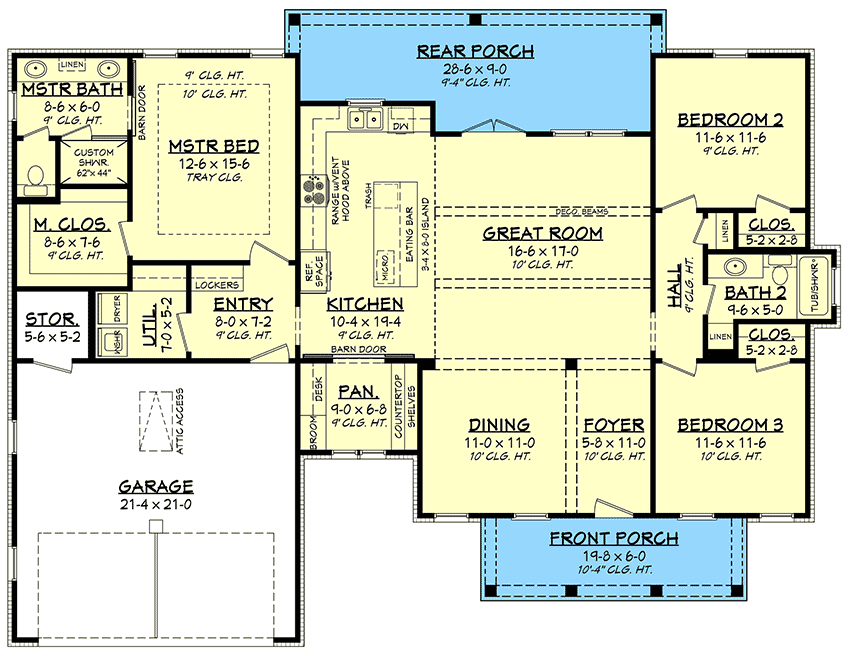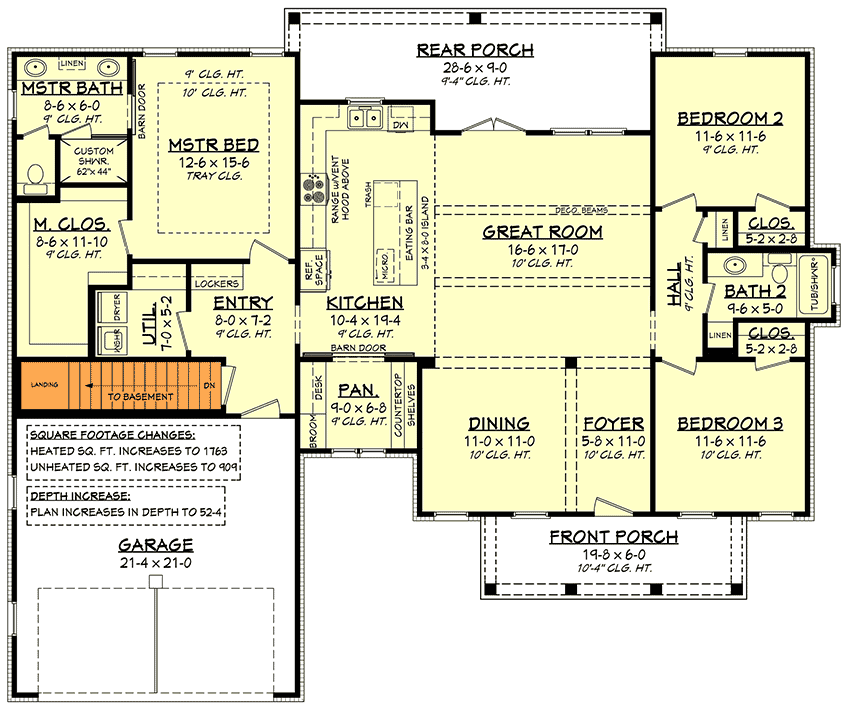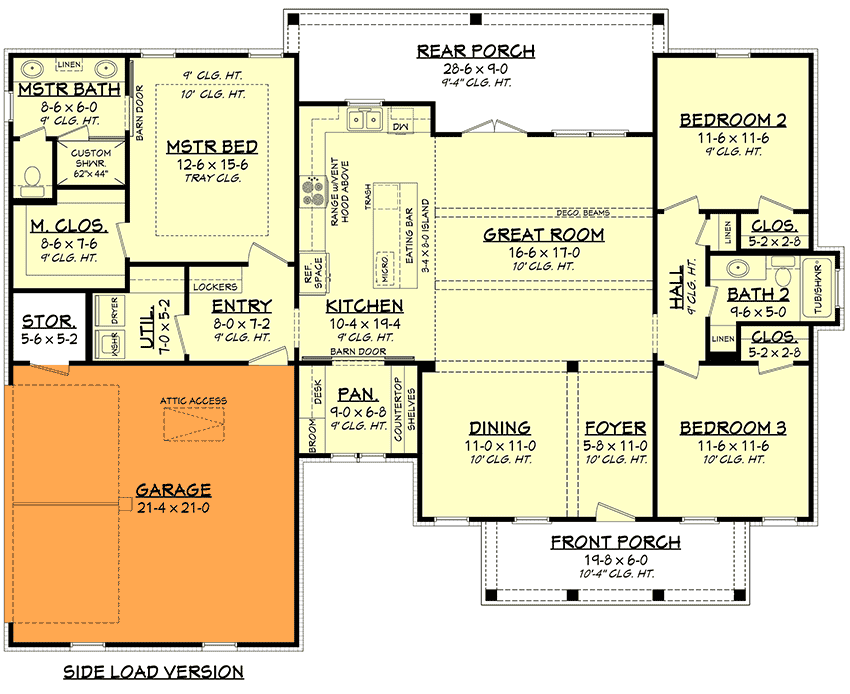 Picture this: A one-story beauty wrapped in the warm embrace of board and batten exteriors with a touch of brick elegance peeking from the bottom—like a stylish lady wearing a chic skirt.
Now, add four stately columns, standing tall and proud, supporting a 6′-deep front porch.
And the front door? Oh, it's just casually sitting in the middle like a diva, with two pairs of windows on either side.
It's like Mother Nature herself designed it with symmetry in mind!
Walk inside, and BAM! The open-concept design immediately welcomes you.
It's like that friend who tells you every little secret right off the bat—no secrets, just pure, open goodness.
The vast expanse of the great room effortlessly flows into the kitchen, making it perfect for those who want to chat while cooking (or, if you're like me, while attempting to cook and mostly ordering pizza).
Can we talk about those French doors, though?
They lead you to the 9′-deep rear porch—perfect for those lazy Sunday morning brunches or evening wine sessions, reminiscing about the good ol' days.
Now, I'm no chef (as my burned toast can attest), but this kitchen's large island—3'4″ by 8′, to be exact—almost makes me believe I could be the next culinary sensation.
Not only is it spacious enough for all my misadventures in baking, but there's also casual seating! Perfect for friends to sit, gossip, and silently judge my cooking skills (or lack thereof).
Oh, and if you're a fan of surprise elements, there's a barn door leading to a generous walk-in pantry.
Inside, you're greeted with a built-in desk, a countertop, and shelves. I can already hear my collection of obscure spices cheering with joy!
Let's glide over to the master suite, shall we?
It's like the VIP lounge of the home. It sprawls majestically on the left, boasting a lofty 10′ tray ceiling. But wait, there's more!
A spacious walk-in closet for all your fashion choices (and questionable impulse buys), and a swanky four-fixture bath await.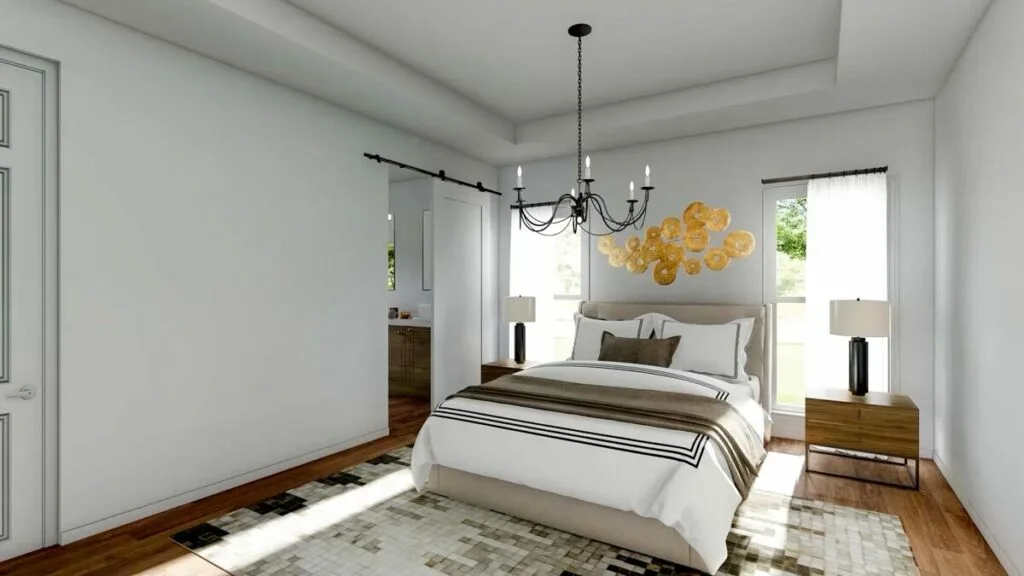 And for all you laundry aficionados, the laundry room is right around the corner. Efficiency at its finest!
On the other side, two cozy bedrooms share a bath. Because sharing is caring, right?
Now, for the pièce de résistance—the 2-car garage! But this isn't your ordinary garage. It comes with pull-down attic stairs, in case you fancy a little Narnia-esque exploration.
And as you step out, the family entry greets you with lockers ready to tackle any clutter you throw its way. Say goodbye to those messy heaps of shoes and hello to organized nirvana!
There you have it, folks—the perfect blend of farmhouse charm and modern flair. If homes could win Oscars, this one would surely be giving an acceptance speech. So, are you ready to turn this dream into reality? Because I sure am! Let's get building!
Plan 51829HZ