Specifications:
2,796 Sq Ft
3-4 Beds
4 Baths
2 Stories
3 Cars
I've seen a lot of house plans in my time, but let me tell you, folks: this expanded farmhouse plan had me at "covered porch".
2,796 sq ft of sheer architectural beauty waiting to be explored, and guess what? I'm taking you on a tour.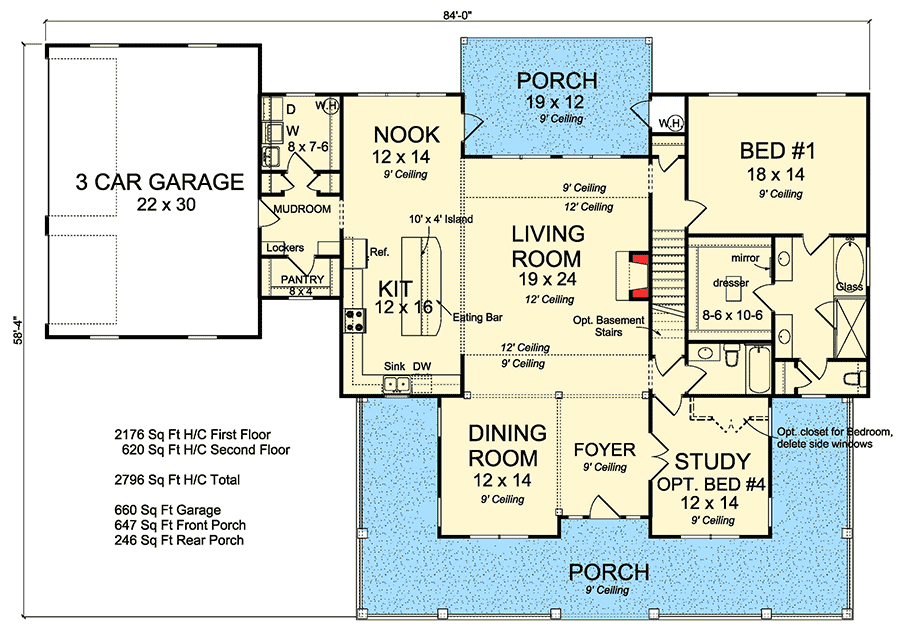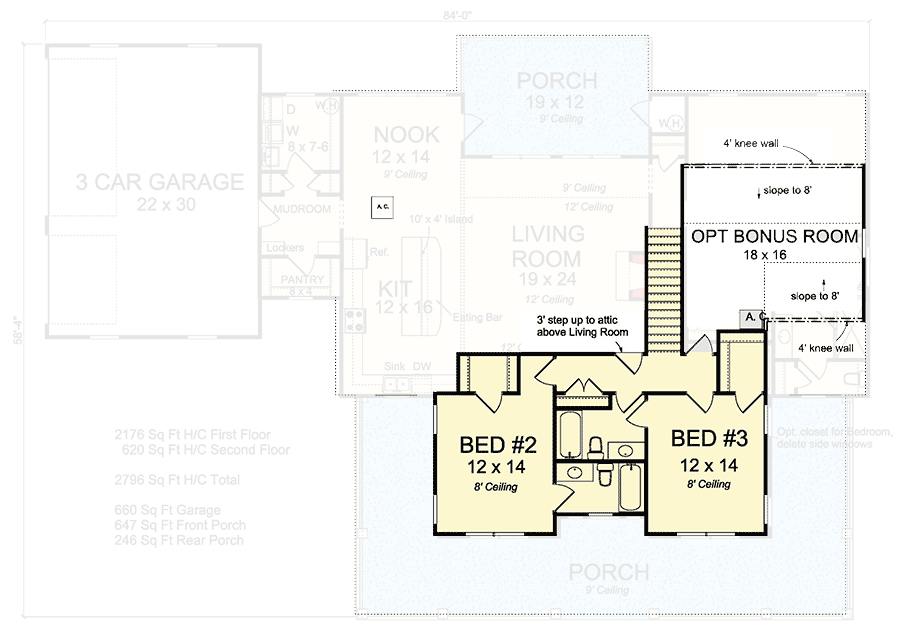 Imagine, if you will, sipping on a glass of lemonade (or a mojito, if it's been that kind of day) on a covered porch that doesn't just stop at the front door. Oh no! This porch is the wrap-around kind. It hugs the house like your grandma did when you came over.
You can enter from the front, take a leisurely stroll around the dining room, and even the study. And that's not all. There's a twin porch at the back! You can literally watch the sunrise and the sunset without moving more than 20 feet. Talk about living the dream!
Well, technically, it does—12 feet to be exact. But that's a minor detail. What really matters is that it slopes elegantly from 9 feet, giving you a sense of space and grandeur.
And tucked in one corner is a gas/ventless fireplace. Warm, cozy, and no sooty chimney to clean? Santa Claus might need to find another way in, but I'm sold!
The kitchen isn't just a kitchen—it's a culinary paradise! Picture this: a vast island where you can pretend you're a TV chef while your kids (or cats) judge your cooking skills from the seating area.
And for all those impulsive grocery shopping sprees? A generous pantry awaits right off the garage. No more juggling six bags and a milk carton, trying to get them all inside without a casualty.
And here's a fun game: when unloading groceries, try to make it from the garage to the pantry in under five seconds. It's like the Olympics but for adults with too many groceries.
Adjacent to this is a mudroom (or the "drop-everything-you're-holding-and-scream" room) complete with lockers, so you never lose your shoes (or your mind) again.
Plus, a laundry room so conveniently placed that it's almost, dare I say it, fun to do laundry? Alright, I might have stretched that last part a bit.
Now, this is where the magic happens. And by magic, I mean the luxurious escape from the daily hustle. The main floor master suite isn't just any suite—it comes with a walk-in closet (think of all the shoes!) and a five-fixture bath.
It's the kind of space that makes you want to stay in your bathrobe all day. I'd honestly pay rent to live in that closet. Off the grand foyer, you've got choices, people! There's a formal dining room for those nights you want to show off your newfound cooking (or takeout) skills.
And a study that is a perfect hideout for when you need to "work from home." But here's a twist: if you have an unexpected guest (or a teen that needs their space), voilà! This study can be converted into a fourth bedroom. It's like magic but with walls.
Head upstairs, and you're greeted by two bedrooms, each boasting walk-in closets. Guests, kids, or that extensive hat collection of yours—there's space for everything. Each of these rooms has its own bath. No more morning queues or toothpaste wars!
And for the cherry on top? A bonus space that screams "game room" or "movie night central". Imagine the parties! Or the quiet reading nooks, depending on your jam.
To wrap it up. This expanded farmhouse plan isn't just a house—it's a lifestyle. Every corner, every room has been thoughtfully designed to make living not just comfortable but downright delightful. And with 3 (or 4) bedrooms, it's spacious enough to grow with you.
So, whether you're a budding chef, a porch enthusiast, or just someone looking for the perfect space to call home, this plan checks every box.
Now, if you'll excuse me, I need to daydream about that walk-in closet a little more.
Plan 52269WM